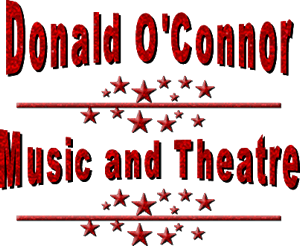 Now available exclusively from
The Donald O'Connor Web Site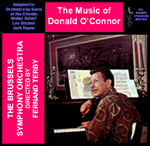 The Music of Donald O'Connor on CD
Click on the album cover (above) to order or for more information.
Follow the Boys (1944)

CD Film Soundtrack 1997

LP Film Soundtrack 1960s(?)

CD Combined with three other movie soundtracks,

Stardust

,

Waterloo Bridge

and one song from

To Have and Have Not

.

Follow the Boys

has the majority of songs on the CD. Track 7 is Donald O'Connor and Peggy Ryan's

Kitten's with Their Mitten's Laced.
Singin' in the Rain (1952)
CD Film Soundtrack 1996
LP-45-78 Film Soundtrack 1952
Of course it's available. The current CD includes some extras, like an unused version of Would You But Donald gets no more than we've heard before, joining in the title
song, as well as Moses' Supposes, Good Mornin' and of course Make 'Em Laugh. Since it would seem silly not to have any actual music in our music section, despite our fanatical observation of copyrights, here's a snippet from Make 'Em Laugh.
Call Me Madam (1953)
LP Film Soundtrack
This is long out of print, but look below in the Song section for one track recently released. As far as we know Donald's numbers include, "It's a Lovely Day Today, Something to Dance about, You're Just in Love and What Chance Have I.
I Love Melvin (1953)
CD Film Soundtrack (1991)
LP Film Soundtrack (1953)
This CD was released in 1991 combining the Soundtracks of I Love Melvin and another Debbie Reynolds film Two Weeks With Love. Donald's songs would be We Have Never Met (as Yet), I Wanna Wander and Where did you learn to dance? Originally released in 1953 with an LP version and a boxed set of 45s.
There's No Business Like Show Business (1954)
CD Film Soundtrack 1998
LP Film Soundtrack 1954
The newest release includes extras, Marilyn Monroe singing her two songs from the film, Lazy and Heat Wave, which weren't on the original soundtrack.
| | |
| --- | --- |
| Donald sings on Alexander Ragtime Band, A Man Chases a Girl (Until she catches him), and Lazy. The LP is very much like the CD above, except the extra tracks (Like Ethel Merman's voice track for the title song) are missing, and Dolores Grey replaces Marilyn Monroe, who was contractually unable to do the album for the film at the time. | |
Anything Goes (1956)
CD Film Soundtrack (January 27, 2004)
LP Film Soundtrack (1956)
Some good Cole Porter tunes on this and a few original tunes (by Sammy Cahn and James Van Heusen) that aren't as good. Donald sings, Ya gotta Give the People Hoke, It's De-Lovely, You Can Bounce Right Back,
A Second-Hand Turban and a Crystal Ball, and Blow Gabriel Blow. Unlike the movie Donald does not sing You're the Top. The soundtrack only has Mitzi Gaynor and Bing Crosby on that song. The CD was recently released.
Olympus 7-0000 (1966)
LP Television Cast
The soundtrack from a Musical presented on ABC's Stage 67 program. The plot involves Greek Gods aiding a losing football team. Donald is Hermes and has the most interesting songs on the album. These include the title track plus I Get Around, I've Got feelings and Better Things To Do with Phyllis Newman. It isn't currently available, but you can usually pick up a copy on eBay.
Bring Back Birdie 1981)
CD (LP) Original Broadway Cast
Well, now I've heard it and to say the least, it wasn't very impressive. Some of the songs are passable. Donald sings Twenty Happy Years (with Chita Rivera), Baby You Can Count On Me, Back in Show Biz Again, Middle-Aged Blues, Young and Rosie. (One of those passable tunes, but probably only because it's from Bye, Bye, Birdie.)
Music and Song
In this section the songs that Donald recorded with other people are listed and tracks from movies to which an entire soundtrack is not available. Here you'll find as many details as I have on Donald's own compositions.
Music and Song
In this section the songs that Donald recorded with other people are listed and tracks from movies to which an entire soundtrack is not available. Here you'll find as many details as I have on Donald's own compositions.
No Two People (1952)


Duet with Doris Day. Currently available on the CD American Songbook Series: Frank Loesser (1994). The song is from the musical Hans Christian Andersen, but we are wondering how this song came about, as this is the only time these two people recorded together. The song is charming. Also once released with three other songs on Doris Day Sings Songs from Peter Pan And Hans Christian Anderson Columbia B-1590. 45 rpm extended play record

You Can't Lose Me (1952)
Another Doris Day/Donald O'Connor Duet, apparently the flip side of No Two People on it's original release. Not on the above mentioned CD or 45.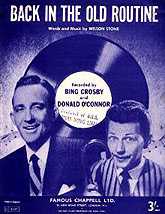 Back in the Old Routine (1953)
45 and 78
Duet with Bing Crosby. Apparently when you wanted someone to do a rather difficult duet you called Donald O'Connor.
If There's Anybody Here (1953)
Duet with Bing Crosby. The flipside of Back In the Old Routine.


You're Just in Love (1953)
Duet with Ethel Merman from Call Me Madam is currently available on the compilation disc, Irving Berlin in Hollywood (1999). That's the only track with Donald, but there's also some of our favorite Fred Astaire songs on this.
The Music of Donald O'Connor (1965)
LP
Album recorded by the Brussels Symphony Orchestra, directed by Fernand Terby, of Donald O'Connor's compositons, including, Reflexions d'un Comique (1956), which Donald conducted at the Los Angeles Philharmonic. The four other tracks are Introduction and Identification, Donald's Waltz, Here Comes Donald and Christmas Comes Once Year The music is enchanting. We found this through a rare record store, As The Record Turns. But since it's unlikely many people will have the same luck, here's a small clip from Reflexions d'un Comique. Keep in mind the sound-quality here is even poorer than it was on our record player. I've now transfered my LP to CD-Rs if you can't get it any other way you can order one of these.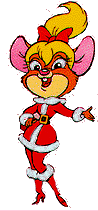 Christmas With Donald And Debbie
(1992)
CD
An album of Christmas music with Donald O'Connor and Debbie Reynolds, featuring Chrissy the Christmas Mouse, which is a sweet little song, too sweet. In fact just skip the three new songs on this album and listen to the classic Christmas Carols like Jingle Bells, and the well done Twelve Days of Christmas (Though, on the eleventh day of Christmas, Donald and Debbie fade away, not to be heard from again until the four birds start calling). This album is probably better in season and with a lot of egg nog. Released by BVM Records.
On Stage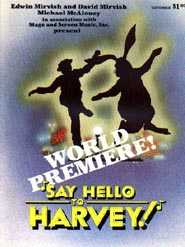 Below are some of Donald's live theatre performances. We haven't yet gone so far as to research the details of his vaudeville appearances in the thirties and forties, but we have some notion of his work on stage in the seventies, eighties and nineties.
Promises, Promises 1972
Weekend with Feathers 1976
The Music Man 1979
Portland, OR
Bring Back Birdie Premiered March 5th 1981
This Broadway Show, a sequel to Bye Bye Birdie lasted only four Performances and was generally considered a resounding flop, despite the fact that it co-starred Donald O'Connor and Chita Rivera. Apparently the weak music couldn't hold up the poor story.
Say Hello to Harvey September 1981
Premiere in Toronto, Ontario
Show Boat 1983 (and 1992)
The only thing we know about this is that Donald played Cap'n Andy and the reviews were considerably better than they were for Bring Back Birdie
Two for the Show 1989
w/ Mickey Rooney
The Sunshine Boys 1990
w/Mickey Rooney
Smiling Through
w/Carol Lawrence.
How to Succeed in Business Without Really Trying

Wally's Cafe
I Oughta Be in Pictures
Perils on the Pecos
The Happy Side of the Thirties
Little Me
1964, 1968, 198?
Milliken Show

What we know about the productions above is just about zero, except that Donald appeared in them, sometime, somewhere in the United States. Any information would be apppreciated. Thanks to Kathy for the additional information she provided.
Stage Variety shows 1990s
With Debbie Reynolds and with Gloria DeHaven. But not at the same time. We believe they played Atlantic City, Las Vegas and possibly other places. Also there are solo appearances in Paris and London, that we know of.
The Fabulous Palm Springs Follies 1998-1999 Eighth Season.
A variety show featuring an all senior cast.We had the opportunity to see Donald O'Connor in his triumphant return to the Follies stage for their last four shows of the season. See our complete account.
Dance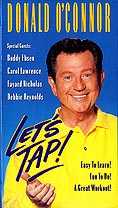 It didn't quite fit into the television or movie sections, so here we have Donald's instructive dance tape.
Let's Tap (1992)

This is a Tap Instruction/Exercise tape. It's great. It could have almost anyone tapping in a relatively short period of time, or at least working up a sweat. Donald hosted, with the aid of his perky young assistant Robbi Morgan, taking you through four lessons, with three steps each, hopefully culminating with the shim-sham.
Guest appearances by Debbie Reynolds, Carol Lawrence, Fayard Nicholas, the RAD TAP Kids and Buddy Ebsen. (Just so you can say, "good heavens, I'll never be able to tap that good.")
60 mins. Produced by Silver Screen Legends, 10934 Ventura Blvd., Studio City, CA. The ISBN # is 1-883143-00-4.
---
You have reached http://eviltwinltd.com/muppetlabs/oconnor/music.htm

Disclaimer: This site is in no way officially sanctioned by or connected to the late Donald O'Connor, or anyone else for that matter. None of the content of this website is meant to infringe upon any copyrights held by studios, companies, authors, other web site owners or stray individuals.

Anything original is copyright 1999 - 2005
by Teresa and/or Tracy Murray (a.k.a. T 'n' T).

Please send me lots and lots of e-mail at
teresa@eviltwinltd.com