| On this page is our Fill the Balloon game, with a special prize. | Welcome to our relaxing, all-fun, no pressure, semi-interactive, fun and games, Donald O'Connor web page. Updated September 18th 2000 | And this month'sTrivia Quiz is Scrambled Donald. |
| --- | --- | --- |



Fill the Balloon
The object of the game is to fill in the balloon with the funniest caption you can think of. You'll find the photo to caption below.

To the right is the winning caption for last month's contest. Our Winner is Sara. Think you can do better? Try the picture below.

Winning entry must be sent by November 15th 2000. Decisions of the judges are final. As for the prize, it's a VHS pro-tape of Private Buckaroo. (Picture below).
To the left is the photo to caption. (From Tom Sawyer: Detective (1938)) Fill in and send the form. Please keep captions under sixty characters, and keep it clean; we don't work blue. Enter often. AOL members send via e-mail if the form doesn't work.
Good Luck! The winning caption will appear, with the name of the winner, in place of the example above, November 19th 2000.


Prize One for Fill the Balloon
Private Buckaroo

Prize Two for
The Scrambled Donald Game
Follow The Boys



Scrambled Donald



These are some characters Donald has played in the movies. Unscramble the letters to find the names. (Names are first and last, but not necessarily divided as they were originally i.e. patsy smith, might appear as "hit map stys".)



---




Place the Face
Answers



Below are the faces of people in one or more Donald O'Connor movies. Contestants filled in the title of the movie and the name of the actor. Extra credit was given for listing the other Donald movies they appeared in. Deadline for answers was August 30th 2000.


1)


There's No Business Like Show Business
Dan Dailey
Other Movie - Give Out Sisters
2)


The Milkman
Piper Laurie
Other Movie - Francis Goes to the Races
3)


Francis Joins the WACs
Zasu Pitts
Other Movie - Francis
4)


Sing You Sinners
Bing Crosby
Other Movie - Anything Goes
5)


I Love Melvin
Debbie Reynolds
Other Movie - Singin' In the Rain
6)


Call Me Madam
Ethel Merman
Other Movie - There's No Business Like Show Business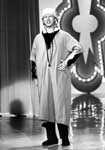 Prize for
Place the Face
Two Tape Set Donald Hosts Hollywood Palace
And our winner is Shelby Williamson, who even got most of the extra credit bits.

You have reached http://muppetlabs.com/~davidj/tnt/oconnor/televis.htm

Disclaimer: We are in no way officially sanctioned by or connected to Donald O'Connor, or anyone else for that matter. None of the content of this website is meant to infringe upon any copyrights held by studios, companies, authors, other web site owners or stray individuals. The "Fill in the Balloon" game is partly from Port-Charles on-line's "Caption This" and Rene Auberjonois' "Star Toons".

Anything original is copyright 1999 and 2000 by Teresa and Tracy Murray (a.k.a. T 'n' T).

Please send us lots and lots of e-mail at tntmur@aol.com