The Tony Orlando and Dawn Rainbow Hour
11/9/76 (CBS)
Donald was the special guest star, along with Soupy Sales. For more on
Tony Orlando and Dawn
Police Story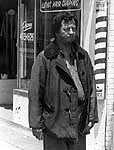 Payment Deferred - 9/21/76 Season 4 Episode 1(NBC)
Donald appears as a reformed junkie who assumes his former guise to aid in the investigation of a cop killing. We do recall it was a very good drama and well worth tracking down.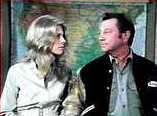 The Bionic Woman
A Thing of the Past - 2/18/76 Season 1 Episode 4 (ABC)
Jaime Somers, as you may recall, was a school teacher, when she wasn't off doing Bionic things. Donald plays the school bus driver "Harry Anderson", who it turns out has been hiding out from criminals in peaceful little Ojai.
For information on The Bionic Woman
Ellery Queen
The Adventure of the Comic Book Crusader - 10/2/75 (NBC)
Ellery Queen finds himself unwillingly turned into a comic strip by a nasty editor, who, of course, turns up dead. Donald is Kenny Freeman, a comic book letterer with a penchant for drawing cute furry animals. Well, we wouldn't want to give away the rest in case you haven't seen every episode of this short, but delightful, series.
For more information on Ellery Queen
The Girl With Something Extra
Irreconcilable Sameness 2/15/74 Season 1 Episode 19(NBC)
This series starred John Davidson and Sally Field. Sally was the girl with something extra. In this case ESP. John and Sally try to keep her parents from separating. Guest stars Donald O'Connor and Audra Lindley, presumably as Sally's parents. Go to the TV Party for more information on this show.
The Bobby Darin Show
3/2/73 (NBC) Donald sings a duet of "Two of A Kind" with Bobby Darin. For more information on Bobby Darin
The Julie Andrews Hour
1973, 1972 (ABC)
Donald guested on Julie Andrews' show twice. We're still trying to discover any details.
Dean Martin Presents The Bobby Darin Amusement Company
8/17/72 (NBC)
Donald did a guest spot on this summer replacement show. He sang a duet of "I'll Never Fall in Love Again" with Bobby Darin. For more information on Bobby Darin
The Andy Williams Show
10/3/70 (NBC)
Donald made an appearance on this somewhat more modernized Andy Williams variety show.
The Carol Burnett Show
12/29/69 & 10/26/70 (CBS)
Donald was a guest on Carol's show twice. The first was in the third season, and featured a salute to MGM, and the second was in the fourth season, and included a "Hooray for Hollywood Canteen" sketch.
For more information on The Carol Burnett Show
The Jackie Gleason Show
The Honeymooners 11/15/69
One of the "Miami Episodes" of the Jackie Gleason show. Donald plays a greedy maitre 'd, Charlie, who sells Ralph on "diet sauce" to help him slim down on a visit to Hawaii. For more on The Honeymooners
The Donald O'Connor Show
1968
A Syndicated Variety Talk Show hosted by Donald, along the lines, we think, of The Mike Douglas Show or Merv Griffin.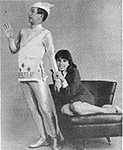 ABC Stage 67
Olympus 7-0000 10/12/66 (ABC)
A Musical. Also starring, Phyllis Newman, Eddie Foy Jr. and Larry Blyden. Music and Lyrics by Richard Adler. Donald plays "Hermes", the go between for Greek Gods and a losing football team. For more on this see Larry Blyden's page and our Music Page.




The Hoofer
Pilot 8/15/66 (CBS)
Sit-com about an unsuccessful 1920s vaudeville team, Donald O'Connor and Soupy Sales as Donald Dugan and Freddy Brady. Pilot revolves around Freddy gambling away train fare to a gig and they spend the rest of the show trying to find alternative transportation.




The Bob Hope Chrysler Theatre
Brilliant Benjamin Boggs 3/30/66 (NBC)
Still looking for details. May also star Broderick Crawford. We've found no evidence that this is a 1964 feature film, as reported elsewhere, though it may have been made that year as an unaired special.
Hollywood Palace
1964 - 1965 (ABC)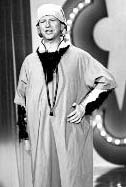 Donald was the host on this variety show performed in front of a live audience, at least three times. On the first of them he does the opening number, Clap your Hands, Me and my Shadow with Louis Da Pron, and a hilarious comedy sketch where he does musical parodies of Marshall Dillon, Harry Belafonte, Ben Casey and Fred Astaire (some nerve, eh?).
In the second appearance (4/11/64) guests were Jerry Van Dyke, Jimmy Durante and Rich Little. Donald's numbers included, Let's Face the Music, Tea For Two, Though Swell, and Sing you Sinners.
In the third appearance he sings and dances Everybody Loves to Take a Bow, The Dances They Used To Do with Dorothy Provine and That Minstrel Feeling. These delightful hour long shows also included, juggling, singers, dog acts and bad puns. Two available from Movies Unlimited

Bob Hope Special, Chrysler Presents
11/10/64
One of Donald's appearances on Bob Hope's Variety show.
Petticoat Junction
The Ladybugs 3/24/64 (CBS)
Director: Donald O'Connor. Not an acting credit. In this episode of the rural sit-com Uncle Joe convinces the girls to form a musical group, to take advantage of the "Beatle craze" sweeping the country. TV Land has plans to air the black and white episodes from the first two seasons next year. For more on Petticoat Junction and for Ladybugs in particular, this page there.

The Judy Garland Show
9/29/63 (CBS)
Donald guest starred in this first aired episode of Judy's short-lived comedy variety show. He started out with a song and dance of Sing You Sinners. He and Judy did a medley of "Songs We're famous for", which were actually songs other people were famous for. Next was a number with Judy and her other guest, Jerry Van Dyke, doing The World is a Toy Balloon. And finally Donald and Judy did a medly of Vaudeville tunes and a softshoe.
For more about Judy Garland
The Tonight Show
Guest Host 1962 (NBC)
We don't know exactly how many Tonight Shows Donald hosted that year. It was just before Johnny Carson was hired and they were trying out a lot of different hosts. We did run across the tidbit that one of his guests was drummer Gene Krupa, with whom he had an "amusing drum talk exchange".
Dinah Shore Chevy Show
12/19/59 (NBC)
Donald appeared during the third season of Dinah's hour-long variety show. Which had become a weekly series in 1957. This episode also guest starred Roy Rogers and Dale Evans, Dizzy Dean and Evelyn Rudie. Donald did a comic flamenco number.
Dupont Show of the Month
The Red Mill - 4/19/58 (CBS)
Also featuring, Elaine May, Mike Nichols, Shirley Jones, Elaine Stritch, Evelyn Rudie and Harpo Marx. A Musical Comedy about a Dutch town, and a troupe of actors passing through and the legend of the "Red Mill". It does still exist, but is not available commercially.
Playhouse 90
The Jet Propelled Couch - 11/14/57 (CBS)
Sorry, we haven't the foggiest idea what this one's about, or what part Donald plays in this episode of the dramatic anthology series. But we should mention that it co-stars Peter Lorre.

The Donald O'Connor Texaco Show
Host - 10/9/54 to 9/10/55 (also called Here's Donald) (NBC)
This show was shown twice a month, alternating with The Jimmy Durante Show It had a loose sit-com plot of Donald and co-star Sid Miller as Songwriters. In 1955 Donald received an Emmmy nomination for best Specialty Act.
The Colgate Comedy Hour
(AKA The Colgate Variety Hour and The NBC Comedy Hour) (NBC)
Occasional Host - 1950 to 1955
This was an hour long weekly musical variety show, hosted by a roster of rotating celebrities, primarily Martin & Lewis, Abbott and Costello, Eddie Cantor and Donald O'Connor. Donald won an Emmy for Best Male Star on a regular series for this program in 1953. In 1952 he received an Emmy nomination for Most Outstanding Personality. Have a look at our guide to Donald's episodes of this series.