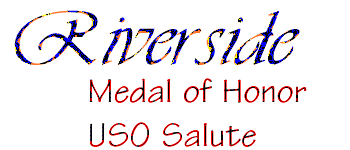 When we left San Francisco on November the 5th 1999 to attend the Medal of Honor Winners' "All-Star USO style Show", we had high hopes of actually meeting Donald O'Connor for the first time. (A mutual acquaintance was trying to arrange an introduction.) We flew into Ontario airport, and peered doubtfully at the gray-brown smear that covered the city, but the cab driver who took us to Riverside assured us it was "fog" and not "smog". Well, maybe it looks different in the Southland, because up here fog doesn't look like that.

After checking into our hotel, we went to pick up our tickets for the evening's performance. We listened to one of the performers, Joanie Sommers, rehearsing for the show. We walked around exciting Downtown Riverside and looked at the shops, until we were overcome by the boredom, and went back to the hotel to see if maybe we had gotten any messages about maybe meeting Donald. There weren't any. We got ready for the night out.

We arrived early and watched the crowd congregate. Soldiers, marines, air force, and sailors gathered, wearing their dress uniforms. They let the crowd in and we took our seats (Waaaayyy in the back). They had a lot of acts on before Donald. Singer Joanie Sommers opened the show followed by The Ink Spots, and comedian Frank Gorshin. This was followed by an intermission. The Drifters came on after that and were very well received. Finally, and this was around eleven pm, (way past our bedtime, Donald's bedtime and most of the audience's bedtime,) Donald was introduced by emcee Dave Barry (Not THE Dave Barry, just A Dave Barry).

"And now, if you believe it or not, it's all been a very big build up, and justifiably so, to the star of our show; a young man who we've had the pleasure of growing up with in the movies, and he's still a young man. He has sung and he has danced his way into the hearts of America. Ladies and Gentleman, it's an honor and a pleasure to bring you, the one, the only, Donald O'Connor."

Donald came out and performed Nothing Can Stop Me Now.

After the number Donald said, "Thank you ladies and Gentleman. You've seen a magnificent show out here, and we'll keep it moving right along. I've had a little request for a song here. I requested it myself. Thank you. All right, how does it go?"

He spoke the intro for the song: You know the sound of applause is delicious And it's a thrill to have the world at your feet And the praise of the crowd is exciting, But I've learned that it's not what makes life complete.

Then he sang Make Someone Happy.

After the applause he said, "Thank you so much. Mind if I go over here and have a drink of water? [Speaks to piano player] You're doing a great job today, just sensational. I'm sorry after that introduction I got carried away there. Thank you. What's the name of the song I sing? Oh that one. You want to do that one. I don't want to do that one. Another song."

He sang, I Can't Smile Without You.

Then he said, "I love beautiful melodies and I know most of the composers that I sing about. Of course, he's a composer himself, Mickey Rooney, but this next song I'm going to sing happens to be Mickey Rooney's favorite song. You know I never knew how short Mickey was until I saw him with Dolly Parton. It looked like three bald-headed men dancing."

He sang,How Do You Keep The Music Playing.

"Isn't that a beautiful song? What else do we have for them? A Jam session? Okay, all right. Any particular song now that you'd like to hear me sing in my jam session? [Audience doesn't respond.] All right, we'll go right ahead without you. What do you want to start with Timmy? Fly me to the Moon? You like that one too? Then you stay at the piano for that one. Okay?

Donald sang, Fly Me to the Moon, during which there was a Sax solo. "Let's hear it for our wonderful Sax player."

"Here we go. All of Me?" and they went straight into that one. This time there was a piano solo. "Isn't he beautiful? Let's have a great big one, huh?"

"Why not take the whole thing? Thank you. Oh, I can have another glass of water? Thank you very much. I just did six shows before I came on here tonight... all free, that's what hurts. Let's do Foggy Day, all right. It's been a long time. You want to play it in that key, huh? All right."

He sang, Foggy Day. He then went straight into It's a Lovely Day from Call Me Madam, and then right into the last number, She's My Kind of Girl.

"Thank you. God Bless You," he said after the song was over. He came back on stage for the finale. And seemed to be deep in conversation with one of the Drifters.

This ended the show and the crowd filed out the side doors. Once outside we took the opportunity to hang around what passed for the stage door. However, having not had any word, and considering that it was only a couple minutes before midnight, we weren't surprised that Donald already seemed to be gone. However we knew we'd have another opportunity at the opening of the El Portal Theatre in two weeks.
---
We arrived in North Hollywood, a considerably more lively place than Riverside, on November 20th for the gala opening of The El Portal Center for the Arts. We wanted to take a limo from the hotel, because that would have been pretty impressive, but instead we took up Jose, the Beverly Garland hotel shuttle driver, on his offer to chauffeur us over.
We had to wait outside for a little while, since our tickets were in transit. We hadn't spotted any real celebrities yet, but apparently the theatre had hired look-alikes for the festivities. Marilyn Monroe, Clark Gable and John Wayne were schmoozing among the guests. The Duke seemed especially eager to have his picture taken.
The tickets had finally arrived, and we were standing in line for them, when we were greeted by El Portal publicist, Pegge Forrest. Pegge had promised she'd introduce us to Donald and Gloria. Donald had not yet arrived, but we were very excited at the prospect. We went inside. The interior was incomplete, the walls unpainted, doors not yet hung, etc. It was apparent that part of the purpose of the evening was to raise enough funds to finish the theatre. But the bar was open and the hor's douvres were circulating (including a very popular bacon-wrapped prawn).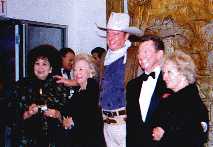 We watched as celebrities began to trickle in, Jane Withers, Rip Taylor, Doris Roberts, Rose Marie, Darryl Hickman, Edie Adams, and, of course, Leonard Maltin. There were probably others whom we didn't recognize. We had wandered back out to the front lobby, where a magician had cornered us and was showing us some very good card tricks. Across the room a Charlie Chaplin look-alike was bothering a waitress to the crowd's amusement.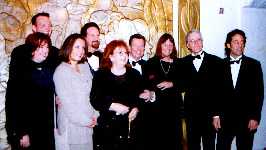 At that point Donald O'Connor entered the lobby, with an entourage of family in tow. The Press and I took pictures for a few minutes. Teresa and I moved back against the wall so that the many O'Connors could pass into the lounge. The Charlie Chaplin imitator chose that time to come over and flirt. But when Donald passed everything else faded into inconsequentiality as he said hello and shook our hands. I introduced us "I'm Tracy and this is Teresa." Teresa said it was a pleasure to meet him, or something like that. And he went along greeting people.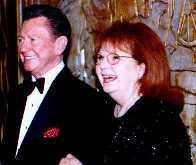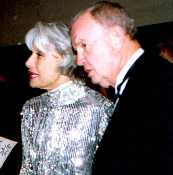 Well, this was enough to put us into shock, but we do recall Carol Channing coming in shortly afterwards, and then wandering around to the secondary performance room where we took a picture of Rip Taylor was who was studying his script from the performance.
Pegge found us, shortly thereafter and asked if we had met Donald, we said "yes!" She looked skeptical, "But you didn't tell him who you were, did you?" She dragged us over to the O'Connor cluster, and tapped Gloria on the shoulder, and introduced us (as the girls who did the web page). Donald looked quite surprised. "Nobody told me who you were, I thought you were just two pretty young ladies standing against the wall." We both blushed.
Gloria introduced the rest of the family, though we're afraid we don't remember everyone's names. (And if any member of the O'Connor clan would like to write in and help us caption the above family photo that would be swell.) Donna, Kevin, Fred and Alicia, Donald's kids, were there. We discussed the Web page. Donald and Gloria had been impressed with the Music of Donald O'Connor page.
Donald went over to the bar to get a couple of cream sodas. Teresa went in that direction too, but came back with something a little stronger. Alicia came over to talk to me and said how much she liked the page. She said that they had gotten Donald WebTV for his birthday, so he could look at our web site. Apparently he had browsed the front page and decided to take the Francis Pop Quiz. Well, she and the rest of the family thought it was pretty hilarious, because he missed the first few and kept getting that message with Francis saying, "Well if it isn't the boy idiot." "I'll get the next one," he promised. "And he did," she said proudly.
She said she had often been on the verge of e-mailing us, especially in view of our disclaimer. (The "We have never met as yet") to say she could arrange the meeting. Then she asked if we weren't going to have to change all the pages. (And yes we are going to have to change the disclaimer on every single page.)
Teresa walked back up about then. And everyone one started to go into the seating area. We were in row J. (Donald was in C or D). We had to stand up briefly when Leonard Maltin asked to pass by.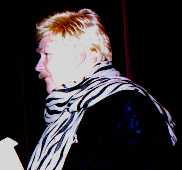 There was a burlesque sketch with Rip Taylor, Edie Adams and Joseph Campanella that stood out. Carol Lawrence spoke, Joanne Worley sang. Robert Caine, who had put the theatre back together was honored, in part with a How to Succeed in Business tribute from Darryl Hickman and Maureen Arthur. Kathleen Freeman (Phoebe Dinsmore in Singin' in the Rain) had an amusing speech. Carol Channing introduced Donald. She was announced as the Great Lady of Musical Theatre and commented that everyone else must be dead to have her earned her that accolade.
Donald came up on stage to a standing ovation. "This is such a thrill, I'll tell you, because I think we were, (the O'Connor family, there were six of us in Vaudeville and I come from a circus family, and I was the last born) and I think we worked this theatre around 1932 just before the earthquake, it looks a little bit like it tonight too.
I can't tell you, you know, once you've been in this business all your life, and I don't want to sound like it's been a tremendous chore, but once you've spent your whole life giving your life's blood to this business, when they tear down a theatre it's like tearing out your heart, part of your heart. And of course when you see one being put back together again, it's so equally wonderful. It's a wonderful feeling you get inside. And I'm so happy to be invited here tonight, because I can't think of anybody else whose more deserving to be on the stage at El Portal. [applause] Vanity, vanity, it's nothing but vanity.
Hey listen, now that I'm up here, do you mind if I do a song? [applause] Okay. Well, really, it's just so wonderful being up here. This is just great. I hope they put down a floor for dancers. They never do. It's usually cement. Well, anyway, you got a little water up here? Sweetheart, you got some water I can have? Excuse me just a second. You go ahead and talk amongst yourselves. [He takes a drink and then waters one of the potted plants on stage. Audience laughs] I've been wanting to do that all night. Let's have a little music fellas."
Donald then did his usual opening number, Nothing Can Stop Me Now. (Well, nothing has so far.) The timing between him and the band goes off slightly and he motions at the large picture of himself behind him. "Did we bring the guns so we can shoot at the picture." He starts again and the band gets back in synch. "Am I done?" he asked before ending the song. The audience applauded. "Who the hell wrote that song? Who asked to do it? I didn't ask to do it. Did I ask to do it? I guess I did."
We were talking about being in pictures and so forth. I was a late bloomer in pictures. I didn't start until 1938 and the man who discovered me, I gotta tell you a little about him. We were working, I believe, the Biltmore hall and they were having a big party there for the motion picture relief fund. And this gentleman, who was just a kid himself, he saw me there and he went to Mr. Ruggles office that day, a great producer and director and he said you gotta see that kid in the O'Connor family. And so after he saw me I went to the studio and I got my first part, in Sing you Sinners with Bing Crosby and Fred MacMurray. [applause]. And I tell you it's been such a thrill and I'm so grateful toward this gentleman, and I wish I could remember his name. [laughter] Doesn't matter, we'll handle it after this song; let's do a song."
Then he sang the song, (mostly to Gloria), How Do You Keep the Music Playing?
After the show everyone walked over to the big white tent behind the theatre for the buffet dinner. We were at table seventeen. Donald was at table seven. During dinner Donald was asked to come up and accept another award (though we're a little fuzzy on what that one was for) and the auction was held. The one item that did interest us, (If you don't count the sketches by Peter Falk and the Lakers Box seats) was the large mounted display pictures from various Donald O'Connor films. There were eighteen of them, black and white, about two feet by three feet. They almost immediately went out of our range. The winning bidders were the occupants of table seven. Apparently the O'Connor family pooled their resources to buy them.
After dinner and the auction we went over to Donald's table to talk to them again. We gave Donald a little present, and, as per our dance teacher's instructions, passed on her greetings. Donald said that he would now be able to "talk to us on television" (web-tv). Gloria asked for our e-mail address. Fortunately the night before we had printed up a little business card with our name, address and e-mail. So we whipped that out and handed it to her. Gloria asked how we had liked our first wild Hollywood party. We must have looked rather skeptical. The event was very sedate, compared too... well, almost anything, though she was joking.
About then the O'Connors were going back and forth between the stage collecting the pictures they'd bought. Donna went by with one from There's No Business Like Show Business and we mentioned that this had just been shown recently on cable television FXM. And she said that one had always been one of her favorites.
We walked back to the front of the theatre and waited for a cab. (It being too late now to call Jose, the shuttle driver.) We waved good-bye to Jane Withers, who had almost sat at our table. We considered hitching a ride with Donald and Gloria, should they come by, but they didn't.


THE END
You have reached http://muppetlabs.com/~davidj/tnt/oconnor/live/onstage.htm

Disclaimer: We are in no way officially sanctioned by or connected to Donald O'Connor, or anyone else for that matter. None of the content of this website is meant to infringe upon any copyrights held by studios, companies, authors, other web site owners or stray individuals.

Anything original is copyright 1999 by Teresa and Tracy Murray (a.k.a. T 'n' T).
Please send us lots and lots of e-mail at tntmur@aol.com
Number of people who wish they had been there: