This is our account of our trip to see Donald O'Connor in The Fabulous Palm Springs Follies on May 29th 1999. It was a very thrilling occasion, with some delightful surprises.
We arrived in Palm Springs early, about 11:30 am, and checked into our hotel, the Palm Springs Hilton. We dropped our luggage off and walked over to the "historic theatre district" to do a reconnaissance of the Plaza Theatre where that evening's performance would be. We were early enough to catch the matinee, but it was all sold out.
Well...we could have gotten in. There was a scalper out front... not your run of the mill scalper. She was a sweet little old lady who had bought two more tickets than she needed. We didn't go for it, because we weren't dressed nicely enough to go in and see Donald O'Connor. (Not that there was any dress code for the matinee, or the evening performance for that matter.)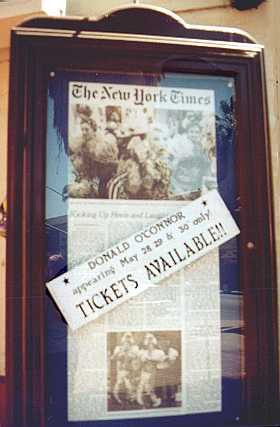 So we went out shopping, (picking up a pretty nice Peter Lorre lobby card,) and ate lunch, (sampling the local "Palm Springs Ale",) instead. We went back to the theatre and took a picture of the sign out front with Donald's name splashed across it. And we picked up our will-call-second-row-seat-tickets. And we advised a disappointed young couple (young, in Palm Springs is under 50) seeking tickets for the next day's sold-out matinee that they could probably find a little old lady scalping out front. We shopped a little more and then went back to the hotel took a nap and watched a basketball game. Then we got ready to go out to the theatre.
We arrived at the theatre forty-five minutes before the show was scheduled to start. We took a quick look at the souvenirs and pictures in the lobby. Then one of the usherettes, dressed in a festive southwestern costume, showed us to our seats. They were even better than we thought they were. Second row, but on the side so that there were no seats in front of us to block the view of the stage. On the stage was an old-fashioned radio, about four feet tall, not actually operational, but evoking the mood of the music of the period that was coming over the stereo system.
We sat down and waited and enjoyed the music. We soon found that our seats were even better than better. We were right next to the backstage door where celebrities were sometimes led in and out. An usherette came down the aisle with two ladies and seated them right behind us. From the obsequious way she treated one of the women we knew we had a celebrity behind us, and what's more she was a friend of Donald O'Connor's. So we didn't want to be uncool and turn around and stare at her. Instead we tried to pick up clues from the conversation, which we were uncooly eavesdropping on. Donald's name was dropped often. Donald wouldn't be dancing. There would be a dog act that evening that wasn't on the program, and Donald had done an interview with "Today" which would be on Thursday, much of this according to Gloria. (we assumed, correctly, Gloria O'Connor). The usherette returned and had the celebrity sign one of the Follies posters.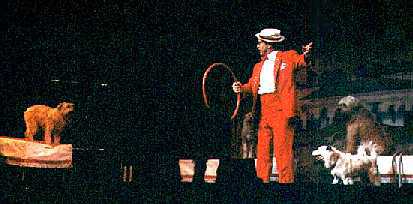 Well, we had some idea of who it might be, but the guessing game took some of our attention away from the Fabulous Follies first act. They started out with the company doing "Hooray for Hollywood", with some Busby Berkeleyesque dance formations by the world's oldest chorus line. Then the Dog Act came on in place of the missing Rios brothers. (Apparently victims of the Follies curse.) And then the Mercer Brothers, a banjo/comedy act. Then the "girls" paraded on stage in some of the most amazing costumes, to "A Pretty Girl is like a Melody".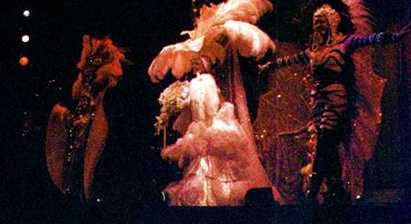 This was followed by the first intermission. (In Palm Springs you need two intermissions.) Our Celebrity left her seat which left us free to speculate out loud, who this might be. We decided, and guessed right, but we're not going to tell you. We'll let it come out in the narrative, along with the identity of the red-shirted celebrity who passed by us three times.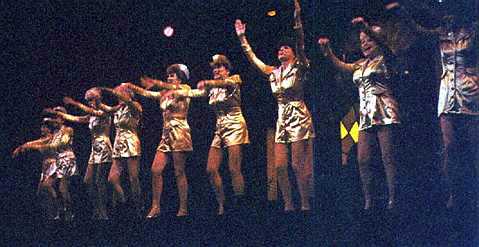 Act Two started out with "Steppin' Out with my Baby" performed with walkers and crutches. This was followed by an English Ventriloquist, Neville King, who spent very little time with his own dummy, and used audience members instead. And he claimed to be staying at our hotel. Next was the tribute to Irving Berlin, which had some nice sets, and tunes we knew the words to.
Then they had the second intermission. Donald O'Connor was scheduled to come on right after this. But not quite yet, first producer and emcee Riff Markowitz had to come on tell a few more ancient Irish jokes, and do the introductions.
He said, "There's hardly a night that goes by here at the Follies or an afternoon either, for that matter, where we don't have a celebrity or two in the house, it's the nature of this town. They're just everywhere you know. But we generally try to protect their privacy and not make too much of a fuss. But every once in while we just get folks in the house who are either so famous or so beloved...or got in for free... that I just would love to take them home with me."
"This gentleman is very dear to the heart of the Follies. You know, you see all of us wandering around on the stage here and you think, these people are ancient. How do they keep them propped up? This is the gentleman who's responsible, the house doctor, Dr. Howard Baird."
Riff also introduced the former Lt. Governor of California. and burlesque star "Tempest Storm". Then he introduced "our" celebrity.

"This dear lady danced with Donald O'Connor and that's no small trick I'll tell you. She's also a good friend, more than twenty films including "Top Man", "Grapes of Wrath", "Bowery to Broadway", and her picture happens to be in our Follies booklet, with Mr. O'Connor, tonight on page fourteen, if you happen to have your glasses with you. Miss Peggy Ryan! Where's Miss Ryan." Riff asked. As it happens, of course, she was right behind us. "There's Miss Ryan. It's one of my greatest regrets, Miss Ryan, that you're simply not old enough to be in the Follies. But someday..."
"I am," said Peggy.
"No, surely not, you can't be over fifty."
"Seventy-five next month," said Peggy. (Not entirely accurate. She'll be seventy-five on August 28th, the day Donald turns seventy-four.)
"Seventy-five next month," said Riff. "She'll say anything to get a job. Well, I guess that wraps it up for the introductions. Noooo. Fifty films including "20,000 Leagues Under the Sea", "The Man From Snowy River" and "Spartacus", nominated for his roles in "Lust for Life", "Champion", "The Bad and the Beautiful", honorary Oscar winner last year. Ladies and Gentleman, Kirk Douglas." (a.k.a. the guy in the red-shirt.)
There was a loud round of applause, and Riff announced that Kirk Douglas and his wife were celebrating their forty-fifth wedding anniversary. Then there was an introduction of people who came in on buses and some by-play with audience members, until, finally we got to the important part of the evening.
"Darlins," said Mr. Markowitz with a remnant of his Irish joke accent, "This is the guest star spot in our show. It's a very difficult spot to book as you might well imagine. So many of the great stars of our generation, the headliners, have moved to that vaudeville stage in the sky. They're simply gone."
"Now, this season at the follies we were so happy because we were able to attract to our stage a magnificent star. Worked in vaudeville, over a hundred motion pictures. I mean, done everything in show business there was to do. I mean, it was a perfect marriage of a star and the follies. And then tragedy struck us on January 31st when he became so dreadfully ill and he was taken immediately to the hospital and was found to have double pneumonia."
"Now you have to remember this is a man though, who had triple bypass and a stroke. Double pneumonia was just a vacation. Well the vacation took quite a long time. He was unconsious for more than four weeks. And, I must tell you though, the press were lining up across the street. We had satellite dishes everywhere. I mean, they just flocked to us from all over the world, because it was clear, in their minds, that this dear man was about to take a cab. I mean, they felt it was over for him. Even the local television station, Channel 3, ABC, Ted Dawson, the anchor, who is a wonderful supporter of the follies really felt that Mr. O'Connor would never again, certainly not for a long time, return to our stage or any stage."
"Now on that fateful night there was a press conference and I was interviewed by ABC and this... I'm going to show you a piece of tape now of that interview and Mr. Dawson's comments immediately thereafter. "
On the tape, which rolled on a large screen almost directly above our heads, Riff said, "We very pleased to be able to have Mr. O'Connor this season. We're loking forward to his return. The doctors informed me today that he was on the mend. And we look foward to him coming back."
Then the local Anchor, Ted Dawson, was shown, back at the station set, "Riff Markowitz may be a little optimistic with that remark. At the hospital today the feeling among O'Connor's family and the hospital staff was that even if he does recover it's going to be a very, very long time to recuperate. He's a very, very sick man." End tape.
Back live on stage Riff used an traditional expression, for 'I was right and they were wrong', "Nyah nyah nah na nyah naaa!"
This was followed by an introduction over the sound system. "The Donald lives. Ladies and gentlemen on the stage of the follies, Mr. Donald O'Connor." (Much applause. 'Singin' in the Rain' plays in the background.)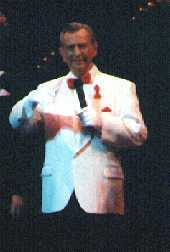 Donald came out and didn't waste any time, "God bless you. Let's have that first number now. (Does Nothing Can Stop Me Now.) "Look he can still move his legs, isn't that wonderful," he interjects as he does a little bit of dancing. "You know that was a wonderful song. It was written by Les Bricusse and Anthony Newley, and Anthony was a great pal of mine and he passed away a couple of weeks ago and he was such a brilliant guy. Of course, I've know some of the greatest composers in the world. Irving Berlin.... um, Irving Berlin. I've known a lot of composers, and I think Barry Manilow is about the best that's ever come along. And I'd like to, if I may, sing the best song that he ever sang." (Sings I Can't Smile Without You)
"Thank you so much, Ladies and Gentlemen. You know we were talking about the hospital situation. Some of the darndest things happened to me there. I don't remember very much. I remember Dr. Baird, coming over a couple of times, feeling my pulse, a few other things. And he's a great guy. He really is a wonderful guy. I wouldn't be here without him."
"Also one of the funniest things happened to me when I was in the hospital. I was on a gurney and I was going up in the elevator with this nurse and we stopped at this floor and this big gal got on the gurney. Not 'got on the gurney'. That's a marvelous idea, isn't it? But she didn't get on the gurney, she got on the elevator. And she said to the nurse, 'You know, that looks exactly like Donald O'Connor.' And she (the nurse) said, 'Well, that is Donald O'Connor.' And she said, 'Don't be silly. He's dead.' I went on from there. Although, it was quite some time."
"I want to thank you for all your prayers, and all that love you poured out, over all that time I was in the hospital. (applause) It made me feel awful good."
"But I'll tell you now, I'm going to do a little song here. It's a marvelous song. It's one of my favorites. I've been singing it for a long time and its uh....(He pretends to forget what song he's doing and takes a little slip of paper from his pocket to check.) Oh, yes, I remember. It's a little thing called Fly me to the Moon. No. Wait a minute. I'm not right, am I?"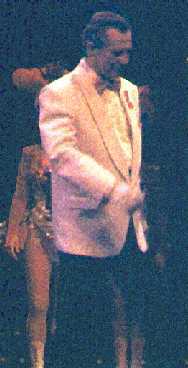 "You know, what it is tonight? I'm all shook up. We got Kirk here tonight and Peggy, Peggy Ryan. I always hate to get up and make mistakes in front of Peggy, because in the old days she used to beat me up."
"But I think the song...what is the song? Can anybody tell me? Do you have any idea what song it is? It isn't Say it with Music. (He hums a few bars and the music starts up.) Is this it? (He sings How Do You Keep the Music Playing, perfectly. He gets a standing ovation.) Thank you so much Ladies and Gentlemen. You know that's such a gorgeous song, you don't have to sing it. It sings itself."
"But you know, I know so many songs and if there's any particular song that happens to be your favorite, I would be more than happy to do it for you, provided I can. Any song at all. (Someone calls out Singin' in the Rain) Singin' in the Rain, of course. Singin in the Rain . Write that down. Any other song? Make 'em Laugh? That's where I run up the wall and do the back somersaults. All right, we'll do that for you... tomorrow at 12 o'clock. Oh, my heavens."
"I'll tell you what we'll do. I'd like to dedicate this song to my dear pal, Peggy. We haven't seen each other for quite a while and it's a little swing thing so let's do it shall we."
He sings Fly me to the Moon and All of Me. He dances a little. He can't seem to help it. There is thunderous applause, and an audible cheer from Peggy as Make em Laugh plays him off the stage. He pauses before going off and puts a foot up on the wall pretending to begin a back somersault. He leaves.
Then the show segued into Act Three, scene two, Jukebox Saturday Night from which we recall a rather amusing male version of the Andrews Sisters.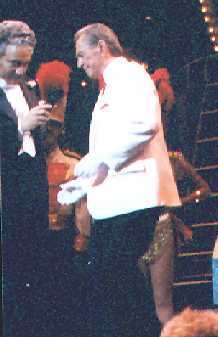 The final scene was a series of patriotic songs, during which Riff introduced the male members of the cast; the females having been introduced in Act One. Donald came out again for this. Riff thanked Donald for being there, and told Donald that he wished he could have danced for them. Donald obligingly did a few tap steps. Riff asked him his age, as he had the rest of the cast as they were introduced. Seventy-three.
This was followed by three more songs, which Donald stayed on stage for, God Bless America, and Star Spangled Banner, which included a great, big, huge cannon barrel shooting out a large amount of confetti and streamers over the crowd. The ensemble ended with Auld Lang Syne.
Peggy went up by the stage as the cast began leaving, she said something to Donald, which we couldn't hear, and he indicated he'd be sending someone out for her.
Right then, they led Kirk Douglas out through the exit by our seats. This confused part of the crowd, who thought it was an actual exit and tried to follow him out. This caused a little traffic jam right in front of us and momentarily prevented Peggy from making her way back to her seat. But she managed to get there, even before the traffic unsnarled.
We couldn't miss the opportunity to speak with her. We told her that we had flown out especially to see Donald and that we thought it was absolutely miraculous that she should be seated right behind us. She shook our hands. We'd have tried for a more in depth conversation, but Peggy's escort, Gloria O'Connor, arrived right then and began to lead her away. As the traffic flow kept them from moving forward for a moment, Peggy asked us where we were from, and mentioned that she and Donald shared a birthday, but we knew that.
Peggy and Gloria managed to get out, and we were stranded behind two columns of senior citizens moving slowly out the correct exits. We waited for the crowd to die down and then went out into the lobby. Donald was out there with some other members of the cast, including two members of the dog act. But he was just leaving as we came out, and was whisked away through a door and away from the crowd that had gathered.
And that's it. You have just been subjected to a T 'n' T detailed report. Due to the lighting restrictions most of our pictures didn't come out. All of the ones of Donald O'Connor are from the final act, not from his solo performance. We don't intend any copyright infringement on any Follies performances, CDs and tapes of which are available, though you'll have to e-mail them about it from their Web Page.

You have reached http://muppetlabs.com/~davidj/tnt/oconnor/follies.htm

Disclaimer: We are in no way officially sanctioned by or connected to Donald O'Connor, or anyone else for that matter. None of the content of this website is meant to infringe upon any copyrights held by studios, companies, authors, other web site owners or stray individuals.

Anything original is copyright 1999 by Teresa and Tracy Murray (a.k.a. T 'n' T).

Please send us lots and lots of e-mail at tntmur@aol.com