Excerpt from TVWeek:
'Monk' Detects Final Season
By Andrew Krukowski
November 14, 2008 5:06 PM
"We want to build to a spectacular conclusion for this wonderful show. By many measures, 'Monk' is the most successful series in the history of basic-cable television, and it was certainly the original tentpole of our 'Character' brand," said Jeff Wachtel, executive vice president of original programming with USA Network/co-head of original content with Universal Cable Productions.
"Our fans have been extremely dedicated, and season eight should prove to be a very satisfying reward," he said.
Creator and head writer Andy Breckman discussed the subject a couple of weeks before the season eight renewal annoucement:
Excerpt from Multichannel News
Reading a Show's Life Line
by Janice Rhoshalle Littlejohn --
10/27/2008

"There is a natural life span," said Monk creator and executive producer Andy Breckman. "People just get burned out naturally, and we don't want to push ourselves to do seasons we're not 100% proud of.
"We feel we have X number of stories we can tell with these characters, and we're getting close to that X. Season eight feels right. There have been discussions and I think everyone is on the same page."
While Breckman admits writing the series is easier now because he knows the characters, the audience and what works for both, he fears going too long could make the show redundant and disappointing to fans whose viewership has helped the show deliver more than 3 million viewers, including 2 million-plus in adults 25-54, in every season since its premiere in 2002.
"Our audience is very loyal and I'd love to end things on our terms and that, on paper, is at least our plan."
Tony Shalhoub has now gone on record as well regarding the final season.
Excerpt from the Chicago Tribune
Tony Shalhoub looks to life after Monk
USA detective series to begin shooting final season
By CARRIE ANTLFINGER | Associated Press Writer
2:42 AM CST, January 10, 2009
"It's a great job, and I work with great people, and I really enjoy doing the character, but I think eight years is enough," he said in a phone interview Thursday. "I think we've kind of explored all the avenues we could possibly cover, and as much as I like the show and working on it, I really do want to think about moving onto whatever the next chapter might be."
Bitty's Back, Too!!!



Bitty Schram at the 2008

Breakthrough Awards

You heard right. For one episode and one episode only Bitty Schram returned as Monk's former assistant Sharona. Here's the (now old) scoop from Entertainment Weekly:

'Monk' exclusive: Bitty Schram says 'Hi, Sharona!'
Mar 24, 2009, 03:48 PM | by Michael Ausiello

Bitty Schram has finalized a deal to reprise her role as sidekick to Tony Shalhoub's obsessive-compulsive detective during Monk's eighth and final season, sources confirm to me exclusively. "We couldn't think of a better way to help wrap up the series than with the return of Bitty's character," said Shalhoub. "Bringing some closure to Sharona is long overdue." Full Article
| | |
| --- | --- |
| | Tony Shalhoub was on The Bonnie Hunt Show on January 8th 2009 talking about Monk and weight loss and, of course, the Shapoopi™. Just in case you missed it you can watch the interview below in two parts . |

Monk: The Seventh Season
The seventh season of Monk began filming on May 5th 2008. Ordinarily they would have begun in March, but because of the writers' strike last spring's filming was delayed. After a brief break they went back to work on the second half of the season which began with a holiday episode entitled "Mr. Monk and the Miracle" guest starring Tracey Walter, Ric Sarabia, Melissa Strom (who gave me an interview all about filming her part in the episode) and Michael Patrick Breen who took a few pictures when he was on the set. It was broadcast on November 28th. Seven more episodes aired starting on January 9th 2009 with "Mr. Monk's Other Brother" featuring Steve Zahn as Jack Jr., Monk's younger half brother.
Photos from the Holiday Special
Mr. Monk and the Miracle
Click to enlarge

Here's what we got for the first part of season seven:

Brad Garrett in
Mr. Monk Buys a house


Hector Elizondo as
Dr. Neven Bell


Mr. Monk and the Genius
guest star David Strathairn


Mr. Monk Gets Lotto Fever


Mr. Monk is Underwater
guest star Casper Van Dien


James Lesure in
Mr. Monk Takes a Punch

Mr. Monk Buys a House: With guest star Brad Garrett and introducing Hector Elizondo as Monk's new therapist Dr. Neven Bell. Debuted July 18, 2008.

Mr. Monk and the Genius: Monk matches wits with a chess master, guest star David Strathairn. Debuted July 25, 2008.

Mr. Monk Get Lotto Fever: Natalie is the newest Lotto girl. Guest stars Malcolm Barrett, Gregory Jbara, Amy Crofoot and Heather Brooker (as gushing fan). Directed by Michael Zinberg. Debuted August 1, 2008.
Script Snippet (spoilers)
Interview with Malcolm Barrett
Interview with Heather Brooker
Interview with Amy Crofoot

Mr. Monk Takes a Punch: Monk and boxing. That about says it all. Guest stars Robert Loggia and James Lesure. Debuted August 8, 2008.
Interview with James Lesure

Mr. Monk is Underwater: Will Natalie finally find a little romance? This could be the episode. And maybe this guy's not secretly a leper. Guest stars William Atherton and Casper Van Dien. Debuted August 15, 2008.
Interview with Casper Van Dien
Interview with David A. Jansen

Mr. Monk Falls in Love (Formerly known as "Mr. Monk and the Pretty Face"): It's Monk's turn for romance and he falls for that pretty face. Guest star Joanna Pacula and John D'Aquino. Debuted August 22, 2008.

Mr. Monk's 100th Case: That's right, they've hit the illustrious 100th episode in this half season and it's a star studded spectacular, which includes John Turturro as Ambrose Monk, Tim Bagley as Harold Krenshaw, Andy Richter as Hal Tucker and Howie Mandel as Ralph "Father" Roberts among many others. Eric McCormack also guest stars. Debuted September 5, 2008.
USA Network Press Release
Interview with Ernie Grunwald

Mr. Monk Gets Hypnotized: Monk is hypnotized and regresses back to his nine-year-old self. Apparently even this condition can't prevent him from solving the case. Guest star Richard Schiff. Debuted September 12, 2008.
Writers' Commentary at USA Network
In an interview from the summer of season four, here's what Tony Shalhoub had to say about the way the season is split up: "The advantage of airing them in two blocks is that viewers don't have to wait so long before new episodes come along. They get fewer at a time, but the alternative is airing all 16 and then having people wait nine months for the new ones to come along. The way we do it now is that only four months go by before the new shows start airing. It feels like a long time because the show's so damn good, I guess." Here's the link for the rest of the article.
Monk: The Sixth Season
Season six is over now. The last seven episodes of the sixth season finished filming in November 2007 and fininshed airing on February 22nd 2008. The first of these was the holiday episode entitled "Mr. Monk and the Man Who Shot Santa" and it premiered on December 7th 2007. We have an interview with one of the guest actors, Sean Blodgett. The holiday episode also featured Larry Miller reprising his role from "Mr. Monk Gets Stuck in Traffic", lawyer Garret Price.

Mr. Monk & His Biggest Fan


Mr. Monk & the Rapper


Mr. Monk & the Birds
& the Bees


Mr. Monk &
the Buried Treasure


Mr. Monk & the Wrong Man

Here's what we got in the first part of season six...

Mr. Monk and His Biggest Fan: Strangely enough it's not about yours truly (not overtly at any rate), but we see a couple of familiar faces from seasons past. Sarah Silverman returns as Marci Maven and Sharon Lawrence is back as Linda Fusco. An L.A. based fan, message board code name GuHleer, was surprised to discover that this particular episode was being filmed in front of his apartment in March. Debuted JUL 13, 2007.
MFP Review
Sarah Silverman Interview

Mr. Monk and the Rapper: The special guest star and rapper in question is none other than Snoop Dog. Even I've heard of him. Also guest starring are a slew of other rappers including Kurupt, David Banner and Damani. Debuted JUL 20th, 2007.
Jungle Theme Rap
"Here's What Happened" Rap (Lyrics and WAV)
Randy Rap

Mr. Monk and the Naked Man: There's a whole lotta naked people, but it's all done very discreetly... and tastefully. Guest stars include Alfred Molina (who starred in the short lived TV series Bram and Alice with Traylor Howard), Angela Kinsey (The Office) and Diedrich Bader (The Drew Carey Show). My money was on Bader for the most naked-ish guest star. I won. Debuted JUL 27, 2007.

Mr. Monk and the Bad Girlfriend: Monk suspects the Captain's girlfriend of murder. Guest star Sharon Lawrence once again reprises her role as Linda Fusco, the real estate agent with the hots for Stottlemeyer. Also guest starring Erica Yoder (Beth Landow "Mr. Monk Goes Back to School") Previously entitled "Mr. Monk and the Captain's Girlfriend." Debuted AUG 3, 2007.
Sharon Lawrence Interview

Mr. Monk and the Birds & the Bees: Directed by Michael Watkins. Julie Teeger (Emmy Clarke) gets a lot to do and there's a funeral parlor sequence which is naturally a lot of laughs. Guest stars include Gail O'Grady (Miranda St. Claire, "Mr. Monk and the Candidate") and Vincent Ventresca (The Invisible Man). Debuted AUG 10, 2007.

Mr. Monk and the Buried Treasure: Guest Star Cody McMains who reprises his role as Troy, Dr. Kroger's rebellious teenage son. I watched this one with Tony Shalhoub (and Spinner), so it has a special place in my heart. Also guest starring Jareb Dauplaise and Sean Marquette who both gave me interviews. AUG 17, 2007
Sean Marquette Interview
Jareb Dauplaise Interview
Kirk Diedrich Interview (Thanks, Agnieszka!)

Mr. Monk and the Daredevil: Guest stars Tim Bagley and David Koechner. I was lucky enough to watch them film some of this one. Harold Krenshaw is back. Is he the "Frisco Fly"? (By the way, we San Franciscans never refer to our beautiful city as "Frisco" and you shouldn't either.) Directed by Jonathan Collier. Debuted AUG 24, 2007.
Tim Bagley Interview

Mr. Monk and the Wrong Man: It looks like Monk may have got the wrong man convicted years before and he wants to set things right. Guest actors include Tim De Zarn, Kate Anthony, John Hemphill and Tom McCafferty. Debuted SEP 7, 2007.

Mr. Monk is Up All Night: Just what it says. It almost all takes place during the course of one night. Guest starring Donal Logue and J. P. Manoux. Also appearing is Andy Mackenzie as the drug dealer. SEP 14, 2007.
David Breckman Interview
Featured in the second half of season six were:

Howie Mandel in
"Mr. Monk Joins a Cult"


"Mr. Monk Goes to the Bank"


Emmy Clarke in "Mr. Monk and the Three Julies"


Peter Stormare in "Mr. Monk Paints His Masterpiece"
Click on images to enlarge

Monk: The Fifth Season
Mr. Monk Meets His Dad (This is a holiday themed episode which features... you guessed it, Monk's long lost father. It aired on November 17th. Dan Hedaya was chosen to play Adrian's Dad, Jack Monk.) NOVEMBER 17, 2006 Press Release

Mr. Monk and the Leper (Guest starring will be one of my favorite actresses Sarah Brown. Screenplay by Charles Evered, who was kind enough to give me an email interview. This episode was broadcast in black and white and immediately thereafter in color.) DECEMBER 22nd 2006

Mr. Monk Makes a Friend (Guest starring Andy Richter and Monk goes to a San Jose Sharks' hockey game.) SEASON 5.5 PREMIERE - JANUARY 19th 2007

Mr. Monk is at Your Service (Guest starring Sean Astin and reintroducing Natalie's super rich folks played by Holland Taylor and Michael Cavanaugh, previously seen in "Mr. Monk Goes to a Wedding.") JANUARY 26th 2007

Mr. Monk is on the Air (Guest Star Steven Weber of Wings fame, Heather Tom and Danny Woodburn.) FEBRUARY 2nd 2007

Mr. Monk Visits a Farm (Guest starring Tony's lovely and talented spouse, Brooke Adams.) FEBRUARY 9th 2007

Mr. Monk and the Really, Really Dead Guy (It's Monk vs. technology. Guess who wins. The FBI gets a big part in this one. Guest stars Chris Williams and Peter James Smith.) FEBRUARY 23rd 2007


(L to R) Chris Willams, Peter James Smith and Jason Gray-Stanford
in Mr. Monk and the Really, Really Dead Guy

Mr. Monk Goes to the Hospital (Dan Butler and Charles Durning guest star. And don't worry, it's only a bloody nose.) MARCH 2nd 2007
Congratulations, Traylor!

Camera angles were a little trickier for the second half of season five because Traylor Howard (Natalie) was pretty darn pregnant. She gave birth to a bouncing baby boy named Sabu on November 24th 2006 right after shooting wrapped. Nice timing. (Yes, that's right, "Sabu". Don't ask me why. I don't know.) The pregnancy wasn't worked into the Monk storylines, except for the episode "Mr. Monk is at Your Service" in which Natalie pretended to be pregnant. So hiding behind furniture, large purses and Christmas gifts was the solution. Details
| | |
| --- | --- |
| | |
Tony didn't win this time (some unknown new kid named Alec Baldwin took home the gold.... What's that? You have heard of him?) There's always next year. Tony still needs to pick up one more for an even four. Naturally, he deserves it. All those haters out there who think that three's enough, you know what you can do....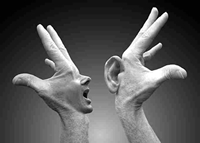 That's right: talk to the hand!
Tony spoke to Lisa Rinna on the TVGuide Channel right before he walked into the Emmy ceremony with his beautiful young daughter Sophie. "I'm not very optimistic" he said about his chances of winning. Apparently he's a little bit psychic.

Tony Shalhoub spent his 2006-2007 winter vacation in New York City where he starred in the Off Broadway production of The Scene. He made a critical and popular splash in the play as a philandering and floundering husband. The play only had a one month run which is the reason why Tony could fit it into his busy Monk schedule. The Scene received mixed reviews although everyone seemed to agree that Tony did a terrific job. The Scene played through February 11th 2007 at the Second Stage Theatre, located at 307 W. 43rd Street in New York. Reviews
Monk Season Premiere Giveaway!
The contest is over. You missed it. It's yesterday's news. Finito. That ship has sailed. Hasta la bye-bye.
The two lucky winners are Deb Knops of Minnesota and Kyle Nolan of Massachusetts. Congratulations! You will each receive a Monk Season 7 DVD set, a Monk novel and a Monk T-shirt courtesy of Electric Artists and USA Network.
Where in the MonkWorld
are LisaAnne's Kids?!
Featuring Monk Southern California locations!





Monk on location in
San Francisco, November 2005