Sorry, I've been busy with my Monk Fun Page. It just seems to suck up all my time, but I never miss an episode of Psych and as soon as I get the chance I'll be sprucing things up around here. —7/5/09
I stll haven't had the time to do a full out update on this page, but I did sit in on the Psych conference call they set up to hearld the start of the fourth season this Friday August 7th. –8/5/09
Psych Press Conference Call
Friday 7/31/09
---
Psych Season Premiere Giveaway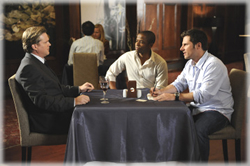 "Extradition: British Columbia"
with guest star Cary Elwes
So, here's the contest:
Send me an email naming your favorite episode and why it's your favorite episode. Spelling counts. Send me a picture (nothing huge, please) of a pineapple along with it.
You must be a U.S. resident to enter the contest. Please be aware that if you win you'll eventually have to tell someone where you live so we can send you your prize. Entry into the contest means it's okay with you if I publish the entry. All entries must be received by midnight PST on August 21st. Them's the rules.
Courtesy of the fine folks at Electric Artists, two winners will receive:
Psych Season 3 DVD
Psych Magic 8 Ball
The contest is over. The winners will be announced shortly.
---
It's Heeeere. USA Network's newest baby [actually, it's not the newest anymore] made its debut on July 7th 2006 after the fifth season premiere of Monk and so far it's achieved great success. Great ratings, awesome demographics and good reviews (mostly) have already earned USA's freshman series a second season pickup [and a third and a fourth and no doubt soon to be a fifth].
It did have a few things going for it right out of the gate, like the same awesome time slot that Monk rode to critical and popular acclaim, as well as the best lead in USA has to offer. Psych also has an upcoming episode written by Lee Goldberg and William Rabkin, who've made some nifty contributions to the aforementioned Monk (as well as a bunch of other stuff you can find out about if you google them.) Not only that, but Psych's got some pretty cool crossover promos with Monk.
---
As far as not-Monk-related stuff that Psych has going for it, well, there's these two guys:
| | |
| --- | --- |
| James Roday | Dulé Hill |
James Roday, who plays Shawn Spencer the fake psychic detective, is a bicentennial baby. He was born on April 4th 1976. He shares his birthday with another favorite actor of mine the late Anthony (Psycho) Perkins. James was born in San Antonio, the most beautiful city in Texas and home of the Alamo. His birth name was James Roday Rodriguez, but he later dropped Rodriguez. He graduated from Taft High in San Antonio and earned his B.F.A. in acting from New York University. He polished his craft on the New York stage and then headed to Hollywood. Prior to Psych Mr. Roday's main claim to fame was as a supporting actor in a string of failed series (Ryan Caulfield: Year One, First Years and Miss Match) and as Billy Prickett (a character I don't remember from the original series) in the big screen remake of The Dukes of Hazzard. That's the last time I'm going to mention it. If we keep bringing it up his Jessica Simpson nightmares may never go away. Poor guy. He's also a writer/filmmaker (He's written a yet to air episode of Psych and a couple of independent films.) He's just a bundle of talent ready to explode.
Guy #2 is Dulé Hill. He's already managed to impress me. He spent a few years on The West Wing honing his acting skills. Still more impressive, he understudied Savion Glover. For a tap dance fan like me that is an unbelievably awesome credit to lead off a resumé. He performed with Harold Nicholas in a tour of The Tap Dance Kid. THE Harold Nicholas! (If you haven't heard of The Nicholas Brothers, they were two of the most amazing dancers who ever lived, both are gone now, and they specialized in flash. Watch Orchestra Wives or Stormy Weather or The Pirate if you don't believe me. You'll thank me later.) Not only can Dulé act, dance and sing (traditionally known in the business as a triple threat), he can also play poker. With a combination of luck, skill and testicular fortitude he made it to the championship table on Celebrity Poker Showdown two years in a row (2004-2005). Mostly he just bluffed. Now that's real acting.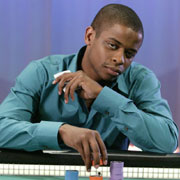 Dule Hill 'all in' to help beat leukemia
They've also got some veteran TV talent. Corbin Bernsen (L.A. Law)plays Shawn's father Henry Spencer. I recently saw him wasting his talent on General Hospital. When Psych was picked up he dropped the gig and his character was blown up. Still ruggedly handsome at 51, he should widen the shows demographic.
---
So what's it about? Publicity can sometimes be misleading but here's how USA Network describes it:
Raised in Santa Barbara, Shawn possesses uncanny powers of observation honed by his police officer father, Henry (Bernsen), who drilled young Shawn to note even the smallest of details from his surroundings as a way of grooming him for his inevitable career in the family business. Unfortunately, when a rift develops between father and son, Shawn finds himself taking a series of random jobs instead of becoming the detective he was groomed to be. However, for the fun of it, he makes a habit of calling in tips to the police about cases he reads about or sees on television, and when one of his tips appears too close to the truth, the police are convinced that Shawn is an accomplice and arrest him. Using his charm and well-tuned talent, Shawn convinces the cops that he's actually a psychic, and although highly skeptical of his explanation, they hire him to help solve tough cases. With the reluctant assistance of his best friend Gus (Hill), Shawn uses his skills of observation and charismatic personality to become the detective he was trained to be, opening his own PI agency - PSYCH, and solving cases for an ever-suspicious - but grudgingly impressed - police force. —Courtesy of Network Publicity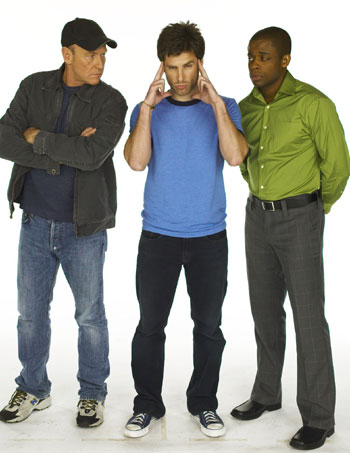 It was considerate of USA to go to all the trouble of creating a companion for Monk and to schedule it on the same night when they know I'm going to be home. I'm fully committed now: I've added Psych to my TiVo Season Passes.
---
What could be better? After only eight episodes, a season two pick-up, great ratings, awesome demographics and now the icing on the cake: it's award time!
Excerpt from Yahoo.com
USA Network's James Roday of 'PSYCH' Gets Nod for 'Best Actor in a Comedy or Musical' by the 11th Annual Satellite Awards
Friday December 1, 3:08 pm ET
#1 New Show
NEW YORK, Dec. 1 /PRNewswire/ -- James Roday, who stars in USA Network's new hit show PSYCH, received a "Best Actor in a Comedy or Musical" nomination for the International Press Academy's 11th Annual Satellite Awards.
Roday is in good company. His competition includes Steve Carrell ("The Office"), James Spader ("Boston Legal"), Ted Danson ("Help Me Help You"), Stephen Colbert ("The Colbert Report") and Jason Lee ("My Name is Earl").
"The pickup was a no-brainer

."

Excerpt from The Hollywood Reporter
Returnees have USA psyched
USA Network loves its TV psychics.
Sep. 18, 2006
By Nellie Andreeva

The network has picked up its oldest series, the drama "The Dead Zone," and its latest entry, the dramedy "Psych," for another season.
"Psych" has received a 16-episode order for a second season to launch in summer 2007 as well. The pickup was a no-brainer given the show's strong rating performance behind the network's hit "Monk" on Friday night.
"It was a hit out of the box," Wachtel said of "Psych." " 'Monk' has been the game-changer for us, and 'Psych' is as close to a perfect match as you can get."
"Psych," from NBC Universal TV, stars James Roday as a perceptive man who helps police solve crimes by pretending he is a psychic.
Steve Franks, Kelly Kulchak and Chris Henze are executive producing.
With the pickups of "Dead Zone" and "Psych," USA has ensured that its two successful programming blocks — the sci-fi themed "4400" and "Dead Zone" and the quirky detective dramedies "Monk" and "Psych" — will remain intact for another year.

Full Article
There was a nice spread on James Roday in TV Guide the week of July 31st -August 6th. Here's the article: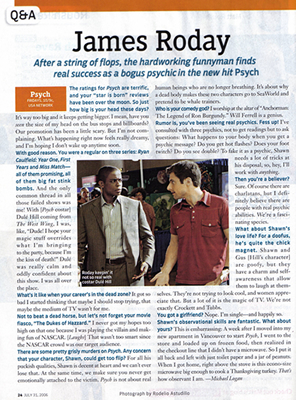 Click to enlarge
(It's big, so it may take a while to upload)
Excerpt from The Futon Critic
Friday, July 21, 2006
NBC GETTING 'PSYCHED' FOR MONDAYS IN AUGUST WITH RE-BROADCASTS OF NEW USA NETWORK HIT SERIES, 'PSYCH' ON AUGUST 7 AND 14
Released by NBC

BURBANK, Calif. -- July 21, 2006 -- NBC looks to "psych" up viewers on hot August Monday nights by featuring one of this summer's biggest cable hits with two re-broadcasts of USA Network's new hit series, "Psych" on Monday, August 7 and Monday, August 14 (both 8-9 p.m. ET).
Exerpt from Variety.com
Posted: Mon., Jul. 10, 2006, 4:55pm PT
'Psych' brings good fortune to USA Cabler's skein makes good in debut
By JOHN DEMPSEY

USA hopes Friday night will foretell a bright ratings future. Net's "Psych" bowed Friday as the highest-rated debut episode of a basic-cable series so far this year. In all, 6.1 million total viewers tuned in, scoring USA's best numbers since the two-hour "The 4400" debut harvested 7.4 million viewers in July 2004. (At that time, "4400" was a six-hour limited series that scored such big numbers USA commissioned it as a series.)

Full Article
---

"I need you to write stuff down because you know how I zone out when other people talk."

Psych-ology 101
The Psych Fun Page Review
Pilot Episode
Airdate: July 7th 2006

Psych's off to a pretty good start. It's got lots of potential and plenty of time to grow if the ratings stay as healthy as they are now. I love the basic concept. In this day and age of oh-so-serious, yet oh-so-ridiculous psychic investigator dramas (no, I don't mean The Dead Zone; that one's cool)I'm
ready for one that doesn't take itself seriously at all. I'll admit I had my misgivings from watching the promos. I was afraid Psych might have the
Deadly Games
syndrome. What? You don't remember
Deadly Games
? Hardly anybody does, but it starred…. I can't recall who it starred because he was so obnoxious and easy to dislike that he took the series to an early grave. The show had great scripts, awesome guest stars (Anthony Michael Hall, Levar Burton, Brent Spiner, Dwight Schultz, Shirley Jones) and an adorable sidekick played by Stephen T. Kay. But none of those good things could save a show centered around an essentially dislikable character.
I like Shawn Spencer as played by James Roday a lot more than I thought I would, but I'd also like to get more of a glimpse beneath his smart-aleck exterior. I hope what I get isn't just another layer of smart-aleck with charm frosting. The show relies primarily on comedy in the pilot and it's good comedy, smartly played and easy to watch, but there's more to it and every once in a while we get a peek at the heart of the show. It lies in Shawn's relationships with his father Henry (Corbin Bernsen) and with Gus (Dulé Hill.)

Seven-year-old Shawn has his eyes closed in the diner when that look of pride passes over his father's face. He can't see how his father feels about him. He only hears, "Adequate." His slacker façade is his way of rebelling against a father whose approval he thinks he's never had. Rather than suffering the pain of trying and failing to meet his father's expectation he simply doesn't try.


"I do give up… all the time, but not until the moment is right."
He won't take that risk with his father. He won't take that risk in his relationships with women and he won't take that risk with a steady job. His friendship with Gus is the closest thing he has to a real commitment. Probably because Gus has never let him down. (I am NOT trying to encourage the inevitable weirdo fan-ficcers who will want to construe their relationship as "romantic" even though the writers have gone out of their way to emphasize that the two are heterosexual.)
Shawn's relationships form the most intriguing part of the show and the more they play up those relationships and the growth of the character the better Psych will be. Something else is going on with the Mom: probably Shawn blames himself in some way for his parents divorce. Is she still alive? If so when do we get to meet her?

"Let me be honest with you, detective. I used to work in a candy store and it's nothing like this."

The one thing I'm not so happy with is the police force. Detective Lassiter (Tim Omundson) in particular is pretty much unbearable and not in a good way. According to the

actor's bio

on the Psych site, Omundson has done Shakespeare on stage. I'm sure he could handle it if they want to give him something a little less cliché to work with here. I don't nessecarily have to like him, I just want to see him fleshed out into a human being. He does have pretty eyes and he deserves some believable motivations and backstory to go with them.
As for the Interim Police Chief (
Kirsten Nelson
), with the delay between the production of the pilot and the production of the series will she still be pregnant? I remember her from one of my favorite
Buffy
episodes: "Doublemeat Palace." She was good.
I understand that Anne Dudek who played junior detective, Lucinda is out and they have a new girl coming on board when they go to series. She's played by Maggie Lawson, a slightly younger actress who may well be intended as a love interest for someone other than Lassiter.

The mystery is solid, but I had it figured along with Shawn, maybe a little before, going by the only-guest-star-whose-name-I-recognized rule which I usually use for Canadian productions. If they have to spring for tickets to Vancouver that's probably your killer right there.

Don S. Davis

who plays McCallum, really is a great character actor. Some of the Psych audience may be too young to have seen him in Twin Peaks as Major Briggs. In it he gave one of the single best performances I have ever seen, as the Major describes a dream he had to his son as they sit in the diner. Incredible. He doesn't have a chance to attain those heights with this character, but he does a pretty good job and what's more he brings out the best in James Roday. In the scene where he confronts McCallum with what he's done Shawn's no longer just a flippant kid. "I'm not quite finished," he says, with an undercurrent of strength and purpose.


"You are without a doubt the worse detective I have ever seen."

"Congratulations, Kid. You just hit the disappointment exacta."

The kidnap case brings to mind Frank Sinatra Jr.. Anybody remember that case? 19-year-old Sinatra Jr. was kidnapped in 1963 and after the culprits were caught they unsuccessfully attempted to implicate him in his own kidnapping. Even though this was never substantiated, rumors persisted for some time. I am so out of my demographic, aren't I? But Maybe the Psych writers had that in mind.

Apropos of nothing else, Vancouver lighting always seems a little grey to me. You get more vibrant colors in L.A.. Maybe if they're successful enough they'll be able to make the move down.

The Psych Out moment was very cool. More Dulé singing. More Dulé dancing. More Dulé.

And in conclusion I'd like to say, Dule Hill. Adorable. More please.

And more Corbin Bernsen... wearing blue.
---
Inappropriate Virulence
Mean Things People Have Said About Psych



USA's just-launched "Psych" series, seems to be a bottom-line, consultant-driven concoction with a lowest common denominator thrust. Full Article

So the main problem for "Psych" is that audiences won't much like his smart-alecky nature. Full Article

It's easier to zone out while watching "Psych," whose lead character is far more annoying than endearing. The plot congeals rather than thickens while the acting seldom rises above pedestrian. Caricature trumps characterization, never more so than when snarly cop Carlton Lassiter (Tim Omundson) is browbeating our hero with the subtlety of Bluto clubbing Popeye. Full Article

The hammy younger actor isn't quite as cute as he thinks he is, and he belongs on a louder comedy series , a laugh-track sitcom in which his clowning might fit in more naturally. Full Article

James Roday (The Dukes of Hazzard movie), who as the allegedly psychic and definitely smart-mouthed Shawn Spencer is supposed to be humorously vain and rakishly charming, comes across as merely smug and irritating. Full Article

James Roday, the youthful star of Psych, tries much too hard to make a character of his alter ego, Shawn Spencer, who's just a guy with a gimmick. Full Article

The actor, who looks a little too much like Ben Stiller for comfort, can't even match Stiller's limited capacity for comedic timing or subtlety - and that's saying something. Full Article

Better show title? Monk for Morons. Grade: C- Full Article

Psych is a one-trick pony that quickly deteriorates into a rather humdrum mystery once the novelty of watching Spencer fake his psychic revelations wears off. Full Article

No one likes a jerk. They're difficult enough in real life, so it's a mystery as to why a network would create a show centered on a self-involved, unlikable mug whose only redeeming quality is his ability to solve crimes through his powers of observation. Full Article

| | | |
| --- | --- | --- |
| Episode | Air Date | # of Viewers |
| Pilot | 7-Jul-06 | 6,056,000 |
| Spellingg Bee | 14-Jul-06 | 4,712,000 |
| Speak Now or Forever Hold Your Piece | 21-Jul-06 | 4,694,000 |
| Woman Seeking Dead Husband -- Smokers Okay, No Pets | 28-Jul-06 | 4,353,000 |
| 9 Lives | 4-Aug-06 | 4,820,000 |
| Weekend Warriors | 11-Aug-06 | 4,752,000 |
| Who Ya Gonna Call | 18-Aug-06 | 4,894,000 |
| Shawn Vs. The Red Phantom | 25-Aug-06 | 4,635,000 |
| | |
| --- | --- |
| Message Boards | Other Psych Sites |
| | |
| | |
Monk Stuff

If you want to link to this site go right ahead.
Here's a graphic you can use if you'd like: