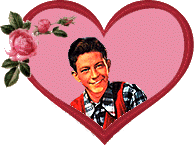 Happy Valentine's Day! And welcome to our special tribute to Donald O'Connor and some of the women who played opposite him in all those romantic, albeit funny, movies. We've chosen these seven actresses because they appeared in more than one of Donald's movies. Their names are linked to the Internet Movie Database

And also we want to add a special mention of a talented lady, who passed away January 18th 2001 at the age of 81, Virginia O'Brien. She appeared in "Francis in the Navy" as one of Peter's kissing medicos, Nurse Kittredge. Obituary.

And here comes our Loving Leading Lady now....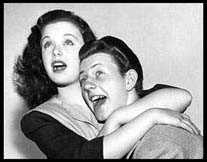 Gloria Jean appeared in five of Donald's early Universal pictures, What's Cookin', Get Hep To Love, When Johnny Comes Marching Home, It Comes Up Love and Mister Big. Like Donald, she started out in Vaudeville and entered films in the late thirties as a child star. She appeared in films until the early sixties.

"Donald would walk into the school house - the little canvas school house on the set- wearing his teenage sweaters and I couldn't concentrate on my schoolwork, I was so crazy about him." -- Gloria Jean in Twinkle, Twinkle Little Star




















And here comes our Loving Leading Lady now....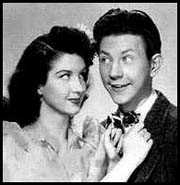 Peggy Ryan was paired as a dancing partner with Donald in the Jivin' Jack's and Jills, a troupe of young dancers at Universal. The couple quickly became popular and went on to make a series of musicals for the studio. In some of these Peggy was Donald's romantic interest, but in others she would be his sister, or just a friend, but in any case still his dancing partner. For more on Peggy here's our Birthday Tribute

"Our Birthdays are the same. See, he claims to be a year younger. He has never shown me his birth certificate. He said it was lost, but I'll go with it." -- Peggy Ryan in Tap!

And here comes our Loving Leading Lady now....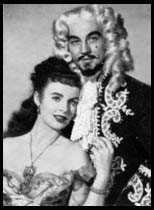 Helena Carter appeared as Donald's love interest in Something in the Wind (as the snobby Clarissa) and in Double Crossbones. Though her career as an actress was relatively short, from 1947 to 1953, she did star in the classic, Invaders from Mars.

Unfortunately, according to the IMDb, she passed away in January 2000.


And here comes our Loving Leading Lady now....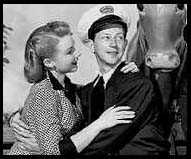 Piper Laurie played opposite Donald in The Milkman and Francis Goes to the Races. Like Donald, Piper is given to a career that comes in stages. Her career as a young ingenue in frothy fifties movies, gave way to a period of stage work and eventually an Academy Award nominated performance in The Hustler. This was followed by a fifteen-year hiatus from Show Business. She would then make a comeback with the movie Carrie. She's had an active career ever since then, including the role of Catherine on Twin Peaks. For loads of information visit the Piper Laurie Shrine
And here comes our Loving Leading Lady now....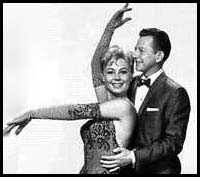 Mitzi Gaynor and Donald O'Connor appeared together in two pictures, There's No Business Like Show Business (1954) and Anything Goes (1956). In the first they played brother and sister. In the second they were romantically paired. They also worked together in a number of television specials.
Mitzi is probably best known for her starring role in the musical South Pacific. A flop at the time, it is something of a cult classic now.
For more information on Mitzi, visit Elizabeth's Page

And here comes our Loving Leading Lady now....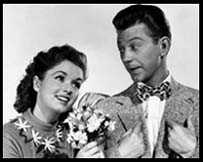 Debbie Reynolds' first movie with Donald was, of course, Singin' in the Rain, where Gene Kelly was her romantic interest. But the next movie MGM put them in together was I Love Melvin, where Debbie was the "I" and Donald was the "Melvin". It was not such a success that MGM was tempted to ever pair them again. But during Debbie's long and thriving career she's worked with Donald quite a lot in television, stage shows, video and on the album, Christmas with Donald and Debbie. Debbie's Official Site.
It wasn't until thirty-five years later that Donald told me the reason Gene always picked on him. It was because he was always mad at me. But he realized if he kept screaming at me I'd probably hold up production with my tears. So he screamed at Donald who wouldn't cry. -- Debbie Reynolds, Debbie: My Life

And here comes our Loving Leading Lady now....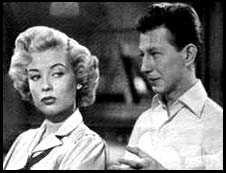 Gloria DeHaven was in two movies with Donald. The first was, Yes Sir That's My Baby, (1949) in which they played a young married couple. Their next film wouldnot be for nearly fifty years; Out to Sea (1997).
Gloria, a member of a show biz family, made her debut in the Chaplin film, Modern Times. Gloria is currently appearing in "The Palm Springs Follies" through February 11th 2001.
Visit JJ's Page for a little more info on Gloria DeHaven.

I fell in love with him at nine years old. In fact, we were engaged at the rollerdrome at age nine, and he gave me my ring, which was a cigar band. -- Gloria DeHaven, A&E Biography


You have reached http://muppetlabs.com/~davidj/tnt/oconnor/valentine.htm

Disclaimer: We are in no way officially sanctioned by or connected to Donald O'Connor, or anyone else for that matter. None of the content of this website is meant to infringe upon any copyrights held by studios, companies, authors, other web site owners or stray individuals. No insult is intended towards, Ann Blyth, Ethel Merman, Zasu Pitts or any other lady who appeared in two or more Donald Movies, but not on this page. Some of our Valentine clip-art was provided by This Web Page. Bless their... hearts. Anything original is copyright 2000 & 2004 by Teresa and Tracy Murray (a.k.a. T'n'T).

Please send us lots and lots of e-mail at tntmur@aol.com