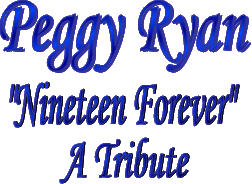 "Universal had fourteen movies that were released over the next two years. I was nineteen forever!" " – Peggy Ryan
Peggy Ryan died Saturday October 30th in Las Vegas' Sunrise Hospital, said hospital spokeswoman Cheryl Smith. The cause was complications from two strokes, friend Dottie Fusch said.
She was born Margaret O'Rene Ryan on August 28th 1924, in Long Beach California. Actress, dancer and comedienne, her career ranged from appearing as a hungry girl in The Grapes of Wrath with Henry Fonda, to playing McGarret's secretary on Hawaii Five-O and teaching dance to new generations.
Peggy Ryan did thirty-one films. For a list of her movies see her Internet Movie Database entry. Thirteen of these films were musicals with Donald O'Connor in the 1940s. Coincidentally, Peggy Ryan and Donald O'Connor were both born on August 28th, she in 1924 and he in 1925.

Peggy, who taught tap dancing and produced revues in Las Vegas for the last several years, was teaching and performing until several days before entering the hospital, Fusch said.

On this page we have a period article, photos, and a special sound file.
Blast from the Past

Here's an article that appeared in the 1944 Winter edition of Screen Album magazine. It details Peggy and Donald's 1943, 19th and 18th birthday party.
Peggy Ryan said, "It was slug-happy, that juke box. So many plug nickels had been poured into it... so much James and Basie poured out. Everybody was punchy by that time anyway. Too many hot dogs! Too much Lindy! Two Hundred people! What a party! Gosh, there were so many presents, it felt like Christmas in a fairy tale." For Donald, bow-ties and sweaters and bright, brave socks. For Peggy, sweet-smelling, ribboned boxes - and inside stacks of filmy stuff, all white and trousseau-y (because after the war she and her sergeant will be married.)
It was Don O'Connor's 18th birthday and Peggy's 19th. Both of them wanted to celebrate. They had things to celebrate about. This, after all, was the year you got to know them. Not that they've been hanging back shyly till now. They've both been trying since vaudeville - trying hard. And this was the year it happened. O.K., they'd fling a party - the works. They'd go get a big old barn somewhere and proceed to tear it down.
Peggy ordered 300 cokes, Don ordered a wind machine. "Girl comes along, you blow the steam, the girl yells 'EEK,' you say, "Hi, sister' she says..." "A little slapstick, no?" asked Peggy. Don shrugged, "So it's not Noel Coward." Peggy was in fine form that night, snaking around in a John Fredrics hat and bag of velvet (Don's gift to her) - with gingham dirndl below. Along about the third case of cokes, everyone was yipping around on kiddie cars, hell bent for leather, and pushing potatoes with their nose.
Then somebody innocently started a dance contest. Don rolled up his sleeves, Peg flexed her biceps and they were on. Soon everybody else was on. Boy, oh boy, you should have seen that old barn rock!


(Click on thumbnail pictures below for larger versions.)
This is a scene from the last film released that
Peggy and Donald did together, Patrick The Great
You have reached http://eviltwinltd.com/muppetlabs/oconnor/ryan/peggy.htm

Disclaimer: We are in no way officially sanctioned by or connected to Peggy Ryan, or anyone else for that matter even if we did sit in front of her at the Palm Springs Follies. None of the content of this website is meant to infringe upon any copyrights held by studios, companies, authors, other web site owners or stray individuals.

Anything original is copyright 1999-2004 by Teresa and Tracy Murray (a.k.a. T 'n' T).
Please send us lots and lots of e-mail at T'n'T

The Angels needed to learn the Time Step" — from Peggy Ryan's Eulogy for Donald