OUT TO SEA REVIEWS


These Out to Sea Reviews are excerpts, specifically those that favorably mention Donald O'Connor in some way. The reviews of the film in general were not glowing. In fact somewere so scathing that they were funnier than the movie. Especially liked Mr.Cranky's reference to it as "cruise of the living dead." We found these reviews using the search engine Flix.

James Berardinelli - Reel Views
Then there's song-and-dance man Donald O'Connor, who stays in the background except when called upon to display a few moves. And, although Dyan Cannon is more bubbly and vivacious than in the recent 8 Heads in a Duffel Bag, this is hardly the most promising rung in her comeback ladder.

Wade Major - Boxoffice Magazine
Supporting cast members also shine brightly, including Donald O'Connor and Hal Linden as fellow dance hosts, Elaine Stritch as Cannon's mother, Rue McClanahan as the cruise line's owner and Edward Mulhare as Matthau's rival for Cannon's affections

Dre - Girls on Film
The entire cast is really strong: Elaine Stritch shows up as Dyan Cannon's wise-cracking mother; Hal Linden is likeable as a fellow dance host; and most notably, there's a small role played by Donald O'Connor, who steals quite a few scenes with his fabulous dancing and charming manner. O'Connor's been in musicals like SINGING IN THE RAIN, and I personally hope to see more of him in the near future.

Sean Means - Film.com
It's the little touches that make Out to Sea sail by pleasantly enough: hearing Elaine Stritch (as Cannon's mom) deliver some drop-dead insults, or seeing Donald O'Connor and Hal Linden (as dance hosts) tap a few steps or croon a few bars. Spiner steals a large part of the show with his prissy manner and humorously misplaced accent.

Rita Kempley - Washington Post
DeHaven, one of the filmís loveliest assets, makes a welcome return to the silver screen along with golden oldies such as Donald OíConnor, whoís still as lithe as a sunbeam in an all too brief tap routine. Elaine Strich, as Cannonís tough old bird of a mama, not only upstages the masterfully creaky Matthau, but reminds the audience that heís a bit long in the tooth to be nibbling Cannonís lovely lobes.

Stephen Hunter - Washington Post
Then the fabulous old song-and-dance man Donald O'Connor gets a little attention. He's one of the other dance hosts, an affable enough figure without much to do, while Lemmon and Matthau strenuously mug for the cameras. But he gets two lovely moments, a little solo spin with his magic feet to show that he's still got it; and later a riff in tandem with another fabled star, Elaine Stritch. Here's a value totally vanished from American movies, exiled by explosions and cynicism: the easygoing charm of a hoofer in absolute control of his body whose talent is not merely the speed in his feet but the ease that amplifies that speed. How can anyone dance so beautifully and communicate such powerful charm and control without a drop of sweat anywhere, without the sense of effort that would totally destroy the illusion?

One feels cheated when Coolidge all too quickly ends these sessions and returns to the less interesting main story, which concentrates on Charlie and Herb's relationship with their boss, cruise director Gil Godwyn (Brent Spiner), a former Brit vaudevillian with a streak of fascist running down his back. Spiner is actually quite good in the old icky Terry-Thomas mold.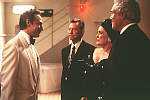 Chris Hicks - Deseret News - Salt Lake City
Along the way, Matthau tangles with Cannon's nasty mother (Elaine Stritch, who is closer to Matthau's age than Cannon), and they both endure the wrath of the cruise director, a sleazy lounge lizard (Brent Spiner, Data of "Star Trek: The Next Generation"). Hal Linden (TV's "Barney Miller" ) and Donald O'Connor (who gets a couple of nice soft-shoe moments) also show up, as fellow dance hosts.
Henry Cabot Beck - New Jersey On-Line
Floating around in the periphery are Hal Linden and Donald O'Connor as a couple of dance hosts. If ever a movie shortchanged its talent, it's here. O'Connor does get to show off his hustle/tap number, but the two characters uselessly take up space.
Edwin Jahiel
Lemmon does some nifty steps with eagerly funny women -- although the ace terpsichorean is Donald O'Connor, in a small, welcome return that one might call dancing relief. Lemmon soon finds mutual attraction with 71-year old widow and former book-editor Gloria DeHaven. She's no cruise fodder but, at their insistance, she travels with her newly-married daughter and son-in-law.
Pete Dunn - Movie Magazine Internation
The supporting cast in the movie is excellent. I've always enjoyed Dyan Cannon, and she is at her most glamorous in "Out to Sea." Brent Spiner does an adequate job as Gil Godwyn, the singing cruise director in his first major role away from "Star Trek: The Next Generation." He actually has a good singing voice, and, while I think Kevin Kline might have been better in the part, I enjoyed his performance. Donald O'Connor, Hal Linden, and Elaine Stritch show wonderful moves on the dance floor and add class and showmanship reminiscent of movies made in the '40s and '50s.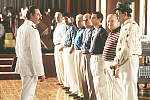 Bill De Lapp - Syracuse New Times Net
Indeed, while most of the laughs come from the Jurassic era--a music cue of Van McCoy's "The Hustle" allows Lemmon to snarl, "I did this in line at the A&P"--leave it to the forever perky O'Connor to tap dance away in the same scene, as he erases those decades in one brief flurry of happy feet.
Bill Williams - Christian Spotlight
Screen legend and dancer extraordinare Donald O'Connor nearly steals the show in two very memorable dance scenes, as he gives a most impressive line dance lesson during the Hustle that makes you remember what made him famous in the first place. And Elaine Strictch as Liz's mother is right out of a page from The Golden Girls.
E-Online Capsule
And veteran hoofer O'Connor's charming deckside soft-shoe makes the trip more than worthwhile.
Michael Wilmington - Chicago Tribune
The good things in "Out to Sea" -- the physical production, all of Matthau and Stritch, most of Lemmon, Spiner's twitches and DeHaven and O'Connor's dancing -- tend to work despite the script.
Mike Clark - USA Today
So, too, is this thoroughly bearable curiosity billed as the seventh screen teaming of Matthau and Jack Lemmon. The longtime team play oft-contentious in-laws whom a contrived script turn into cruise-ship dance instructors. Woefully overindulging their shtick, the movie is also sporadically engaging. For this, thank a couple of old-style production numbers, the chance to see the great Donald O'Connor tap-dancing again (however briefly) and the obvious conceit of having Elaine Stritch (age 71) play Cannon's mother. At least here you get DeHaven and Cannon looking good, with O'Connor and Hal Linden managing to be halfway funny - cutting up in steerage with limp material. Nostalgists ought to be tickled, leaky lark or not. (PG-13: profanity)
Carrie Gorringe - Nitrate On-Line
Not even Donald Oí Connorís fancy footwork can allow him to two-step his way out of a comedy that it would be no exaggeration to describe as abusive, insofar as it degrades the considerable reputations of all participants.
Remington Dahl - Movie-review.com
As Lemmon and Matthau turn this premise into jitterbug-slapstick, the rest of the cast flesh things out nicely. Dyan Cannon plays the "young" sex-pot that Matthauís after; Cannonís mother, Elaine Stritch, keeps her daughter on a short leash, hoping that sheíll nab a rich sugardaddy. Gloria De Haven (who made her screen debut in Charlie Chaplinís Modern Times!) becomes Lemmonís likable love interest. And Tap-dance great Donald OíConnor makes a lively cameo.
Jack Garner - Rochester Democrat and Chronicle
The modest script by Robert Nelson Jacobs leads everyone through predictable romantic complications, enlivened by bits of physical comedy and a few moments of dance. (Fortunately, a fellow dance host is played by Donald O'Connor, and the 71-year-old musical comedy legend is given a few minutes to show he's still a heck of a dancer.)
Paul Fischer - Urban Cinefile
There are also nice star turns from the wonderful Donald O'Connor. No longer dancing on walls, he does, however, dance a soft shoe shuffle in this film that is breathtaking.
Liz Braun - Toronto Sun
Elaine Stritch shows up in the cast, wonderful as always, as Dyan Cannon's mother (these women are maybe nine years apart in age; see what we meant about nipping and tucking?) and Hal Linden and Donald O'Connor (who looks about 15 years old here) as fellow dance hosts. O'Connor dances a bit. Linden sings. Everyone gets a chance to do what she or he did well way back when.
Janet Maslin - New York Times
Also here, and in a fine position to give dance instruction, is Donald O'Connor. Though O'Connor hasn't enough to do and mostly stands by cheerfully, sometimes the film just stops to let his fancy footwork draw a well-deserved round of applause.
Spliced Film Reviews
Twinkle-toed duties are shared by Hal Linden and Donald O'Connor, who also let fly with the four-letter words (and O'Connor has an all-too-brief tap dance number). Rue McClanahan plays the randy lush who owns the cruise line.
Baltimore Sun - Chris Kaltenbach
The supporting cast includes some wonderful actors, some of whom have been absent from the screen for too long: Hal Linden and Donald O'Connor as dance hosts (movie fans will enjoy seeing O'Connor dance his own rendition of "The Hustle," even if it comes out of nowhere), Elaine Stritch as Cannon's foul-mouthed mom, Rue McClanahan as the ship's owner.