2/3/52
(2/6/52 review)
Donald O'Connor doing his star-billed stint on "Colgate Comedy Hour" last Sunday night (3) at 8 over NBC-TV, is a versatile lad. Aside from his specialty - dancing - he can deliver an okay song, put over impressions, work himself nicely into skits and carry on madcap-like. He also has a winning personality. Overall, however, including guest acts, it was a case of an hour being dragged out to 60 minutes to make it official. There was no real sparkle in the layout, no highpoint, and some of the business in the sketches was caught with its age showing. When there's not fresh material - or even oldish stuff that can be displayed brightly to give it new meaning - why take the trouble to put on such skits?

O'Connor's guest support consisted of singer Kay Starr, comic Ben Blue, and film beaut Connie Calvet. Miss Starr did right by "It's a Good Day" and Wheel Of Fortune." Blue was spotted in a Pullman berth hassle that started out mildly and didn't improve. Miss Calvet was paired with O'Connor in which she gave out with lessons on charm and lovemaking. This and his participation as an impoverished songwriting partner leading to some very neat takeoffs on film toppers were the best efforts.

O'Connor's terping reached crescendo toward the finish when he really stepped out plus mixing it with a production vocal of "Birth of the Blues." In a neat finale touch O'Connor introduced his five-year-old daughter who gave snappers to his questions by rote. O'Connor worked hard; so hard that his daughter couldn't resist the temptation to mop his brow, an ad-lib swiftie that bespoke the kid's savvy.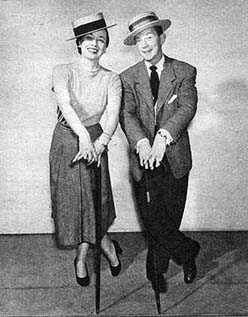 3/2/52
(3/5/52 Review)
Donald O'Connor continue to develop as one of the brightest young all around talents in show biz, but maybe that's an old story by now. They've been saying that about him ever since he was old enough to toddle out on a Vaudeville stage as part of the old standard act of The O'Connor Family. But maybe that's because there doesn't seem to be a limit to his ability to capture and audience and then hold them. On Sunday night on the "Colgate Comedy Hour" over on NBC, O'Connor held them as few performers in the business today can.
O'Connor sings. He dances, he reads lines. And he does all of these superlatively. Added to this is an ingratiating, boyish charm and showmanship that no script could dictate. If Sunday night's show seemed pretty much occupied with the youngster's presence, put it down to necessity, for without him there wasn't enough to go on, despite such name guests as Patricia Morison, Broderick Crawford, Cecil Kellaway and Buster Keaton.
Miss Morison, with a neat production background, got over nicely with two songs, "So in Love," which she did in "Kiss Me Kate" legit musical and "Granada." Crawford had little opportunity to display much beyond the tough guy veneer that he displays in pix, in a sketch with O'Connor that the latter made hilarious despite it's familiarity. Kellaway did an opening Irish two act with the star that was mild. Keaton (with Eddie Gribbon) got some laughs with the standard "Waiting at the Station" sketch.
A Songwriters bit with Sid Miller gave both O'Connor and Miller a chance at standard impressions, emphasizing the versatility of O'Connor, with Miller a neat foil.
The camerawork seemed erratic in the final production number in which O'Connor's dancing feet got somewhat of a brushoff in favor of his flailing arms.

4/20/52
(4/23/53 Review)
Donald O'Connor, who is currently riding the crest as the result of his fine work in Metro's new "Singin' in the Rain" musical, should cement that new position even more via his stints on NBC-TV's "Colgate Comedy Hour." Young comedian as improved each time out on T and his show last Sunday night (20) was his best to date. With a guest line up topped by Mindy Carson, Ben Blue and Andy Devine, the show perked along at a fast clip, with O'Connor displaying once again his singing-thesping-dancing versatility and solid showmanship.
O'Connor did an okay stand-up monolog for an opener but then swung into real paydirt with his opening production routine. A combo based on the title song of "Guys and Dolls" and a barber chair parody on "Barber of Seville." It was Socko stuff. Middle skit spotlighting him and Sid Miller as a couple of struggling songwriters was again standout, with the duo this time demonstrating how to make filmusicals out of the heavy dramas turned out during the last year. O'Connor teamed with Andy Devine on a funny skit about TV's cowboy heroes. Comic wound the show with a terrif production number on "St. Louis Blues." Complete with a line of boy and gal dancers. Set, lighting and production on the number were standout.
Blue, in the opening guest spot also came up with what was probably his best TV stint to date, doing a quick-change routine on a dramatic sketch, in which he supposedly played all the roles. It turned into a rough and tumble Keystone Kops caper for a smash ending. Miss Carson looked and thrushed well in her spot, which served as a good pace-changer because of it's simplicity.

5/11/52
(5/14/52 Review)
Donald O'Connor's season finale on "Colgate Comedy Hour" last Sunday (11) found the triple threat star at the top of his game in the NBC grooving. He punched up the stanza every time it gave evidence of sagging. His graceful hoofery and way with a song were especially standout - these and his disarming good humor.
The one cave in, by comparison was just past the middle break which marked the appearance of Hedy Lamarr. She is something to behold in face and figure. But how O'Connor got Hedy's garter in a Paris cafe - fighting and winning a duel for the lady - was poor showmanship with which to centre one of Hollywood's prime lookers. She was decorative and that's all, but perhaps that's sufficient. (Incidentally NBC press had better straighten up and fly right; this wasn't Miss Lamarr's "live television debut" as pitched; she did a stint on the rival CBS 8 to 9 p.m. "Toast of the Town" some months back.)
Another filmite, Tony ("Valentino") Dexter, was featured in a corking silent screen sequence (film) in which he played Rudolph Valentino to O'C.'s Charlie Chaplin. Dexter was par for the course. O'Connor, on the other hand stepped forth as a Chaplin in which he displayed a fine flair for pantomime. His leading of a crewless band to the live music of Al Goodman's El Capitan studio aggregation was a great big socko.
The silent stuff bowed in the show after a vocal and terp lead-in that supplied the Charleston era atmosphere in whch the star bounced over "Anybody Seen My Gal" supported by half a dozen hoofing femmes. The team of Tom D'Andrea & Hal March came through next with a clicko line of crossfire laughs via Army Life routine that was filliped by a looey in a looney bit.
Blonde Martha Tilton did very well in "Taking a Chance on Love," after which O'Connor and sidekick Sid Miller (one of the programs scripters, with Sid Kuller) took off on their running tunesmith team sketchery that had the benefit of savvy lyrics. It was presidential candidate material in which they either soloed or duetted the trademark melodies of vocal names to tie in lyrically with the pre-nomination personalities. The routine was loaded with chucklers.
The finish was perhaps one of the most sizzling in "Comedy Hour" annals. This was an "I Got Rhythm" production tagged with sterling, with O'Connor showing pipes and tapology in the salvo clas and getting some aid from Negro jive chanter "Scat" Crowthers. O'Connor's leg ammunition to the straight and chile beat of "Rhythm" drew on one of those rare things - a studio showstopper that surely must have carried over into the homes. The star, puffing, came out front to pay tribute to the cast and technicians, and forced shy Ernest D. Glucksman, producer-director, to take a bow. Goodman's crew played a bang-up show and the lensing direction by Jim Jordan Jr., particularly in the difficult full-stage prancings of the topper, was of the highest quality.
Trau.

10/5/52
(10/8/52 Review)
With Broderick Crawford, Ben Blue, Lisa Kirk, Sid Miller, Andy Clyde, Chester Conklin, Eddie Gribbon; Al Goodman Orchestra
Producer-Director: Ernest Glucksman
Writers: Sid Kuller, Miller
60 mins; Sun (5), 8pm
COLGATE NBC-TV, from Hollywood
(Sherman & Marquette; Ted Bates)
Lacklustre material placing emphasis on slapstick and contrived routines resulted in a disappointing Donald O'Connor "Comedy Hour", Sunday Night (5) via NBC-TV. Only Socko Production was the finale, reminiscent of the O'Connor who established himself as a video topliner on the same program last year.
Opening hodgepodge had little to recommend it, with a good deal of talent wasted. Opening takeoff on silent pix featured silent screen thesps Andy Clyde, Chester Conklin and Eddie Gribbon. It had some chuckles, but was overlong. Ben Blue picked up the pace with a skit where he played a butler, but this also disintegrated into sheer slapstick, ending with a cake being tossed in a bit player's face.
O'Connor and Sid Miller teamed on their song-writing stint to approach the previous standard, turning out neat carbons of pop vocalists, probably the best being the essaying of Marlene Dietrich and Rosemary Clooney dueting "Cut the Mustard" and The Bell Sisters on "Bermuda".
Sketch with Broderick Crawford was anemic material-wise with the film star forced to speak some silly lines in another example of good talent tossed down the drain. Finale, O'Connor's patter with Scatman Crothers, led into a boffo production number set in the Hollywood Bowl with O'Connor singing and hoofing "Fascinating Rhythm." Lisa Kirk gave the show a much-needed lift, vocalizing a pair of pop tunes in socko style.
Producer-director Ernest Gluckman failed to marshall and make good use of talent in the loosely put together collection of acts and the writing by Sid Kuller and Miller didn't help. Al Goodman's music backing was fine, and so was choreography by Louis Dapron and Willeta Smith.
Show was originally scheduled for airing on the Coast at 5pm, which would have put it on eastern stations at 8 o'clock. Union trouble, however, forced a delay until 8 p.m. Coast time, so that eastern viewers did not see the show.
Daku

Donald O'Connor had to go it alone Sunday night (16) on "The Colgate Comedy Hour" (NBC). An hour of O'Connor is not tough to take, because here is one of the finest young performers anywhere. It was fortunate however that he was on practically all the time, because there was little else on this show.
The boy sings, dances and reads a line as if he were a script actor all his life (which he has been). And he does them all superlatively well. What this kid needs now for the full recognition that he deserves is a top Broadway musical in which to show off his fullest talents. Neither Hollywood nor TV has yet given him the backing that he merits.
O'Connor's top guest star was Ann Sheridan, and Miss Sheridan was no help. She fluffed a couple of times and failed to punch over the lines in the sketch with the headliner, a weak piece of material in which Miss Sheridan played a French saleswoman in a gift shop. And Miss Sheridan had better shed some of that heft; or was it the dress that made her look that way.
Patti Moore and Ben Lessey indulged in a three-act with O'Connor that was a stage wait, while The Bell Sisters got over with their cute personality staccato style of songalong.
O'Connor and his perennial sidekick, Sid Miller, clicked more on personality and verve in their duo bit than on material. While one other major number was the GI talk routine between Tom D'Andrea and Hal March, which was mildly effective.
O'Connor's production finale, in which he reprised old dancing masters like George Primrose and Pat Rooney, with a Broadway bright lights background, is strictly from the Friar's Club files and should have had a little more imagination, though there certainly was nothing wrong in O'Connor's performance of the number.
Kahn

3/8/53
(3/11/53 review)
Donald O'Connor's first starrer of the new year for the "Colgate Comedy Hour" on NBC-TV last Sunday (8), was a pleasant but unexciting affair, with the versatile young comedian getting only so-so support from guest stars and writers alike. Youngster is talented, glib and refreshing, but without the maturity or overwhelming personality to carry a full-hour show alone on his slim shoulders. And Sunday's show, a conventional revue of songs, dance, gags and skits, was a little thin and insubstantial for 60 minutes of highclass entertainment.
O'Connor himself was up to par in amusing banter, skilled tapping, pleasant singing and fancy clowning. Show, designated as "The O'Connor Story," brought him on cleverly after a series of film clips highlighting his earlier vaude or Hollywood activities. O'Connor did a cute dance bit with a chorus, then went into a barroom skit with Cecil Kellaway on a St. Patrick's Day motif. Hardworking youngster was back a little later in a song-skit with Sid Miller about songwriters, which was a little too long, but which had some amusing moments as the duo composed songs on income taxes and soldier routines, and ended with impersonations of pop song favorites kidding the Met Opera.
A later bit had O'Connor as a vacuum cleaner salesman in a tepid skit, with a buxom-looking Hedy Lamarr, who impersonated a princess long asleep, now awakened by O'Connor's kiss. Show's windup was a fair production number with O'Connor as a dancing hobo enamored of the Manhattan skyline.
An amusing interlude early in the program had soldier comics Tom D'Andrea and Hal March on board a troopship, griping about the sea, the war, the food, and themselves. Marilyn Maxwell also guested. Singer looked blond, sleek and attractive, but sang "My Baby" way off key. She was better in "I've Got A Right To Sing The Blues," but never really scored.
Bron

4/5/53
(4/8/53 Review)
Donald O'Connor headed up a lively stanza on NBC-TV's "Colgate Comedy Hour" last Sunday (5). He's a thoroughly engaging performer who can make with the song, the dance and the laughs and is a genial conferencier besides. The hoofing dynamo was before the cameras most of the way taking time out only during the guest singing stint by Vivian Blaine and the GI skit by regulars Tom D'Andrea and Hal March. Miss Blaine had a snappy two-songer in "Give My Regards to Broadway" with some updated lyrics, and "Blues in the Night." The D'Andrea-March cynical slice of Army life, was they were preparing for a getaway on a three-day pass was highly amusing and a model of savvy timing.
Session's high spot was the O'Connor-Sid Miller songwriting sketch, a permanent hit potion in the topper's Colgate klatch. They took off on nursery rhymes and latched on to Academy Award pix for theme song inventions that scored in the higher brackets. Other skit had guester Brian Aherne. O'Connor and Scatman Crothers in a bebop custom-fitting at Aherne's London haberdashery. It was a real "gone" getup.
O'Connor opened the proceedings in workmanlike fashion singing and tapping "It's a Lovely Day Today" production number. This segued into intro of "Call Me Madam" pic director Walter Lang and O'Connor's briefie on "pre-3D," which in turn led into the star's repeating his Charles Chaplin characterization via silent technique, with Anthony Dexter as Rudolph Valentino. It lacked the punch and chuckles of his first effort along these lines last year.
Closer was an Easter special in the bebop genre, with O'Connor, Crothers, and the line. O'Connor knocked himself out in the dance department, reserving just about enough wind to present Colgate's "most beautiful" and "most handsome" centenarians. Mrs. Anne Milne, 104, of Salt Lake City, and Maximilian Von Stephany, 100 of Cincinnati, who were flown to the coast for the occasion. Ernie Glucksman's staging throughout was up to his usual high standard and the Al Goodman orch was ditto.
Trau

5/17/53
(5/20/53 Review)
Donald O'Connor in bowing off for the season from the NBC-TV "Colgate Comedy Hour" Sunday (17) was in his usually good form. He assembled a good cast, which was endowed with some excellent comedy writing to walk off a winner. This section of the "Comedy Hour" has been consistent throughout the year with producer-director Ernest D. Glucksman deserving a warm nod on that score.
O'Connor and his sidekick Sidney Miller have been purveying a high brand of comedy. Portraying a songwriting team, this duo form a strong keystone of this show.
O'Connor is a virtuoso performer who can sing and dance as well as dish out the comedies, and further showed his abilities in his delivery of "Be a Clown" and his production work with the line.
Probably the top segment of the show was the "Skywriter" bit with Nelson Eddy. Thomas L. Thomas and Beatrice Kay showing their mettle at comedy lines. Bit was a good lampoon of corny musicals. Sole disappointment was in the fact that Eddy who displayed good vocal form in this sketch was unable to have a spot to himself. Miss Kay did well by herself and Tom D'Andrea and Hal March pulled some good lines in their GI Comedics.
Jose

10/25/53
(10/28/53 review)
DONALD O'CONNOR SHOW
(Colgate Comedy Hour)
With Lauren Bacall, Elaine Stewart, Jeanne Gilbert, Sid Miller, Tom D'Andrea, Hal March, Al Goodman orch
Producer-Director: Ernie Glucksman
Writers: Sid Kuller, Sid Miller, Snag Werris
60 Mins., Sun., 8 p.m.
COLGATE NBC TV, from Hollywood
(Bates; Sherman-Marquette)
The competitive NBC vs. CBS race for the Sunday 8 to 9 major audience graboff is getting hotter this season, with Ed Sullivan's "Toast of the Town" showing strong evidence of closing the gap on the previous dominance of Colgate Comedy Hour's rotating stars. "Toast," in fact, actually passed the NBC-TV top budgeted entry last week. In the case of Colgate the stakes are higher; with a 6,000,000 time and talent budget for '53-'54 (top coin for a single show on the TV spectrum), it can't afford many misses.
All of which leads in to last Sunday's (25) Donald O'Connor entry for the soap spender. In a nutshell, it wasn't the musicomedy extravaganza designed to recoup the audience loss on the week that the competition was cashing in on Sullivan's grand slam play by wooing the week's page one headliner in show biz - Julius LaRosa.
Granted the fault wasn't O'Connor's. He's the same ingratiating song-and-dance buffon that projected him into the bigleague TV sweepstakes last season. Name any department in the talent field and the kid's a natural in it. Blame it rather on "Comedy Hour's" willingness to accept the "what-was-good-last-season is-good-enough-for-this-season" philosophy that's become the bane of too many shows. In the process of establishing a sameness, it loses a spirit and vibrance that's apt to dull the viewers senses.
The production impresarios endowed O'Connor with all the proper accoutrements and guest star assists, including Lauren Bacall, Metro's upcoming Elaine Stewart and Joanne Gilbert, not to mention such O'Connor standbys as Sid Miller, Hal March and Tom D'Andrea. With, of course, the inevitable "production numbers." But what read good on paper didn't project that good visually. Some was good, some was bad, but too much of it wasn't good. First they satirized O'Connor's illness with a "Hollywood Star Hospital" scene of rhythmic doctors and nurses that was fairly ambitious (and somewhat imaginative in content), but the end result was lack-lustre.
Elaine Stewart was wasted on some skimpy by-play material. Joanne Gilbert was an asset; her second, the "Hello Bluebird" number, particularly good. The Lauren Bacall guesting as O'Connor's vis-a-vis was pretty much of a mishmash that started off as one thing and wound up in left field; the Hal March-Tom D'Andrea GI installment this time up was unfunny.
Major laughs stemmed from the inevitable O'Connor-Sid Miller "songwriting team" segment with the duo's assorted impressions (Eartha Kitt, Crosby, Sinatra, Liberace, Betty Hutton, et al) in a travesty on songs inspired by whodunnits. Some of this was very funny. And the "Dancing in the Dark" fadeout which found the white-tie-and-tailed O'Connor whirling at a "Ghost Ball" (invitation was dated 1898) came very close to achieving the right note. And practically all the notes of Al Goodmans orch were pleasantly grooved. But with all the components thrown together as a 60 minute entity, the spark wasn't there.
Rose.

11/22/53
(11/25/53 review)
Donald O'Connor and the Colgate Comedy Hour registered a "first" for TV when the Sunday night 8 to 9 NBC-TV showcase under special FCC authorization prior to official adoption of color standards, became the first compatible color telecast of a sponsored network program. For the occasion NBC responded in kind with a 60-minute visual treat (including a single tinted Colgate commercial on behalf of Halo) that demonstrated beyond doubt the qualitative aspects of "rainbow video."
To the several hundred persons witnessing the Colgate display in monitoring booths at the Center Theatre, N.Y. (show originated from NBC's Colonial Theatre "color" laboratory" in Manhattan), the tinted-up "Comedy Hour" provided some exciting values when contrasted with black and white (as usual under the NBC-RCA compatible system regular home viewers saw the show in a heightened monochromatic definition).
Weighed solely as a Colgate program entry, the O'Connor stanza was far superior to his season's initialer last month. Not all of it was good. The Corinne Calvet-Ralph Bellamy guestar assist in a "man, wife and brother" skit was a waste of time and effort, hardly calculated to advance the cause of b & w video, let alone color. But with the versatile and indefatigable O'Connor romping through practically the entire session with Dorothy Dandridge and Sid Miller as two of the more valuable components and with a "color consciousness" on the part of the NBC production boys permeating a goodly portion of the show, Sunday's commercial "premiere" rates as one of the best colorcasts to date. Particularly in the closing segments of the show, when "Tenement Symphony" brought forth a brilliant splash of color within a capsule musicomedy framework and when the camera lost some of their earlier "timidity" and permitted themselves a freer range, all doubt was erased that "this was it."
It's obvious that as time goes on the more complex and subtle tones toward achieving color perfection will also be mastered, but suffice that on this particular premiere show all the primary colors were true in definition. Although the refinements of shading have not yet been conquered, as was mainly evidenced in the skin tones, the overall advances into the rainbow spectrum would certainly seem to justify the big push.
The stationary quality of the camera work was most perceptible in the first half, devoted principally to the O'Connor "single" and the inevitable Sid Miller teamup, for the songwriting bit. So much so that it seemed to inhibit O'Connor's performance. Also the first half's cheesecake display had an amateur quality, the desire to introduce all the colors via the chorus line making for unimaginative and inartistic production. (Thus far the major lack appears to lie in the blending of creative production values with color technology.)
It was when the O'Connor-Miller duo cut loose with their variations on a "Colgate Dramatic Hour", Martin & Lewis in "Death of a Salesman," Abbott & Costello in "Hamlet," Jimmmy Durante as Cyrano and "Edwin Booth Cantor" in "Ceasar and Cleopatra" (with a Sophie Tucker assist) that the stanza became good comedy, with the assorted plumage enhancing the tinted values.
Dorothy Dandridge had her big moments in a brace of tunes, "If This Isn't Love" and "Taking a Chance on Love" with the latter her standout bit. Perhaps the most obvious advantage of color over black and white was revealed as Miss Dandridge's beauty came to life through the new dimension.
It was the closing tenement number, however, that tied the blue ribbon round the color package. For here both the cameras and the performers lost their self-consciousness, and the street scene and the dancers were gayer and sprightlier sparked by the new electronic hotfoot.
Rose.

12/20/53
(12/23/53 review)
Donald O'Connor on his pre-Yule "Colgate Comedy Hour" show on NBC-TV Sunday (20) gave a spotty account of himself. Major fault was in the lack of any stand-out sketches, but O'Connor, a crew of guests and even director Ernest D. Glucksman worked as though they had terrific lineage and gave the show more than it had at the base.
O'Connor, apparently is a strong family man. Having entered show biz himself through a family act of which he was one of the junior members, he's now breaking his daughter into the business. Donna is a cute moppet who, on show caught, performed her chores dutifully. It's recalled that on the first show on which he starred he had his mother doing a short bit.
O'Connor went in for a couple of gimmicks on this show. He exhibited coaches of teams participating in the Rose Bowl Game as well as the Rose Bowl Queen and her Court. It was a sequence that meant very little. Not enough was made of a showboat scene in which Scatman Caruthers beat out with a briefie song and Jana Mason went overly-dramatic on "Can't Help Lovin' That Man."
Charles Coburn also had a few moments of good comedy. He made the most of his role as an instructor in a school for Santas, but basically, a good idea went awry in the writing. Other bit in which he participated was in a scene depicting wandering carol singers.
As usual, the most rewarding scene of the session is the songwriting bit between O'Connor and the talented Sid Miller. This too was handicapped by bad material at the start, but toward the mid-section they were rolling in high. It closed in high gear.
It seemed that the staff was awed by the pre-Christmas theme and lost sight of the fact that the show dwells mainly in comedy.
Jose.

2/14/54
(2/17/54 review)
Donald O'Connor's turn on "Colgate Comedy Hour" Sunday (14) over NBC-TV resulted in a spirited well-gaited and vastly entertaining session. The card was one in which every factor seemed to jell with sock amusement returns contributed by George Prentice, Beatrice Kay and the regular cast as well as the production.
As always the top spot is the songwriting bit with Sidney Miller. Their lampoons of various personalities were first rate and the writing had a high laugh content. Duo is probably one of the most articulate in video. Their percentage of grade A appearances must be near the 100% mark.
Beatrice Kay also hit it off well with her lusty chantics. Her specialty, the oldies, hit the mark and her burlesque of a bopster set her out far ahead. Prentice provided a lively punch-and-judy turn that fitted well with the rest of the proceedings.
However the most potent portion of the show was O'Connor. It seemed to be one of those shows in which he could do no wrong. There was one clever tap bit to "Me and My Shadow" in which a dancer in silhouette did the alter ego. O'Connor's variations on this theme made it almost as funny a bits as Marx Bros.' standard mirror bit.
O'Connor also excelled in the production finale with Scatman Crothers doing a small vocal. The opening standup bit which wound up with a satire of the terping twenties was also on a high level.
The end of the show was somewhat marred, though, when O'Connor rushed through some announcement to enable RCA veepee John West to give O'Connor the Tele Academy Emmy award which West received earlier in the week as O'Connor's proxy. The production by Ernest D. Glucksman was outstanding.
Jose


Colgate Comedy Hour Guide to All the Episodes
You have reached http://muppetlabs.com/~davidj/tnt/oconnor/telgrph/colgate.htm

Disclaimer: We are in no way officially sanctioned by or connected to Donald O'Connor, or anyone else for that matter. None of the content of this website is meant to infringe upon any copyrights held by studios, companies, authors, other web site owners or stray individuals.

Anything original is copyright 2000 by Teresa and Tracy Murray (a.k.a. T 'n' T).

Credit to Kathy the resourceful librarian and the nice folks at http://www.whyaduck.com

Please send us lots and lots of e-mail at tntmur@aol.com

Number of people who brush with Colgate: