| | | |
| --- | --- | --- |
| | | |


All of these pictures link to bigger pictures when you click on them.

The big day had finally arrived. Besides the main event we had plans to attend a Jeopardy taping that morning and a late lunch with all the other Monk fans at Nate and Al's in Beverly Hills across from The Paley Center.

I didn't get any pictures of the Jeopardy taping, because they weren't allowed: no pictures, no cell phones, no recorders. No bobbleheads. That wasn't a rule, but we left them behind at the hotel to rest up. However, if Monk had attended, it might have looked something like this...

... or maybe not.

We met up with Barb and Rob and Yvette at the Jeopardy waiting area. After jumping through a few security hoops, we watched them tape three episodes. You can catch a glimpse of us in the audience on February 9th, 10th or 11th. They ushered us out at about 2:30 which, considering traffic, didn't leave us a lot of time to get back to Hollywood and then over to The Paley Center in Beverly Hills. So we were just a little late for the group lunch at Nate and Al's, but as they say, better late than never.

| | |
| --- | --- |
| Nate and Al's | The Monk Gang: going clockwise ToNy, Kim (fan4sure), Amy (Raven), Deb (Aldebaran), Yvette (Yvette88), Tami (Tami) and Jeff (Two Wolves) |

| | |
| --- | --- |
| | Tami took a picture and ToNy got some video |

| | |
| --- | --- |
| Barb took a picture | Amy, about to take a picture |

| | |
| --- | --- |
| | Monk wanted to take a few shots as well. |

| | |
| --- | --- |
| Tami's Sock Monkey and Monk met... | ...and then got better acquainted. |

| | |
| --- | --- |
| Monk, Monk and Kim. | Now it was time for the traditional passing of the bobbleheads. |

| | |
| --- | --- |
| First from Amy to... | ...Deb and then from... |

| | |
| --- | --- |
| | ...to Barb who passes them on to... |

| | |
| --- | --- |
| Rob, who just seems a little confused, before handing them off to... | ...Tami, who probably would have kept them away from... |

| | |
| --- | --- |
| Jeff, if she had known how hungry he was. | |

| | |
| --- | --- |
| ...Tony, who's a very good listener. | |

| | |
| --- | --- |
| The banner outside The Paley Center announcing the event. | Monk, the banner and The Paley Center |

| | |
| --- | --- |
| | Monk in the glow of the Paley Center |

| | |
| --- | --- |
| Monk in front of the Barbara and Garry Marshall Pool. Garry guest starred on Monk... | ...produced a lot of stuff and probably donated a boatload of money to get his name on a pool with no water. |

| | |
| --- | --- |
| | This is Bfloguy's I'm-so-thrilled-to-be-here face. That's Yvette lurking in the shadows. |

| | |
| --- | --- |
| Plenty of time for a group shot. Top row: fan4sure, TwoWolves, ExTex, Teresa1643 | Bottom Row: Raven, Aldebaran, Bflogal, Tami and Yvette88 |

| | |
| --- | --- |
| ...including the Sock Monkey and his two new detective friends... | ...who got out their cameras when they were told we could take non-flash pictures. |

| | |
| --- | --- |
| I'm not sure who took this shot of Deb and Amy, probably Barb. | Kim, Deb and Amy were very happy that Tony Shalhoub would be there any minute. |

| | |
| --- | --- |
| We were introduced, but I've forgotten their names. They're from Utah. He looks like Harry Potter and she's the best mom ever. | I took this one with Tami's camera. (Her camera's fine, I'm just a bad photographer) Our gang's right in the middle. |

| | |
| --- | --- |
| This is the Paley Center guy who introduced this... | |

| | |
| --- | --- |
| ...to pull out a wipe and set out hand sanitizer... | ...because that schtick never gets old for the Monk actors, right? |




Introducing the "Monk: 100 Episodes and Counting" Celebrity Panel

| | |
| --- | --- |
| Monk Executive Producer David Hoberman arrives first and gets Mic-ed... | ...followed by Monk director Randy Zisk with his cutting edge sport jacket over the hoodie look... |

| | |
| --- | --- |
| | and Jason Gray-Stanford (Lt. Randy Disher). |

| | |
| --- | --- |
| It took a couple of tries to get the mic on Jason... | Tony Shalhoub arrived. He apparently didn't get the casual Tuesday memo. |

| | |
| --- | --- |
| | ...everybody listens. |

| | |
| --- | --- |
| Tony got his fair share of questions... | ...but the whole panel got a chance to talk. |

| | |
| --- | --- |
| They all seemed very happy to be there. | This is Ted's "super thrilled to be here" face. |

Truth be told, I was too busy snapping pics, to pay much attention to the Q&A.

If you'd like to know what the heck they were really talking about

jump ahead

...


Where in the MonkWorld
are LisaAnne's Kids?!
Featuring Monk Southern California locations!









| | |
| --- | --- |
| ...for compelling and occasionally zany, descriptions of the evening from Kim, Barb, Raven, Tami and Wolfie... | |
| | |
| --- | --- |
| | Interviewer: "Are you as crazy as Monk?" They always ask that. |
| | |
| --- | --- |
| And Tony always tells them he isn't. | I don't know if Randy & Ted are sure of that. |
| | |
| --- | --- |
| I didn't have too many chances to get the whole panel in the shot. | This was the view I had most of the time. Don't get me wrong it's a nice view, but... |
| | |
| --- | --- |
| ...whenever the opportunity arose I tried to get a picture of David unless there was... | ...something fascinating on the right side of the stage, like Jason looking really cute. |
I realize most of the pictures below are virtually identical, but those of you equally obsessed with the show and these actors (I know you're out there) will no doubt appreciate the subtle differences. That's why I'm putting them all on display. Enjoy! (Even if I can't think of captions for most of them.)
| | |
| --- | --- |
| | ... accidentally disconnected his mic. Not to worry: Paley sound guy came to his rescue. |
After answering a few questions from the audience, Ted Levine, David Hoberman and Randy Zisk cut out while Jason and Tony briefly stayed to sign autographs. I'd brought along a photo for Tony to sign for a certain fan of his in Hungary, but by the time I pulled it out the crowd around him was too dense to penetrate. It wasn't long before Tony's handlers declared him off limits and I missed my chance. Jason stayed a little bit longer and then hung out in the lobby (lobby, lobby) for a while, but I missed that too because I had to get my midnight onyx Dodge Charger out of the parking garage before nine. The rest of the group mingled a little before I got back to pick them up.
| | |
| --- | --- |
| Kim took this one shortly before Tony Shalhoub signed her bobblehead. That's right, he signed her bobblehead. | |
| | |
| --- | --- |
| Amy took this one of Jason and Deb... | ...and this one of Kim and Jason. |
We only had one scheduled stop to

make before heading back to the hotel...

... the Borders in Hollywood to pick up the latest Monk novel, Mr. Monk is Miserable.
We made an unscheduled stop at the nearby McDonald's to use the um... facility thingy and review the evening.
That's it for my experience at the "Monk: 100 Episodes and Counting" event, but stay tuned for other perspectives and then on to day five when Mr. Monk Goes to Disneyland.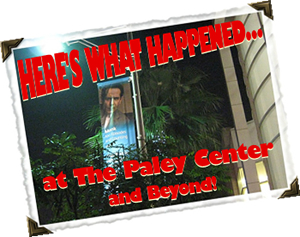 Fan4sure's "Here's What Happened"
(with pictures and everything)
| | |
| --- | --- |
| | "Finally, I seized my chance and held out the bobble and Sharpie pen to Tony. He graciously took the pen and began signing the bobblehead's back. I looked down and noticed we were both holding on to it. My hand was touching his and his hand was touching mine . . . it's complicated, but exciting! We both tried to steady the bobblehead, which, by the way, is probably one of the most awkward things you can hand someone to autograph. When Tony finished, he looked up at me with that awesome smile. As I took the pen from him, I asked him to let Traylor know that we missed her not being there. He gave me an even bigger smile and said, 'I will. She was not feeling well at all today.'" |
Paley Center Photos
Bflogal's "Here's What Happened..."
I wish I could offer you lots of pics of the event. And I have a few that I will put up, as soon as my camera finishes charging. (That's right--my batteries went dead. It was showing fully charged at the beginning of the day, so we didn't run it through the charger. Fatal mistake.) I'm sure you will get your hands on a lot more pictures in a few days when everyone returns home, downloads their photos, and then uploads them to photobucket. Faced with a depleted camera, I did the next best thing, and took copious pen and pencil notes of the whole evening, which I am going to try to read and describe for you here. I don't have too many exact quotes, since I do not write that fast, but I think I can give you the gist of the evening.
First of all, we met at Nate-n-Al's for a pre-Paley dinner. Present from the board were Tami, TwoWolves, Teresa, Fan4Sure, Aldebaran, Raven, Yvette, and myself. We walked across the street a little while later and met up with Extex and her friend, and got a picture all standing in line.
Paley is a much smaller venue than many might think. It would seat a couple hundred at the most. The presentation was begun by a representative of the Paley Center, and then a representative from the local media, who served as a moderator of sorts. But before the cast came out, they showed an episode of Monk.
Now I had imagined, since the program was called "100 Episodes and Counting" that they were going to reshow the 100th episode. Imagine our surprise, when the moderator announced that they were showing "Mr. Monk and the Other Brother". In fact, several gasps were heard coming from the 3rd and 4th rows where our group of board ambassadors were sitting. These gasps were immediately made fun of by the host.
So we watched the episode together on the big screen –something which in and of itself was well worth the trip. Let me just tell you, that the episode was great, IMO. And any doubts that I had about the casting of Jack Junior quickly disappeared. They had great chemistry together. I really enjoyed this episode.
The audience did too. We laughed together throughout the screening of the rough version. We sang the theme song together –softly at first, but when we heard other people singing, more joined in. What fun!!
Paley Center Photos
When this was over, the panel members were introduced. From left to right were David Hoberman, Randy Zisk, a hatted Ted Levine, a hatted Jason Gray-Stanford, and of course, Tony Shalhoub. They were provided with bottles of water labeled for the Paley Center, and bottles of purell. It was announced that Traylor was sick on the set that day, and would not be appearing.
The panel discussion began with questions posed by the moderator.
One of the first things discussed was the ending of the show. Panel members agreed that they were comfortable with the timing. When asked if Monk would be 'cured,' Tony Shalhoub noted that, while most of the writers were not there, that he would guess that they would wrap up the Trudy story line, hopefully as to who killed her, and why, and that Monk would be reinstated. Whether he would be 100% better, Tony said he did not know.
Tony Shalhoub was also asked the perennial question about how the role has affected him. I didn't jot too much of that down, since it is a familiar question, and we know the answer. He did used the term "infected" to describe how Adrian Monk had affected him. He also used the analogy of a cork in a bottle--that many of us have the impulses to do some of the things that Monk does, but we repress them. Playing Monk is letting these things 'out of the bottle' and into the forefront.
Ted Levine, at this point, noted that Tony was a perfectionist in many areas--who will get hung up on little things for a long period of time. Tony agreed with this, suggesting he might do that for 10-15 minutes. Ted bantered it was more like half a day.
When asked about how the show benefitted them, Jason Gray-Stanford quipped that he was seven years old when the show started. He quipped that it allowed him to buy booze and food (in that order), but then added that to be there and work with 'these guys' was a blessing, and a great learning process, and that he was going to be a spoiled brat when he left the show.
When questioned about the Sharona/Natalie transition (yes, it came up again), Ted noted that the two assistants were very different characters, Natalie being more supportive. Tony then added that the very abrupt transition came at a good time, in that it kept them from becoming complacent, and allowing the show to stagnate. He added that Monk continues to challenge them all, and that the writers are 'good and ruthless.' He quipped, "They just don't care about us." Jason added that the cast and crew keep each other on their toes, and referred to Ted as his 'Dean Martin.'
Paley Center Photos
On writing, Tony noted that Monk demands an unparalleled level of trust. (ie. trusting that what the writers have written will actually work.) He used an example from the recent episode "Mr. Monk and the Miracle", stating that there were two moments in those episodes, that when he read them in the script, was pretty sure were not going to work. The first was when Monk and Natalie, clothed as monks, were slapping each other. He claimed to have doubts, since it seemed like something that would come out of a Bing Crosby/Bob Hope road film. The second was the singing summation. He quipped that he didn't want to do it, since he wanted to keep working, but he said he took a 'leap of faith' (OK, who else mentally tried to follow that with 'Annette will appear'), and fully committed to it. Now they were some of his favorite scenes in the episode. On a side note, Tony said that the part of the shushing Monk was played by his nephew.
On this note, Jason added that Monk was an environment where you could fall on your face and noted that there were instances where they all suck. Ted quipped that in these cases they just sucked harder. Tony then noted that 50% of acting is being willing to make a fool of yourself. When asked what the other 50% was, he and the cast added luck, work, talent, and being in the "right place at the right time with the right people." Ted added that the crew was great and that they were their first audience. When the crew wasn't paying attention and into what was going on, they knew something was wrong.
Paley Center Photos
When discussing some of the Monk merchandise, including the Monk phobia mug, David Hoberman admitted that he had a fear of elevators and stairwells. Ted related a story where David wouldn't get on an elevator with Gwen Stefani just because it was an elevator. He related that he will prop open stairwell doors before using, to make sure he can get out.
When Tony was asked if he had people who were brutally honest with him about the show, he quipped that he had gotten rid of those people long ago.
On changes in Monk, in preproduction, there was a time when Monk was originally set in NYC. Tony admitted to balking at Monk referring to himself as crazy. Other characters, especially villains can, but Monk never does.
On working, Jason referred to Tony as the 'sun of the show,' around which the rest of the cast were the planets. He carried the workload, stayed later than everyone else, and yet was known to bring muffins and coffee to the cast. He admitted that Tony could drive people crazy obsessing over something for half a day, but noted that it was worth it in the end. It was also noted that cast and crew were allowed to speak their mind freely on the set, something which made the show work.
Paley Center Photos
David Hoberman remarked that they had a lot more latitude on a show for cable, than they might have in a network show. They were able to experiment and take more chances. Tony agreed that they might not have lasted on a network, and credited USA with nurturing the show through its first few seasons, after which it spread its wings and took off after the third season. David agreed that many networks try to change shows into something with which they are more familiar, but they also credited Jackie Lyons for championing the show from it's inception at ABC through it's birth on USA, a gestation period of three years--which was noted to be an unusually long time frame.
Then the question of fan loyalty came up. Tony remarked that Monk had some really exceptionally loyal fans, to the point where it was unhealthy. At this point, members of our group adopted our most innocent expressions, and glanced around the room, wondering whom he might mean. When pressed to give an example, he told a story about a request from a fan for a short video segment for her Bat Mitzvah, although admitting that he was not implying this was unhealthy. He teased about receiving a box some time later and discovered that the whole Bat Mitzvah was Monk related, with related items about what Monk might have been confronted with had he gone to Israel (Monk in the Dead Sea, Monk at the Wailing Wall.) Tony quipped that somewhere Moses was spinning in his grave.
When an audience member, a therapist, commented that the therapy sessions seemed authentic, Tony remarked that the writers use the therapy sessions to delve into Monk's past. They were also a good chance to ground the episode when things were getting too goofy. The panel remarked that the shrink sessions were special: Tony said almost like being in church. This was the time when the set would be completely quiet--almost a worshipful attitude toward filming these segments.
When asked about the goal of these sessions, and whether OCD could be cured, Tony said the goal is often to learn more coping skills, and to determine the origins. David Hoberman said it was likely separation from mother and that he himself had it as a child.
When asked about their plans for the future –after Monk, Ted said he wanted to take some time off and do other things– besides acting. Tony said he would not jump into another series. He wanted some down time and then would like to do some theater or films, but would especially like to produce.
An audience member asked if the 'shushing' in "Mr. Monk and the Miracle" was all scripted, or improvised, since it seemed to go on forever. They quipped that it was actually scripted 30-some times, and they shushed for 17. It was here that Tony said the shushing Monk was his nephew, that he had changed his diaper--adding the joke that he had done so the day of shooting. Tony said that they didn't improvise as much as they would pitch ideas and changes, that they didn't like to veer far from the scripts, which were usually right there.
Paley Center Photos
When asked about favorite guest stars, the panel quickly focused in on those with returning roles, like Kevin Dorfman (Jarrad Paul), Ambrose (John Turturro), Harold Krenshaw (Tim Bagley), Karen Stottlemeyer (Glenn Headley), and Marci Maven (Sarah Silverman). Others mentioned were Laurie Metcalf, and Gena Rowlands. Someone, I believe it was Jason, remarked that people know that Monk has a fun set, so it attracts some fantastic actors who don't regularly do television. Tony remarked that he was amazed that all these great, talented people come "fully loaded and ready to shoot," a remark with a double meaning that Ted found particularly amusing.
When asked about growth and changes, Tony remarked that his character had lost some hair. Ted quipped, "You tell us." David Hoberman talked about the development of Stottlemeyer's character from adversary, to what he is now –right there for Monk.
The presentation ended shortly after that, and the cast remained and signed some autographs. I discovered (like I thought I would) that I was a bit intimidated by celebrity, so I kind of remained safely on the fringes with my depleted camera, while others rushed to get autographs and pictures. No pity here -- I had a great time.
Raven's "Here's What Happened"
Tony did stay to sign autographs, but he left sooner than Jason did. There were more people around Tony, a real crush, shoulder to shoulder. There really wasn't time to get more than one autograph, and even then you had to be kind of aggressive and get up there quick! I had a tee shirt with me that a young friend made, her very own Randy Disher Project shirt. She's 14 years old and loves Jason. So I went for that. I had to sort of plow through the people around Tony to get to Jason. There were alot of people around him too. He was so sweet. He marveled at the shirt, said,"Wow," I think, and bent over a table to write "To Kelly with love from Randy Disher! Jason Gray Stanford".
Jason is thin, smaller than I imagined him to be. He looks you dead in the eye, holds your gaze. He's great.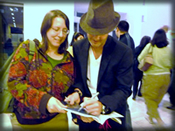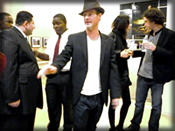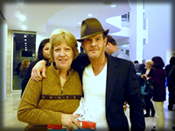 Photos by Raven, except for the last one because she's in it, so Kim or Deb must have taken it.
Tami's "Here's What Happened"
When the moderator announced the episode we were "about to see hadn't been aired yet: "Mr. Monk and the Other Brother", Teresa and I (and probably others), squealed with delight (well, Teresa didn't really squeal, but I'm sure I did, but that may be because Wolfie was sitting next to me!) The moderator noticed our reaction and said: "Well I thought no one had seen it before!"
After the Q&A (and after Ted Levine's speedy escape), Jason was still up front signing autographs. I was in the third row facing him, and I caught his attention (I should've yelled: "Hey, Shirtless Randy!", but I (shyly ... heeheehee) said: "Jason?" He looked up and I asked: "Are you going to be taking off your clothes in an episode, soon? I ask because you are known as 'Shirtless Randy' on the message boards ..."
He laughed and responded: "I hope so! As soon as I buff up!"
I pumped a Kirk-Gibson 1988-Game One-9th Inning-game winning, Home Run-elbow pump (Google it, if you aren't a Dodger fan) and softly screamed: "YES!"
Jason and I shared a look (Uh, oh. Now don't get all snarly and fang-bearing at me, Wolfie ... it was an innocent look between Jason and me, really! REALLY) and a smile, and we both went our separate ways ...
I'll upload my photos soon ... I had a wonderful view of TL, JGS & TS throughout the evening ... and I also have some Disneyland photos!
My only complaint is that TL bolted out of there so fast, no one (that I noticed) even got his autograph (despite my yelling desperately at Wolfie to "STOP HIM!!!")!
Wolfie STOOPIDLY looked at me and STOOPIDLY said: "Who?"
"That's TED, RIGHT THERE! ... No, THERE!" (I pointed feebly at TL, who then checked his pocket for the restraining order he had taken out against me), and TL bolted up the stairs with the alacrity and agility of John, Paul, George and Ringo evading the throngs of screaming, adoring fans in "A Hard Day's Night"! TL soon disappeared onto the streets (or awaiting limo) of Beverly Hills! Dag-nabbit! Another photo op for me with TL thwarted! Aaarrrggghhh!!! That's the third time for me. I have a couple of photos of me with Tony, but not one with Ted!
[Ed. —Just a few days later Tami got that picture and now she and Ted are on a first name basis. It was kismet! See Tami's and Wolfie's stories below.]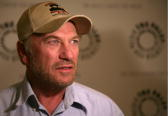 Ted Levine
at The Paley Center Event,
Monk: 100 Episodes and Counting
December 2nd 2008
Wolfie's "Here's What Really Happened"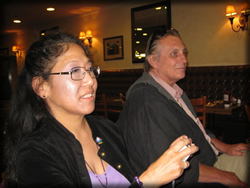 Tami and Wolfie at Nate & Al's
Photo by Barb
In my own defense let me SET the SCENE for you PROPERLY!! I was standing in line to get an autograph from Randy fighting my way through HORDES of BESERK females....when I heard Tami Squealing...."Go get Ted Levine's Autograph" which would have LOST the position I had FOUGHT for so BRAVELY!!
Naturally I resorted to my BOARD PERSONNA as El Presidente in order to keep Tami from turning the jaws of ALMOST Victory into TOTAL defeat!! I did manage to get a picture for Extex and an Autograph for Tami at considerable risk to my health and welfare. I suffered multiple contusions and some verbal abuse from the CRAZED FEMALE FANS! So don't be fooled by Tami's BIASED EMOTIONAL account of what REALLY happened! I know I can count on all of you to see how I have been wronged!
Wolfie's "Here's What Happened"
a few days after The Paley Center Event
Welllllllllll, we had just spent the last 5 hours tracking Ted down......my informants had pinpointed his location at some restaurant known to be frequented by a CERTAIN ELEMENT!! He walked into our trap not realizing what he was in for that night. It was a dark night filled with foreboding. He came into the restaurant wearing a clever DISGUISE....the same one he had worn to Paley!! (cue the music) DUM DUM DUM DUM DAAAAAA!!! As he walked in I gave TAMI the thumbs up! He sat down at a table next to us.....she immediately ripped off her disguise! "OMG" Ted exclaimed "It's that crazed woman who I have a restraining order against!!"
"Yes it's MEEEEEEE" Tami said drooling with lust. "Quick Wolfie take his picture" she squealed throwing the camera at me like a live grenade. Ted tried to make it to the door to escape his fate but it was TOOOO LATE! Tami was wrapped around his leg like a poodle in heat looking for someone to hump! I pointed the camera at him menacingly!
"Now we can do this the EASY way Teddy boy or the HARD way" I snarled.
"O.K. you guys win.....just make sure you get my good side" Ted begged
"Now grab some ASSSSS and smile" I commanded.
As Tami put her hands somewhere below the North Forty ....a warm glowing smile shot from Ted's visage! When it was all over I said "Ted you took it like a man....she gets a little crazy when Randy goes SHIRTLESS but she's always DROOLING for you....you're a hard act to follow"
Ted Blushed then took her in his arms like Rhett Butler ravaging Scarlett........kissed her and walked out the door saying "Frankly my dear I don't give a damn"!!
She says she'll never wash again.....so for better of for worse......none of us will want to meet Tami EVER AGAIN! I hope it was worth it!
Tami's "Here's What Really Happened"
a Few Days After The Paley Center Event
Well ... truth be told, I've met Ted a couple of times before: once at the first Paley Event for Monk, between Seasons One and Two, and at the previous Monk event at the Museum of Television and Radio (now the Paley Center for Media, or whatever it's called now), just before Season Three started. Ted was more open to the fans then, but I think the only reason I got to meet him at the MTR event was because he was hanging out with Tony and Tony got mobbed ... That was when I gave Ted a birthday card from the Ted-Yahoo group. He was really excited to have received that card, like a kid in a candy store ...
But I digress ... While this isn't the first time I've met Ted, it's the first time I've had the opportunity to have my picture taken with him.
What was he really like? I guess that since this was a random (I mean "random" as in it wasn't an "official" MONK event) meeting, he seemed like a regular guy who didn't have anything to do that night and wanted a quiet meal at a pretty good Thai restaurant. He was there alone. And had just sat down. I think he had just ordered (the Pad Thai, iirc), and got up to get a magazine (the restaurant has some magazines at the table near the door for people who are waiting for their take-out orders, and, apparently, for TV/Movie stars who are dining alone), and Ted passed me....!!! So, in my most-calm voice, I said: "Ted?" He looked at me as if I were someone he should've known, but didn't remember.
I did tell him that we had just been to the Paley event and we had a really good time, and this wasn't the first time Ted and I had met, but that on those previous occasions, I was in a wheelchair, I don't think he remembered me. He seemed pretty much at ease since there weren't a throng of fans and photographers around, and (Wolfie told me later) I wasn't acting like Marci Maven.
I wish what Wolfie relayed was the truth about what happened with the Rhett & Scarlett kiss, but Ted did shake my hand, twice ... but the part about him mentioning Shirtless Randy and Ted being the one I drool over was true. I did ask for Ted's autograph, but only had my doggie bag with my leftovers in it ... so Ted signed that ...
Tami's "Here What Happened" a Few Weeks Later at The Paley Center
aka Tami in WONDERLAND (January 13, 2009)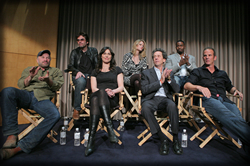 An event was held at the Paley Center (formerly the Museum of Television and Radio) on Tuesday night to commemorate and highlight the WONDERLAND premiere on Direct TV. Wonderland is a TV series about the goings on at a Psychiatric Hospital (think Bellevue in New York) that Ted starred in in 2000. Teresa (kindly gave me her ticket to the Paley WONDERLAND event ... and what an event it was!
The first episode was shown, then the moderator (whose name I don't recall, but I should) asked the cast and Mr. [Brian] Grazer & Mr. [Peter] Berg questions about their experiences with and about the show. I'm sorry I don't have a lot to report about who said what, I was experiencing the experience.

Ted did say that he didn't remember how he met Peter Berg, and that the writing of the show was exceptional and attracted some great talent as guest stars. "And Patricia Clarkson was my wife ..." Ted said that with awe and disbelief in his voice.
An audience Q&A followed. Only a few people asked questions. They actually didn't ask questions so much, rather spoke of how they admired the show.
A reception was held after the event concluded. I have a physical challenge and maneuvering in crowds can be a bit difficult for me (I walk with a cane and a brace on my left foot). So I just stood back and drank it all in. A couple of Paley staff members encouraged me to join in, mingle and have some wine and hors d'oeuvres, but I declined because of the cane/brace issue. I did tell them that I had the original TV Guide from April 2000, and that I was hoping to have it autographed. They asked if I wanted anyone's autograph in particular. Honestly, I did want Peter Berg's autograph and Brian Grazer's, but I think that Mr. Grazer had already left. I also, of course, told them that Ted was my favorite.
One of the Paley staff (I didn't get his name, so I'll call him "Mr. Paley Staff") asked me if I could see Ted in the crowd. I pointed him out (he was the only one wearing a baseball cap).

This is when the night became surreal for me.

While I was talking to a woman about how I had met Ted recently (and rather serendipitously), Mr. Paley Staff, unbeknownst to me, had gone in search of Ted. I don't know why I looked toward the people in the reception, but Ted was walking toward me. He emerged from the group of reception guests like Shoeless Joe stepping out of the corn stalks and onto the baseball field Ray Kinsella had built.
Ted said: "It's good to see you again" and gave me a kiss on the cheek. Sorry, Meme, I've already washed my face several times since that night ... but I'll always have the warm memory of the feel of Ted's beard on my face when he kissed my cheek ...
I think Tami said: "It's good to see you again."
Ted said: "Tami, right? T-A-M-I? Thank you for coming."
I think Tami said: "That's right."
I don't remember much of what was said after that, but I managed to get my TV Guide out and asked Ted if he would autograph it for me, which he did. Then Ted asked who else's autographs I had gotten (no one else's yet).
Ted said: "There's Michelle (Forbes). Do you want to meet Michelle?"
Ted Levine, Michelle Forbes, Michael Jai White

I think Tami said: "Sure (or something like it)."

Ted introduced me to Michelle: "This is my friend [!!! !!!], Tami" and told her about the TV Guide I had. I chatted a moment with Michelle, who autographed my TV Guide. I asked her what happened to the baby. She hemmed and hawed for a moment and we concluded that I'd find out when the show airs.
Then Ted introduced me to Michael Jai White. When he saw his photo in the TV Guide article, Michael said: "So that's where I got that sweater. I still have it!" I told Michael that I couldn't wait to see the episodes that he was in. Ted said something about the excellent work that Michael had done on the show.
I'm not sure how the subject came up while I was talking to Billy Burke, but Billy mentioned Tony Shalhoub's story about Ted's "audition" for Monk. I said: "Oh, you mean: 'Eff you all'?"

Billy told Ted the version he had heard, which included the phrase: "F*cked in the head."

Ted corrected him and said that he had said: "F*ck all of you."

Billy Burke
Ted and Billy groused about if the show gets to DVD, they won't see a cent from it. Ted did remind me that Billy was on Monk ["Mr. Monk and the T.V. Star"] I didn't want to say: "Well, Duh!"
Finally, Ted introduced me to Joelle Carter. After talking briefly about the show, we ended up having a "normal" kind of conversation that two people might have when they meet at a wedding reception.
I did ask Ted about his part in "Shutter Island" (the Warden's part in the book was so small). He said: "It was a nothing part, but it was Scorsese!"
The Wonderland Reception

Somewhere in the conversation, Ted tried to remember one of his "Shutter Island" co-stars. As we're both struggling to remember this actor's name (Joelle was no help at all), Ted lightly smacks me on the back of the head a few times (No, Meme, you can't have the locks of my hair that Ted smacked -- besides, I already washed my hair) and said something about our "middle-age memories"! At least Ted was as frustrated as I about the mental blank. I'm embarrassed to admit I had to check on IMDb for MAX VON SYDOW!

Ted had to leave, and so did I. We shook hands and I hope I thanked him profusely.
Mr. Bobblehead Monk Goes to Disneyland
Coming Soon!