| | | |
| --- | --- | --- |
| | | |

Monk on Location in San Francisco 11/17/05

Although Monk is set in beautiful San Francisco where I live, the series is mostly filmed in Los Angeles (for season two, three and four, Toronto for season one, Vancouver for the pilot episode.) Once a year the Monk cast and crew make the journey north to do some location filming in the City by the Bay.

| | |
| --- | --- |
| | When I got the tip (thanks, Tami!) that they would be here, I put on my detective hat. First, I called the San Francisco Film Commission. They were thrilled to confirm that Monk would indeed be filming in the city soon, but they didn't have anymore details since no permits had yet been filed. They advised me to call back again. |

That was on November 2nd. The film commission wouldn't open until 9:00am the next morning, so in the meantime I had another clue to follow up on.

There's a line in some pages I have from the final script for the season, "Mr. Monk and the Fashion Show," in which a character says "She's in Golden Gate Park, on a shoot. You can come with me."

Followed by this:
EXT. FASHION SHOOT- SAN FRANCISCO- DAY (OR NIGHT)
Later. At a GREAT SAN FRANCISCO LOCATION- to be announced.

So I headed to Golden Gate Park at 6:00am the next morning with my walking shoes on. If I didn't find them by 9:00am, I could try the Film Commission again. No luck, but I had a nice walk in the park. (I think that's what they call a Red Herring.)

Later in the morning I called them back at the Commission. Had Monk applied for their permits yet? No, they had not and the very nice woman at the Film Commission didn't think they'd arrive until the next week.

Disappointed but undeterred, I called back on Monday the 7th, Tuesday the 8th, Wednesday the 9th and Thursday the 10th. At that point I figured they must have me pegged for a lunatic and I might not get any information even if they had it. So I convinced my roommate David to take over. "What do I say?" he asked.

"Just make up something," I told him. "Improvise."

He didn't call them until Tuesday the 15th. He reported to me sadly that evening. The film commission still knew nothing about where Monk would be filming and even though David had made up some silly story about delivering a cake to the film crew and charmed a young lady there into double checking with everybody, the only advice she had was to check with the City Parks people. Permits for filming in the parks are issued from them. She gave him the number.

I called and left them a message that night and sent them an email the next day. Had anyone from Monk applied for permits to film in Golden Gate Park? I asked. They replied almost immediately: No. The only permits they had given for Monk were for Huntington Park that afternoon (Wednesday, the 16th) and the next day for Union Square. Finally, jackpot!

When I got off work I hurried to Huntington Park. I arrived too late. Dusk had already fallen and they had wrapped for the day. Their long trailers still surrounded the park and I approached a woman at one of them. "Hi," I said. "So what's going on here?"

"We're filming a television series," she said.

"Which one?"

"Monk," she said, "with Tony Shalhoub. Have you heard of it?" (For some reason, this question never fails to astonish me. Hasn't everyone heard of it? Guess not.)

"Yes, I think I have. Are you finished for the day?"

"Yes, but we're filming somewhere else tomorrow."

"Where?"

"I don't know yet."

"What do you do with the show?" I asked.

"I'm the caterer."

By the end of the following day I would know what an important position that was. I walked around for a while to see if I recognized anybody, but no. I went home and straight to bed. Knowing how early they tend to start filming I was up at 5:00am. By the time I made it to Union Square at 6:30am. They were already setting up.

I sat on a bench in the park and pretended to read a book (The Complete Sherlock Holmes: I actually did get through most of "The Six Napoleans") while I watched them. They were stringing electrical cable all around the square and setting up a fake water fountain. One of the cable layers saw me watching. "Something different this morning, huh?" he said.

"What are you setting up for?" I asked.

"A television show called Monk," he replied. "Have you heard of it?"

"Yes, I have. That's cool."

They continued their work and, unbeknownst to me at the time, they were also setting up a shot in the alley on the other side of the square. I saw one guy carrying a mannequin in a flowered dress out of the square. "You be careful with her," someone shouted. "That's my girl."


Setting up the fountain
(Click on little photos for larger photos)

As they set up the fountain, an older homeless man, who probably considered the square his own backyard, watched intently. Finally, he smiled, shook his head and cackled, "Heh, heh, heh. A portable water fountain! What will they think of next!" And he left the square chuckling to himself.

A short time later, I was approached by a security guard who'd been walking around the square since I'd arrived.

I was afraid he might want to throw me out, but he smiled and said, "So do you want to be on TV today?"

I feigned ignorance. "Is that what's going on here today?"

"Yep. They're filming a television show. Monk. Have you heard of it?"

(I'm going to have a T-Shirt made that says, Monk. Have you heard of it?)

"Yes, yes I have."

"He's here. You know, that guy." I assumed he meant Tony Shalhoub.

"I just saw him," he said and indicated the trailers behind me. This guy gave a whole new meaning to the word security.

"Really." I resisted the urge to jump up and look. After all, I was trying to be nonchalant.

"Yep," he said. "Stay here and you might be on TV."

After he'd gone on, I did go back to have a look. Nobody was around the trailers, so I decided to explore the area to see if I could find Tony or anyone else I recognized.

I found them on the other side of the square, across Stockon Street in an alley called Maiden Lane.


Maiden Lane in San Francisco
The shoe store, right, used in later scenes.

Security was tight and I couldn't get very close. I decided to go around and see if the other side of the alley was more accessible, but there was a young lady at the other end as well asking people to stay out. Even though I couldn't see much, I hung out until they said, "rolling!" and I was told to move on. By then it was after 8:00am and time for me to go to work. I was more than a little discouraged that I'd seen so little action. I didn't think it was going to make a very good story.

Dissatisfied with my morning results, I got the afternoon off and returned to Union Square a little after noon, with a plan. I would plant myself near the fountain they'd set up and wait until they got there to film. My plan didn't take into account the unseasonably warm weather. It was the hottest day we've had this year in San Francisco and there wasn't a cloud in the sky. I think it was the Indian Summer we've been waiting for, but from now on I'm going to call it "Monk weather." The only shade was in the shadow of the Dewey Monument (est. 1903.) Luckily the fake fountain was in front of the Monument, so that's where I waited.

So there I was waiting near the fake fountain, getting just a little sleepy under the warm sun, when I heard HIM.

"Are we over this way?" said Tony Shalhoub.

He was right behind me. I almost jumped out of my skin, I was so surprised. By the time I had gathered my wits he was past me and all I got was this picture of his back.




Tony Shalhoub passing by me

The best photo I got of this scene

I abandoned my fountain plan and followed Tony to the other side of the park. Once again it was difficult to get close to the action. I found a shady park bench and just to see what the reaction would be, I asked the older woman I sat next to if she knew what they were filming.

"Monk," she said. "Have you ever heard of it?"

"Yes, that's a great show."

"I don't watch television," she declared.

When they finally finished the scene, which as far as I could tellinvolved Monk and Natalie being pursued down a short flight of stairs, I returned to my position by the fountain. I didn't have very long to wait. All the action began to drift toward me. I just snapped all the photos I could, because I'm a lousy photographer and I was hoping a few of them would turn out to be use-able. Here are some of the better ones (and, no, that's not saying much) —

| | |
| --- | --- |
| Traylor arrives at the scene. | Tony in Sunglasses |

| | |
| --- | --- |
| | Tony is wired for sound. |

Before they actually began shooting the stand-ins were brought on while the cameras were properly set. Then it was time for hair, makeup and wardrobe. Now people were asking me THE question. "What are they filming?" A red-headed gentleman with an accent asked me.

"Monk with Tony Shalhoub. It's on the USA Network Fridays at ten pm. Where are you from?" I asked.

"Ireland," he said. "I don't think we get the program there."

"Well, it's on in the UK, but not on a regular basis. You have to look for it." I think that now makes me the unofficial Monk international ambassador.

Somebody else asked, "Who is that actress? Is that Meg Ryan?"

"No, that's Traylor Howard," I said.

My Soon-to-be-released T-Shirt

"Is Will Smith in this?"

"It's cable. They can't afford Will Smith."

In the meantime everyone in the now considerable crowd was advised to refrain from taking any flash pictures during filming (which worked out great for me since I didn't know how to use the flash on the camera) and to remain quiet. The crowd was hushed and they were almost ready.

Right before the take:

| | |
| --- | --- |
| Taylor comtemplates the scene | The assistant director (I think) explains that she'll be getting wet. |

| | |
| --- | --- |
| A wardrobe person walks by with a towel and duplicate jacket. | Tony's ready to go. |

| | |
| --- | --- |
| | I missed getting the Traylor-sticks-her-arm-in-the-fountain shot the first time around. You can't see it here, but her hand and sleeve were soaking wet. As soon as they yelled cut, the wardrobe people rushed out to dry her off and giver her a duplicate jacket for the next take. |

| | |
| --- | --- |
| Take Two! | |

And cut!

| | |
| --- | --- |
| | The director, in green left, was also named Tony. I never did get his last name [probably Palmieri.] If you have any preconceived notions about Hollywood directors this guy could fulfill them. At one point, he led the crowd in a chant of "Go away, Sun! Go away, Sun" because they couldn't shoot until the sun went behind a building and they got some shade. |

Later when a take wasn't working out he dropped to the ground and exclaimed "You're killing me! You're killing me!" An assistant near me, in response to a question from one of the crew, rolled her eyes and said, "Naw, he's always like this."

Later in the day, director and executive producer Randy Zisk was on the scene. I don't know that much about it, but "Tony" could have been a second unit director. It may have been my imagination, but it seemed to me that Traylor was a little shy around this particular director. It she had concerns, she conveyed them to Tony Shalhoub who explained those concerns to the director, such as "Traylor's not happy with her performance in that take."

| | |
| --- | --- |
| Take Three! | |


Where in the MonkWorld
are LisaAnne's Kids?!
Featuring Monk Southern California locations!






| | |
| --- | --- |
| | While Traylor dries off again it's time for a reset! At this point in the filming they stop to move the cameras around to the other side of the fountain and start all over again. The catering person dashed out with a tray of much needed frosty drinks for the cast and crew. There were a few director's chairs scattered around the monitors just below me. Just when I didn't think it could get any better, it seems that Tony and Traylor had a little down time which took place about three feet in front of me. Tony came over first and collapsed into one of the chairs and Traylor switched into yet another duplicate jacket. (Who knows, maybe in between takes they took the jackets away to be dried.) |
Tony during the reset
Traylor during the reset
Tony and Taylor talk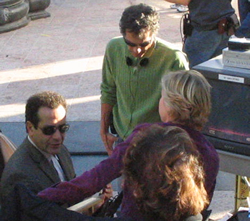 The director tells them they're ready to go
Same Scene, Better Angle
And Cut!
And one more take
Then it was time for some hair poofing and wardrobe adjustment while they reset for Traylor's close-up.
About this time I noticed that the man himself, Monk creator and head writer Andy Breckman, was on the scene. So I snapped a few pictures of him.
The sun was still hanging around and someone finally brought Traylor a pair of sunglasses. Tony liked them so much he tried them on, too.
"I'm ready for my close-up, Mr. DeMille"
Then it was time to dry off again, get a new jacket and share another laugh with Tony.
After a few more background shots the scene was complete. I overheard someone say, "Okay, we're going to the shoe store." So I knew where they were headed to next. They began to break down the fountain almost immediately. I took a detour on the way to the shoe store for a picture of Tony's trailer and a Universal Studios transport truck. Exciting stuff.
| | |
| --- | --- |
| On to the shoe store: Arthur Beren. It's one of those very expensive shoe stores with very ugly shoes (well, I guess some people like them) that you'll find dotted all around Union Square, San Francisco's shopping Mecca. By that time, it was twilight and they'd brought out all the bright lights. I was able to make my way over to the other side of the street and get a pretty good spot behind the sound guys' cart. Tony and Traylor were waiting outside, ready to run in for their scene. There were other fans outside the store: a few giggling, breathless young women, who would have been mystified by "Monk. Have you heard of it?" They were as thrilled as I was, more so, when Traylor walked over our way after the first take. It seems she wanted a little "privacy" to make a cell phone call. | |
I can't be sure, but I think the number she dialed was 555-1212.

I took a picture of that day's call sheet, upside down on the sound cart, and when I had a chance I crossed to the other side of the store and caught Tony and Traylor in conference with the director on the way over.
When I looked through the store window on the other side, I could see that this was the big scene for the mannequin I'd seen carried out of Union Sqaure early that morning. I'm not sure what she has to with the scene, but she's important and it involves removing her limbs.
Shooting through the window
They did quite a few takes of this scene. The stands-ins for Tony and Traylor were next to me watching the scene. I figured if I wanted to work up the nerve to talk to Tony I should start with his stand in, right? So I said, "Hello, you're a stand in, aren't you? Tony Shalhoub's stand-in?"

"Yes, I am." He seemed pretty happy I noticed him.

"Would you mind if I took a picture?"

"What's your name?" I asked.
"Michael," he said. "And you are?"
"Teresa." We shook hands.
"I've got a website for the show," I told him. "Is it okay if I run your picture."
"Me? Sure."
"What's you last name?" I asked.
"Coons. You look familiar," he said. "Have you been to a shooting before?"
"Only in New York," I said. (And that was about a mile away, I should have added, but didn't.)
That was as close as I came to an interview during the day.
More Shoe Store Shots
When they were finally finished, Traylor came out and stood near me looking around. "Randy," she called out. (Zisk? Director? I'm guessing.) I couldn't catch all he said, but I did hear "We're going over to the hotel now." Randy led the way and the Monk people all formed a straggly line and headed for the St. Francis hotel across the square. I had my eye on Andy Breckman and Traylor Howard who were both lagging behind talking on their cell phones. I waited until Andy had finished his call and then I approached, determined not to miss my chance.
I just said, "Hi. You're Andy Breckman, aren't you? The creator of Monk."
"That's right" he said.
"I just want to thank you and tell you how great I think the show is," I said.
"Thanks, but how did you know my name?" he asked.
"Oh, I've seen pictures of you." I told him.
"You really are a fan," he said.
"Yes, I even have a website," I said.
"A Monk web site?" he asked. "What's it called?"
"The Monk Fun Page. I'm really thrilled you're shooting in San Francisco."
"We come once a year," he said.
"Could I get a picture of you for the site?" I asked.
"A picture of me? You don't want a picture of me," he said modestly. (As a matter of fact, I'd already taken many pictures of him during the day.)
"Have you had your picture taken with Tony yet?"

"No, I haven't." (That was sort of a lie. But the only picture I have with him includes the back of my head so that doesn't really count.) I almost couldn't believe it was happening: surreal was the word for it.

"Come on," he said and took my arm.

He saw Traylor coming up behind us. "There's Traylor, we'll get a picture of you with her." Then he noticed she wasn't alone. She'd been joined by a very handsome gentleman in his late thirties, early forties with blondish curly hair. "Wait, she's with somebody," he said. He waved her over. He introduced us. We shook hands, said "Hello" and Andy took the (blurry) picture.
Then Traylor introduced Andy to her gentleman friend whose name I can't remember (Mark or John or something; I'm pretty sure it wasn't Og.) The friend reached out to shake Andy's hand. Andy made a Monk move and drew back. "Don't worry," Traylor said to her friend, "It's not you, he's the one who's sick." I couldn't tell if her friend thought it was funny, but I thought it was hilarious.
We walked over to the hotel where they were setting up the scene. "They're ready to rehearse," Andy said. "We'll have to wait a while."
So I had a front row seat (we were standing actually, but you know what I mean) right next to Andy as they rehearsed and blocked the scene. Randy Zisk, the director was there too. When they were done Andy whispered "What's your name again?"
I told him and then he took me over to Tony and Andy said, "This is Teresa. She's got a Monk web site. It's called...." He looked to me for help.
| | |
| --- | --- |
| | "The Monk Fun Page," I said, wishing right then that I had thought of a better title for it. Tony sort of cocked his head and I think the name of the page may have set off a spark of recognition, because I did mention it to him when we first met, but he didn't seem sure and if he remembered me he didn't say so. Tony was a little distracted at first, still thinking about the scene they'd just rehearsed, but then he gave me his full attention. Andy took the picture, while Tony gave him instructions on how to use the camera. I gave him the very brief squeeze, to which he seemed receptive and told him it was from Raven in Wisconsin. He did a Monk like move, stepping back and lifting his hands almost identical to the performance Andy had just given for Traylor's friend. He said, "Do I know her. She sounds kind of scary" and he laughed. They were ready to shoot after that, so I backed off to let them work. |
I was pushed back behind the security line with the rest of the crowd when they started to roll, but that was fine with me. I'd had my moment. And besides, the last set of my digital camera batteries were finally running down. I did get a few more pictures out of it.
Exterior Shots of the Westin St. Francis Hotel decorated for Monk
I guess the Monk cast and crew are accustomed to the long hours, but it was almost 8:00pm I'd been up since 5:00am and I hadn't eaten since that morning. Despite the adrenalin rush (or maybe because of it,) I was beat and they still had a long way to go and my camera batteries were officially dead. I decided to leave and walked by Tony and Traylor waiting for yet another take to begin. "Good night," I said. Tony waved and winked and gave my perfect day a perfect ending.

Before I left that evening I asked one of the crew where they would be shooting the next day. He knew they would be in North Beach, but he couldn't tell me where. I couldn't get the next day off of work, but I knew Fan4sure was in the East Bay and wouldn't mind crossing the bridge to try and pick up the slack. So I gave her the tip and pointed her towards Washinton Square Park where Monk has been known to film before.
Here's her account:
I, too, was on Cloud 9 (for a little while anyway). It certainly was an exciting few days around the SF area. I wasn't able to join Teresa on Thursday at Union Square but I did go to San Francisco Friday when she told me they were filming again in the North Beach area, just not sure exactly where. She made a suggestion to look near Washington Square park. Man, she's good because when I got there I found lots of no-parking signs marked "Fri 11/18 2-8pm Monk." It was 2:15 pm and I was so excited. I hadn't missed them! A funny thought popped into my head for a moment because this area was in front of St. Peter and Paul's Church, "I hope this isn't for some visiting religious Monk instead of the Monk crew."

Then a couple huge trucks pulled up with equipment (lights, tripods, etc) and parked there. My husband and I sat in the park anxiously waiting (and waiting). While we waited (and waited) a big black limo kept coming by really slow and my heart would beat really fast (is it "them"!?). But they didn't stop.

Soon more trucks, equipment, and people started coming. I expected any minute "something" would start. Then two limos pulled up. Could it be!? No. Did I mention we waited alot? Later, a big huge glamorous silver bus came into view and I thought this has got to be them. It slowed down, stopped, then left. Then they started loading everything up in the trucks, grabbed the no-parking signs and left. And so did we. No more waiting. All I have to show for my adventure is a picture of one of the no-parking signs.

Earlier, I stopped by "Monk's place" on Taylor and Broadway to take a picture. It was cool to see it in person. I wasn't sure if I would recognize it or not but no problem. (I'm holding up the street light)

Today, Teresa had another lead on more filming going on in San Francisco, just not sure what for. I was ready to head over there on a moments notice from her if it was Monk. More waiting and waiting, but I am getting really good at it! It turned out to be for something else.

It has been a fun roller coaster ride the last few days with the prospect of getting to watch them film an episode!
So, my tip was a little bit off. Sorry about that, Fan4Sure. However, another Monk fan who didn't have the "benefit" of foreknowledge, did happen to come across them shooting....