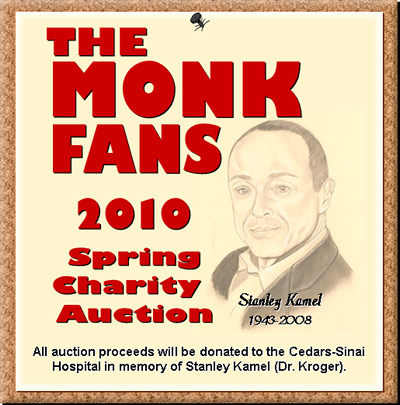 Greetings Monk fans!
The auction is over.
We raised $344.50.
Welcome to the Monk Fans 2010 Spring Charity Auction. All proceeds from the auction will be donated to the Atherosclerosis Research Fund at Cedars-Sinai Hospital in memory of Stanley Kamel. Unlike last year we'll be running the auction exclusively through eBay.
The auction began on April 11th 2010 at 9:00pm Pacific time (or a little after). You may bid on five different lots (please see items, descriptions and links below).
The Fine Print: I don't want to be an auction-nazi, but please don't bid if you don't have the dough and expect to pay pronto if you win (within seven days). If you are not in the USA, that's dandy, but I'm going to have to tack on an extra postage fee for anything you win. You have until 9:00pm (PST) ) –or a little after– on April 18th, that's a Sunday evening, to make your bid. If you are the lucky winner payment can be made by Paypal. Sorry no exceptions. If you can't pay by that method, don't bid. If you're not an eBay-er (or PayPal-er) you must first register. After which I'd recommend you read all their FAQs and such. You can wing it if you like, but it's easier if you know what you're doing. I think that's it, but if you have any questions send an email directly to me at monk@eviltwinltd.com.

Lot #1
Tony Shalhoub's Jeans and Monk Dry Cleaning Bag
That's right, these are Tony Shalhoub's black denim Hugo Boss jeans (W 34 L 32) as originally donated by Mr. Shalhoub to the 2008 "Clothes Off Our Backs" auction and donated to our 2009 Monk Fans auction by the winner of those pants, Raven of Wisconsin. a.k.a. Amy Marerro. (Thanks, Raven!) The jeans were won in that auction by Metacomet from Germany (a.k.a Marion) who has in turn donated them for this year's auction. (Thanks, Metacomet!) So the traveling pants are once again on the block. This time they'll come wrapped in a rare 2006 plastic promotional Monk dry cleaning bag.
Click on images to enlarge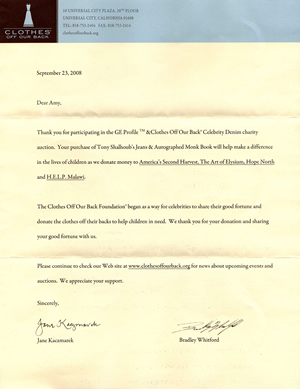 Letter of Authentication
(You know, for the traveling pants.
You're just going to have to take my word on the dry cleaning bag.)
The high bid for lot #1 was $50

The winner is Margaret Petko

Lot #2
Monk Swatch and Monk Watch
The second lot contains two items. First, a framed, limited edition numbered swatch of Monk's signature suit. This collector's item is signed by Tony Shalhoub. The swatch was given to me by the USA online publicity firm as a thank you gift for promoting the series finale of Monk. It has only been out of its box once and that was just so I could take the photos below. It's approximately 8 1/2 by 10 1/4 inches.
Second, a Monk wrist watch: the watch is a new water resistant quartz battery operated man's watch from the 'Jorg Gray collection' with a genuine leather band. The face measures approximately 1 1/2 inches in diameter. It comes in a stainless steel color case with the saying: IT'S TIME FOR MORE MONK USA NETWORK. (It's the old USA Network logo, so I'd say this was probably circa 2003-2004.) The case measures: 5 1/2" L x 2 1/2"W x 3/4"H.
Click on images to enlarge
The highbid for lot #2 was $59
The winner is Mirco Cussigh


Lot #3
Monk Bobblehead Doll and Monk Season Eight on DVD
Lot #3 includes a now hard to find Monk bobblehead and a brand new sealed Monk Season Eight DVD set. The bobblehead is also new. In fact he has never been out of his box. The bobblehead posing in the pictures below is my own stunt double Monk bobblehead, who has traveled all over the country and is a little the worse for wear. The Monk inside the box is in pristine condition... but he's lonely in there, so hurry up and bid.
Click on images to enlarge
The starting bid for lot #3 is $50
The winner is Joan Hatt

Lot #4
Tony Shalhoub Autographed Photo and
Lend Me a Tenor Playbill
In this lot we have a Monk promotional photo autographed by Tony Shalhoub. Also in this lot is a March 2010 Lend Me a Tenor playbill . Lend Me a Tenor, starring Tony Shalhoub, is currently running on Broadway. This is autographed by Tony, director Stanley Tucci, cast members Anthony LaPaglia, Justin Bartha, Jan Maxwell and Brooke Adams (Mrs. Tony Shalhoub.) The playbill was signed at the stage door of the Music Box Theatre. The playbill is in mint condition.
Click on images to enlarge
The starting bid for lot #4 is $50
The winner is Karin Schulte

Lot #5
Stanley Kamel Portrait and a Personal Portrait of... Anyone or Anything!
This is an 8 1/2 by 11 original portrait of Stanley Kamel (Dr. Kroger, Monk) in charcoal and graphite by the preeminent Monk fan artist, Olivia. In addition to this one of a kind drawing, the winner of this lot will also receive a personal portrait drawn by the artist. You may choose any single subject for the artist to render: you, a celebrity, a spouse, a pet, a child (no couples/no groups) and you must provide her with a good-sized photo (actual or digital) of the subject from which to work. Delivery date for the custom portrait depends on when she receives the picture of the subject and the degree of difficulty involved.
Click on images to enlarge
The starting bid for lot #5 is $50
The winner is Marion Brockmann

I know times are tough and not everyone can afford to bid as much as they would like on the available lots, so I'm also doing a little giveaway. This one is simple: just send an email with the subject line "I love Monk!" to monk@eviltwinltd.com. At the end of the week (Sunday the 18th at 9:00pm) I'll choose a winner at random. The winner will receive a new Monk Season Eight DVD and a nifty Monk watch just like the one up for auction except it's silver case has a few barely noticeable scuffs.
The winner is Jo Jackson!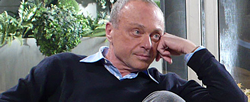 Remember, Monkpeeps, this is for charity and to honor the memory of Stanley Kamel who played Monk's beloved therapist, Dr. Charles Kroger, for six seasons. If you'd like to skip the auction and donate directly to Cedars-Sinai that would be equally awesome, if not more so. Here's their info:
Cedars-Sinai Medical Center
8700 Beverly Blvd Suite 2416
Los Angeles CA 90048
or donate online at: https://www.discoveringforlife.org
Please enclose a note specifying that your donation should go to the Atherosclerosis Research Fund in memory of Stanley Kamel.
Many thanks to Amy, Marion, Electric Artists, and Seth Williams for the donated items.
Good luck!

Cedars Sinai Charity Auction Authorization