Enrico in the News
Rico has a recurring role on CBS' Person of Interest. On March 8th 2012 he made his third appearance on the show as Carl Elias.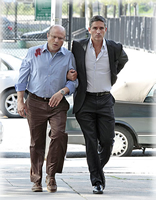 Flashpoint has been renewed for a fifth season!
I have to admit I'm confused by Flashpoint. Not the stories, because those are clever and complex, but not impossible to follow. Scheduling for the show, however, is a cruelly byzantine puzzle. This article gives a pretty concise explanation, but I'm still not sure if we're getting everything the Canadians get and how far behind we are in the states when new episodes air. Oh well, it's now the star of the line up at its new US Network ION Television and they show episodes all the time. Eventually I'll catch on and catch up.
Rico guest starred in an episode of Bones on FOX, December 9th 2010.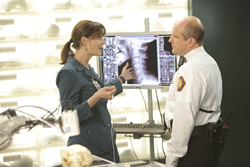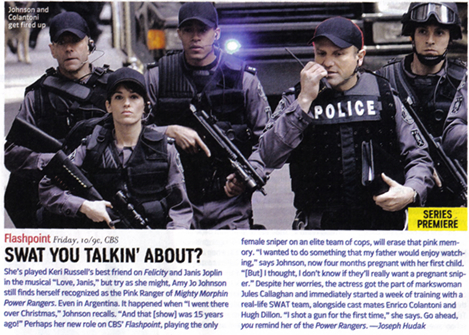 Click to enlarge
TV Guide June 30th - July 13th 2008
Flashpoint
In the midst of the writers' strike CBS greenlit this Canadian produced cop drama. Enrico Colantoni returned to hometown of Toronto to star in a project he describes in an interview for TWoP as "A roller-coaster ride of excitement. I think every episode is just so beautifully shot and exciting, and it's just a lot of flashbacks and it really looks gorgeous .... I think it's the greatest TV show ever."
He also told the Fresno Bee, "This is the kind of show that will look at what happens to a police officer who has to pull the trigger to kill someone or do something that affects them in the line of duty."
Here's what some other people thought:
"The CBS co-production with Canada's CTV benefits from the winning presence of Enrico Colantoni ("Veronica Mars"), who commands the group of emergency cops inspired by Toronto's Emergency Task Force." — The Denverpost.com
"Enrico plays Greg Parker, the Sergeant of the team, and he really embodies this emotional intelligence that's very important to the steering of this team. There's a kind of empathy, an intelligence that Enrico brings to his performance that was perfect for that role." — Executive Producer Bill Mustos
"Not only is "Flashpoint" different from most American cop dramas, it's also better, thanks mostly to the gritty performances of Colantoni and Dillon." — The South Bend Tribune
"Colantoni is a grand slam for the producers. He brings name value, he's Canadian born, his brother was a cop so he knows the drills, and he's versatile enough to be convincing as a good guy or a shady character." — Sun-Sentinel
"Exclusive" First Look

Flashpoint debuted at 10:00pm on Friday, July 11th 2008.
Other News
Mr. Colantoni guest starred on the December 14th 2007 episode of Numb3rs on CBS.
According to Zap2It.com:
Those of us who miss Papa Mars will be happy to know that Enrico Colantoni guest stars on Numb3rs (Friday at 10 p.m. on CBS). That's the good news. The bad news – Colantoni plays a former FBI contractor who takes an FBI agent hostage.
Full Article
and the Star Telegram.com
Numb3rs: Enrico Colantoni, who endeared himself to me forever by being in both Galaxy Quest and Veronica Mars, appears in this episode as a former FBI subcontractor who snaps and takes an agent hostage.
Full Article
and TVPicks.net
Enrico Colantoni, who was awesome as "Keith Mars" on Veronica Mars guest stars on Numb3rs (CBS, 9pm). Colantoni was also one of the few good things about Just Shoot Me and he was fabulous in Galaxy Quest. I love the guy, so am happy to see him appear on this show.
Full Article
---
Rico did a video interview, apparently some time before the announcement of the Veronica Mars cancellation, for The CW Source which was posted on May 16th 2007.
Video Interview: Enrico Colantoni Answers Your Questions!
Check out our video interview with Enrico Colantoni of Veronica Mars! He discusses his role on the show, how the finale's a major cliffhanger, and why the show's worthy of another season.
---
Excerpt from Canada.com
The CW cancels 'Veronica Mars'
David Bauder, Associated Press
Published: Thursday, May 17, 2007

The CW network canceled the cult hit Veronica Mars, featuring Toronto actor Enrico Colantoni, and will try to pick up steam in its second year with series about the snobby rich, transplanted families and a bounty hunter for the devil.
The network, created out of the ashes of the former WB and UPN, had already ended the long-running family dramas 7th Heaven and Gilmore Girls. On Thursday the ax fell on Veronica Mars, which starred Kristen Bell as a wisecracking teenage private eye.
Axing of 'Veronica Mars' a jolt to audience of teen sleuth show
By SOLVEJ SCHOU, Associated Press Writer
Thursday, May 17, 2007
(05-17) 16:35 PDT Los Angeles (AP) --
It's a mournful day for a niche TV crowd. OK, a cult crowd. "Veronica Mars" is no more.
The smart CW dramedy starring blonde pixie Kristen Bell as a tough teenage sleuth with wisecracks and style to spare has been canceled after three seasons.
For weeks, rabid "Mars" devotees — ranging from college students with fan sites on Myspace, LiveJournal and Facebook, to academics in their 30s — buzzed about the show's status.
Self-described "huge fan" Angela Hanigan, 31, told The Associated Press on Wednesday she would be "extremely crushed" but not surprised by the show's demise.
"I don't expect shows with brilliant writing and three dimensional characters to stay on the air for very long," the teacher from Fullerton said dryly in an e-mail.
Excerpt from The Toronto Star
Veronica still lives
Don't count show out yet, says Toronto actor who plays sleuth's dad
Apr 20, 2007 04:30 AM
by Rob Salem
TV Critic
"We were outside the bubble for the longest time.... And then they put us on after the Gilmore Girls. But people weren't sticking around after Gilmore Girls, because it's really a whole different audience.
"The thing is, anyone who actually sees Veronica Mars is going to love Veronica Mars. I mean, I have yet to meet anyone who's like, `Eh ...'"
That being said, and despite the failure of the experimental retooling, a new initiative came down from even farther out of left field to take the show in a whole new direction.
"Rob (creator/producer Thomas) and a couple of the other executives said, `Let's make a little showcase pilot of what Veronica could be like in four years.' They thought Dawn might latch on to the idea of Veronica as an FBI agent in a kind of sexy workplace environment, á la Grey's Anatomy, that kind of thing.
"We shot 10 pages and they saw it and the reaction was, `That's not our show.' Then they saw the last episode of this season, and it was so on the money ... it was like the first two years. And I think the network was very excited about that.
"You know how it works. They've got six new pilots. And if some of those tank, or if Gilmore Girls doesn't come back, then of course they're going to want us back."
Excerpt from E! Online
SOS Update: Veronica Mars Not Canceled
Watch with Kristin

A little update on the winner and runner-up of this year's Save One Show campaign.

As I mentioned in the latest chat, Veronica Mars executive producer Rob Thomas is the special guest of this week's

Enrico Colantoni and Kristen Bell with CW Head Dawn Ostroff
Watch with Kristin show on the Vine. Although you'll have to wait till Monday morning to see the entire show, I wanted to get out one message right away.
According to Rob Thomas, Veronica Mars has not been canceled. At least not yet. He is meeting with the CW next week to pitch ideas for season four, and the show's fate will be decided after that.
You may have seen the report in USA Today that VM has been canceled, and also Enrico Colantoni's interview in the Toronto Star, saying that the CW did not love the 10-minute presentation of an FBI version of the show. But according to Thomas, the CW has not yet seen the FBI presentation and there most definitely is still hope for a season four.
Don't know about you, but that's news so good it almost makes me weepy.
Rob (who couldn't have been a better guest) gave more scoop on the show's fate and also the big love triangle (including some interesting, season-ending dish on Logan and Veronica). So, make sure you check back Monday for that.
Enrico Colantoni and Christine Ghawi in the Celine Dion Telefilm. Photo by Simon Wilson.

Excerpt from the Montreal Gazette
Celine Dion TV movie shooting ... in Toronto
Brendan Kelly
Published: Tuesday, April 10, 2007

Toronto actor Enrico Colantoni best-known for his recurring role as the fashion photographer Elliot DiMauro on the sitcom Just Shoot Me plays Dions husband and manager Ren Anglil. Singer and stage actress Louise Pitre
(Mamma Mia!) portrays Dions mother Therese and New Brunswick-born thespian Peter MacNeill plays Dions dad Adhmar.
Celine is directed by Jeff Woolnough (CSI, Battlestar Gallactica) and was written by Donald Martin, based on the biography, A New Day Dawns, by Barry Gills and Jim Brown. It follows Dion until the age of 24.
Excerpt from TV Blend
Veronica Mars Fans Take To The Streets To Save The Series Once Again
By Kelly West: 2007-04-30 18:38:52

This past weekend, professional street teams distributed 30,000 flyers in New York, Los Angeles, Philadelphia and Chicago inviting people to tune in to this week's episode of 'Veronica Mars.' After an eight-week hiatus, new episodes of 'Mars' will start airing this week. Prior to the hiatus, the second story arc of the season was resolved leaving five more stand-alone episodes to close out the season starting this Tuesday (May 1st) at 9 PM on The CW. Because they are stand-alone episodes, this really is the perfect opportunity for new viewers to tune in and see what all the fuss is about. Improved ratings could certainly help keep 'Mars' on the air.
---
In May of 2006, out of the blue, Enrico Colantoni emailed me. He'd seen this website and, no doubt, his curiosity got the better of him. (In fact, he claims to be flattered and not the least bit creeped out.) A few emails later, we had arranged to meet here in San Francisco for an interview. You can find the entire interview here or a smaller bite size Veronica Mars portion of the interview on my Keith Mars Page or an easy to swallow Monk chunk on The Monk Fun Page.

Me and Rico
Sunday May 28th 2006
San Francisco
"Dark and funny. Dark and Funny. Dark and Funny."
—My New Favorite Enrico Colantoni Quote
Check out Enrico's interview from December 20th, 2005 at 10 p.m. on Live Channel 2 at PMPnetwork.com!