| | | |
| --- | --- | --- |
| | | |

| | |
| --- | --- |
| Start Spreading the news. I'm leaving today. I want to be a part of it: New York, New York! | |
Once there, "I was trained at the American Academy of Dramatic Arts," says Colantoni.

Possibly Uninteresting Fact #4

According to their website: "The American Academy of Dramatic Arts is a vibrant community of practicing professionals and students working together in a challenging and supportive environment. The love of acting, as an art and as an occupation, is the motivating spirit of the school, as it has been since it was founded as the first drama school in the English-speaking world more than a century ago. The need to create and to communicate lies in the heart of every aspiring actor, and to live as an actor is an exciting and challenging adventure."
The Charles Jehlinger Award, for "Best Actor" honors the memory of Charles Jehlinger, the Academy's Director of Instruction for over 50 years.

The curriculum at the Academy was demanding and the school discouraged students from seeking professional acting employment during the first two years of study. Young Rico returned home to Toronto after a difficult first year. Upon hearing of Colantoni's troubles his former high school principal arranged a special scholarship so he could attend a second year of school.

By the time he reached his third year, for which only truly promising students are invited back, he had achieved a rather impressive measure of success. Not only had he received The Princess Grace Scholarship, he was also given the Charles Jehlinger Award for Best Actor.

The Princess Grace Scholarship was made possible by a grant from the Princess Grace Foundation-USA in memory of Grace Kelly, Class of 1949.
| | | | |
| --- | --- | --- | --- |
| | | | |
| Tom Poston guest starred on Just Shoot Me in the 1998 episode "Jack's Old Partner." He graduated from the Academy in 1948 or thereabouts. | 1985 AADA graduate, French Stewart guest starred as "The Puppetmaster" on Just Shoot Me in 1998. | Birthday Buddy and Brady Mom, Florence Henderson graduated from the AADA in 1953. | 1958 graduate Joyce Bulifant was originally cast as Carol on the Brady Bunch, but was dropped for you know who. She eventually landed the role of Finch's mother Fanny on Just Shoot Me in 2001. |

Academic achievement, however, did not immediately translate into professional success."I spent the next five years scrubbing toilets and washing dishes," Colantoni remembers.
During this period he was also faced with a difficult adjustment when his parents decided to return to Italy. He opted to remain in New York and pursue his dream.
In 1987 Enrico made his television debut in the Canadian produced Friday the 13th: The Series. He was billed as Rico Colantoni.
| | |
| --- | --- |
| | Series star John D. LeMay (Ryan) recalled the episode: "I worked with an already very talented Rico Colantoni. He was going to Yale drama school the next year." |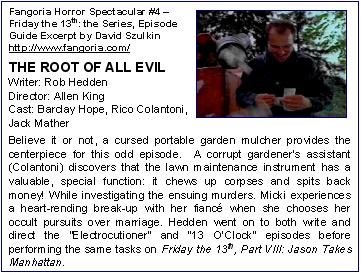 "I still didn't have the confidence that I needed to be an actor and I knew there was more for me to learn," Colantoni explains. "So I enrolled in the Yale drama program for a second round of classes."
"The biggest break I got was when I got accepted to the Yale School of Drama," he states. "They taught me how to detach myself from the art of acting. And then I could begin to see it as a craft as opposed to a part of me that I couldn't differentiate. They trained us to be intentional in our choices and fulfill them."
"Yale was acting boot camp," Rico says. "It was there that I learned how to put the craft into technical terms, making it easier to separate myself from the characters I was playing. It was a surprise to me that it actually worked -- that the intention I set for myself actually paid off. It was big surprise."
Possibly Uninteresting Fact #5

Established in 1925, the Yale School of Drama, in New Haven, is among the oldest graduate dramatic training programs in the United States. It is ranked as the country's top theatre training program by the U.S. News and World Report, and its graduates hold positions of prominence and leadership nationwide and throughout the world in virtually every theatre discipline. Every major theatre in Connecticut was started by alumni of the Yale School of Drama. – Connecticut Commission on the Arts
| | |
| --- | --- |
| Once again Colantoni excelled academically: he was awarded Yale School of Drama's Carol Dye Award for Best Actor and starred in Yale Repertory Theater's 1992 production of Hamlet. | |
Possibly Uninteresting Fact #6
(Try to pay attention anyway.)
"Yale Rep has produced 89 world and American premieres, four of which have received the Pulitzer Prize for Drama. The Theatre has sent ten productions to Broadway, earning nine Tony® Awards and a total of 37 Tony® Award nominations. Recognized as one of the leading regional theaters in the United States, Yale Rep itself received the Tony® Award for Outstanding Regional Theatre in 1991, and it was awarded the 1992 Jujamcyn Theatres Award for its outstanding contribution to the development of creative talent for the theatre." -- History of Yale Repertory Theatre
So, during the course of Rico's studies at Yale, The Repertory Company received two prestigious awards. Coincidence? I don't think so.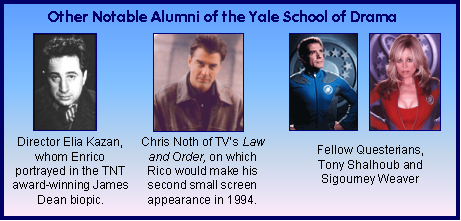 Colantoni graduated from Yale and spent a season (1993-1994) at the Guthrie Theater in Minneapolis. In the only available review from that season which mentions him specifically, he is described as "almost primitively panting." Apparently, this is what the role required. (
Click here
to see the whole review.)
Other than Rico's presence in the Company, the season may be best known for a scandal involving the sheriff's wife, embezzlement and gambling. (Click here to see that story.)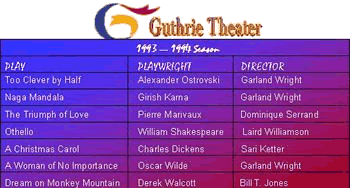 Upon returning to the Big Apple, Colantoni recalls, "I did a lot of theater in New York."

The 1994 NY Shakespeare Festival's "The Merry Wives of Windsor" and the Manhattan Theater Club production of Arabian Nights are Colantoni's two most often cited stage credits for that era.
The former was A Shakespeare in the Park endeavor at the Delacorte Theater which ran from June 23rd to July 24th 1994. The only comment I could dig up (below) regarding the production was not precisely favorable and gives no indication of what role Rico may have had.
"The Merry Wives of Windsor, by the way, is the only comedy in the canon whose action occurs specifically in England. (Undeterred, the New York Shakespeare Festival transposed its 1994 production in time and place to the California Gold Rush!) http://www.dailytidings.com/shakespeare2001/plays-08.html
1994's Arabian Nights at the Manhattan Theatre Club was a well-received production, with some really nifty set-design. Director

Mary Zimmerman

received a Drama Desk nomination for the play. From what I can tell Rico had third billing, but that may just be alphabetical.
---
| | |
| --- | --- |
| | Disclaimer: This web site is not endorsed or sponsored by Mr. Colantoni. In fact, I don't think he knows about it and if he does, he may think it's a little creepy. All original material (what there is of it) copyright 2003-2005. |
Number of people sufficiently interested in Rico to read this far:

odometer brought to you by