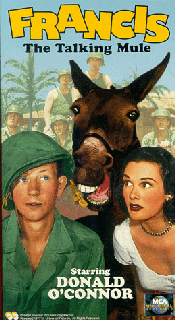 The Rules
On each page you will be presented with a question. If you click on the correct answer it will take you on to the next question. If you click on the wrong answer Francis will make fun of you. If you get all ten questions right you gain the satisfaction of knowing that you know way too much about Francis.
Question One

What craft was used as therapy on Peter in the first movie, Francis: The Talking Mule
A) knitting B) Basket-Weaving C) Origami



You have reached http://muppetlabs.com/~davidj/tnt/oconnor/francis/quiz.htm

Disclaimer: "Francis" was created by David Stern. The Francis series is the property of Universal and whatever company owns them at the moment. Anything original is copyright 1999 by Teresa and Tracy Murray (a.k.a. T 'n' T).

Please send us lots and lots of e-mail at tntmur@aol.com
Number of people who'd rather watch Francis than Lassie: