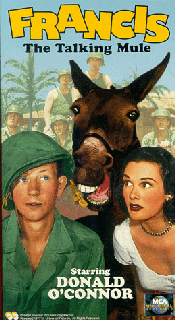 CORRECT
Yes, Peter spent some time weaving baskets. Apparently the memory stayed with him too, as later in Francis Joins the WACs he recalls that Lt. Valerie Humpert nursed him through four seiges of basket-weaving.
Question Two

At what time were enemy bombers scheduled to bomb the camp?
A) Midnight B) 0800 hours C) 4:35



You have reached http://muppetlabs.com/~davidj/tnt/oconnor/francis/basket.htm

Disclaimer: "Francis" was created by David Stern. The Francis series is the property of Universal and whatever company owns them at the moment.

Anything original is copyright 1999 by Teresa and Tracy Murray (a.k.a. T 'n' T).

Please send us lots and lots of e-mail at tntmur@aol.com
Number of people who want that basket Pete made: