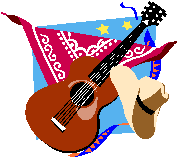 The General Hospital/Port Charles Weekend
July 17th - 19th 1998
---
Introduction
Welcome to our retelling of the events during the latest General Hospital Weekend. There were a lot of events we didn't attend, like the Q Brunch and Steve Burton's party, but we have excruciating detail on the events we attended or, in one case, almost attended. This time we have plenty of pictures, and some folks doing guest spots for us. We also have some audio enhancements. But the exciting news is that we have an interview with Anastasia Horne (Lark-PC) and a couple a couple of remarks from John Ingle (Edward- GH)
As usual prior to our Soap activites we had visited Disneyland, something we have almost never skipped when in the Los Angeles Area. The only difference was that instead of coming up from Tucson, we came down from San Francisco. And those southlanders sure are hospitable, they had hundred degree temperatures waiting for us in case we were homesick for Tucson weather.
Pick an event below, sit back and enjoy. But don't feel you have to read them all at once. You can come back anytime. Bookmark it. Hits make us happy. All pages probably won't be complete until later this year, but The PC Dinner Page is up, The Brad Maule Open and half of the GH Luncheon, as are pictures the entire GH Luncheon and The High Lonesome gig.
---


---
Total number of hits on this page:
---
Thanks for joining us on our GH/PC Weekend. These pages are copyright 1998 Teresa and Tracy Murray (T 'n' T). Information contained herein may be used wherever you like, so long as you give us credit. Photos (jpgs) may not be used without asking us first.