THE HIGH LONESOME AT JACK'S SUGAR SHACK
February 20th 1996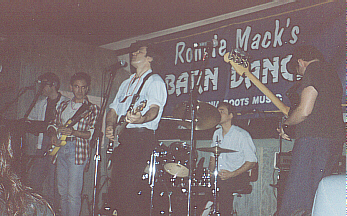 CONFIDENTIAL - AUTHORIZED PERSONNEL ONLY
We (R.A.T.S.A. agents T 'n' T) arrived at the notorious Jack's Sugar Shack well in advance of the appointed time to reconnoiter the establishment... and have a couple of beers.

We were made somewhat conspicuous by being the only customers. The bartender seemed suspicious, but was lulled by our nonchalance and even gave us directions to the restrooms. At first we thought the directions were in code. "Turn left at the owls," he said cryptically. The owls are not what they seem? It turns out we had misinterpreted him. He meant The Howells, of course, as in Thurston and Lovey. Jack's Sugar Shack had a surreal Gilligan theme throughout, including this large wall mural of "The millionaire and his wife".

We waited. That's how it is for agents like us, a lot of time just waiting for things to break. We discussed "company business" and composed the top ten list already on file at the agency.

A few innocent bystanders trickled in and then we were approached by a dangerous looking femme fatale. She dropped a few unfamiliar code phrases on us, and we failed to make the proper responses. We suspected she was an A.O.L. agent and she had almost blown our cover!

The first player entered, Gary Grantham, (alias Rhythm-boy), front man for The High Lonesome and closet Top Ten writer. He mingled with the gathering crowd. This didn't seem suspicious until he approached the A.O.L. agent we had spotted and engaged her in intense conversation.

The second player to arrive was Phil "Magic Fingers" Ward, the world's only mime/paleontologist. As usual he was accompanied by a lovely young lady.

Shortly after that we sighted, Jon Lindstrom, a.k.a. Norma St. John Pawah. He had changed his appearance since our last meeting, but we recognized him, and we knew he'd be able to identify us. We faded back into the shadows of our booth.

Jeb Brown, known as Jeb, had slipped in unobserved. At first we thought he was passing on information at the bar, but he was only ordering a drink.

We hadn't seen Larry "The Late-guy" Poindexter yet, or the Chief. Where could she be? She hadn't missed a mission yet.

The first musical group to play at "Ronnie Mack's Barn Dance", (the ones who had the nerve to ask for five microphones) started around eight. There is some difficulty defining THL's musical style, but this first group was unmistakably Country.

After their set was done Chief Razz finally arrived. She's hard to miss with that blazing red hair, but our disguises and chosen position made us hard to spot. I had to meet her halfway across the floor in order to deliver the contact code words "the duck quacks at 11:21". Razz joined us at our booth.

Ronnie Mack (at least we think that's who it was) took the stage and asked if Larry was there yet. "No," the answer came back. Disaster loomed. But wait... "Yeah, he's here!" Larry had arrived in the nick of time; the free world was safe.

The High Lonesome headed towards the stage. Strategically placed, as we were, they all had to pass by us. We kept our cool. This was it, we we're going to make contact. Phil, the most intrepid of the group, spoke to us first. Sternly, he asked if the rumors were true... were we... twins? We couldn't deny it, though we wondered who had leaked the information. Razz tried to look innocent.

Jeb passed by, and gazed at us wistfully, as if regretting that there would not be enough time to confer with us about the current international situation.

Larry, raindrops gleaming in his dark tousled hair, hurried over and placed his instrument case against our booth. He only had time to say "Hey," before he pulled out his guitar and bounded on to the stage.

Jon zipped past us, nodding to acknowledge our presence, before going up on stage to inspect the drums he had to use. Now, everyone was ready for them to play.

Ronnie Mack introduced them. They opened up the mini-set with "Cadillac Jack's" followed by "Lone Star" (which elicited appreciative exclamations for Gary's harmonica playing.. okay, so they were from the general direction of our table).

After that song ended, Larry said, "We are The High Lonesome. Thanks very much," and commented, "Man, a couple of us didn't make it here in the rain almost, I tell you."

"It was the rain, yeah," Jon said drily.

"Uh, shall we just move ahead, gentleman," Larry suggested. They launched into "Cool Love", an exceptionally cool, bluesy tune, with some lovely instrumental moments.

Afterwards Larry announced, "I'm just gonna introduce the band real fast here. That's Phil Ward on keyboards. That's Gary Grantham on guitar." A huge cheer went up. A puzzled Larry said, "Wow, you got some fans here. What the hell was that?" Again the cheers had emanated from the general direction of our table.

"Jon Lindstrom on drums," Larry continued. A somewhat more modest cheer went up. "Jeb Brown." Just Jeb, the bass was obvious. There was another cheer. "This next song is from the album..."

Chief Razz tried to cue him, "And who are you?" but either he'd forgotten or thought everyone already knew.

"It's our single on the album. It's the one we like a lot. Our lable keeps telling us to say that. This is the single, this is the single. Make sure you play the single."

"Now you're a pitchman," Jon commented.

"I'm now a pitchman," Larry agreed.

They played the incredibly catchy "True Believer" with an extra line of "na, na, na"s. Of course, we sang along.

"Thank's very much," Larry said in answer to the wild applause (from everywhere, not just our table). "Actually I've been coming to the barn dance off and on for like eight years, and I'm just so darned thrilled to be here. Thank you, Ronnie Mack. Thank you very much." He strummed his guitar. "Talk, I gotta tune; talk, I gotta tune."

"Well, what is it?" Jon asked.
"It's Pauline," Larry informed him.
"While Larry tunes... are those new strings?" Gary asked him.
"Uh, no."
"Really?"
"How long you been playing those?" Gary asked.
"About two months," said Larry.
"This is a riveting occasion for everyone," Jon could not resist putting in.
"We're just letting them a little bit into our world," Larry said philosophically.
"That's right," said Jon. "You could always dedicate this song to Mom and Dad."
"That's true," Larry said agreeably.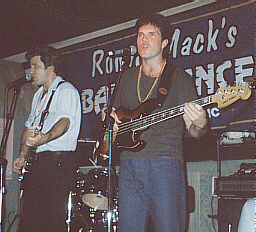 They finally started playing Pauline, which was supposed to be their "last" song, but no one was going to settle for that. "Thanks very much," said Larry.
Applause and shouts of encore were heard and Ronnie Mack suggested they play one more. "You knock 'em dead with those Chuck Berry licks up there."
"We're gonna do something that's not on the album... Ah, should have been on the album, but, yeah, what the heck," Larry said ruefully.
"On the next album," someone shouted from the crowd.
"Are you guys ready?" Gary asked.
"On the next one?" Larry laughed. "Yeah. Gotta buy the first one."
They played their encore song, "Angel", straight, old-fashioned rock 'n' roll. They had to leave the stage quickly so the next band could go on.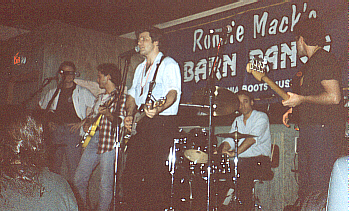 Jon hurried by again, but stopped long enough to say "Hi, how are you?" This gave us the opportunity we needed to slip him the top secret top ten list. He didn't ask any questions, just slipped it surreptitiously into his pocket.

Larry came over the table and looked around, searching for something. We obligingly looked as well, but we couldn't make out what it was he had lost. Secret microfilm, highly classified report, guitar pick? Whatever it was he remembered where he had left it. We were all relieved... we guess.

After he had left The Chief told us that Larry had barely made it back from his last mission. Until moments before this concert he'd been off filming a "Lois & Clark" episode. (Playing Dr. Maxwell Deter, airing this Sunday according to our TV Guide. A two parter. *plug, plug*.)

The next band started to play. Coincidentally we headed for the far side of the establisment. We stood by the door for a few minutes to make sure no THL member left unobserved. Phil passed by several times as he carried his keyboards to the corner. Jon whipped by, again.

Julie of Sparks Records stopped for a brief, and difficult to hear, conversation. We tried to discover where The High Lonesome album might be discovered locally. And she told us where we could find in Phoenix. We were unable to convey that we weren't actually from Phoenix. (Which is a good two hour drive from Tucson.) Julie asked if we had come out just for this concert. I looked at Razz, and The Chief subtly instructed me to lie. "Yes, we came out just for this." Nevermind those two conventions and various other "company" activities, we were here just to hear these guys play. Not that we wouldn't have.

The High Lonesome had no intention of leaving. They were having a Meeting... in the back... in the... well, left of the Howells. Drat, the one room we hadn't bugged. We waited for them to come back out. After all, we hadn't made contact with Gary yet.

While we waited we gave the all-important top ten list "Top Ten Really Cool Things About The High Lonesome" to The Chief. We knew we wouldn't be able to come in out of the cold for days, and this had to reach headquarters before then. That and she said, "Please, please, I'll post it for you."

Finally The High Lonesome reemerged, ending our lively speculation on the meeting's content. Phil came by to pick up his keyboards. He informed us that the group would be at the Comedy Store. He said something else, but the overhead amplification of the current band would make it impossible for us to report accurately. Phil and his girlfriend left.

Razz signalled to Gary and he joined us. Gary was a font of information. He told us he'd discovered our numerous Top Ten Lists in the agency's confidential web files. He let it slip that he'd rendezvoused with the disingenuous A.O.L. agent, AnneBPT. We feigned ignorance and regret that we had missed her. He told us that vital messages had mysteriously disappeared, and they would have to send out an appeal to try and retrieve the lost data.

Gary went off on enigmatic errand. Teresa unintentionaly shadowed him. While she was gone, Chief Razz filled me in on Phil's suspicions. He hadn't believed we were identical twins. He thought he had proof. Our auras after all, we're completely different. He's right, you know, it's the differing rising signs.

Teresa and Gary came back. Gary presented Razz with secrect documents that required her signature. While she did that we engaged him in conversation. He told us that they'd be playing at the Starfest in Pomona on May 11th at the L.A. County Fairgrounds. Gary left, as he had other pressing duties. (That's right... gotta spend those drink coupons.)

Chief Razz finally managed to drag us out of Jack's Sugar Shack, as she reminded us that it was 11:21. The duck had quacked and it was time to end the exciting evening.

T n' T
Roving RATSA Reporters

Return to Adventure Menu... Christian Taylor Plays Softball