THE AHWATUKEE ENCOUNTER
July 24th 1994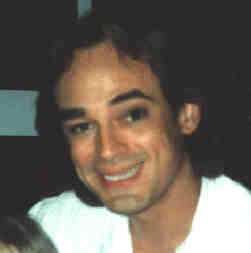 This is Ahwatukee, a small outlying suburb of Phoenix. It's a quiet little desert community with many rows of identical houses and an overabundance of shopping malls. It was hot, really hot, and it was about to get hotter.
I'm Teresa Murray. This is my partner, Tracy Murray. We're Jon Lindstrom fans. On this particular day we were accompanied by our able assistant, Sheryl Lucas and her young son, Thomas (a.k.a. Cookie Boy). What you're about to read is a true story (most of it). None of the names have been changed (those that we remember). It was a blistering July day and a Target Grand Opening was about to occur.
July 24th 1994
10:30 AM
We arrived way too early, not having gotten lost, as anticipated. The parking lot was filled to capacity. We wondered how many of the shoppers were loitering until the alleged arrival time of Jon Lindstrom. We entered the premises. There was no sign of the soap star; except for... the sign. It was approximately one and half by two and a half feet and it announced the imminent appearance of one Jon Lindstrom at precisely 12:30 MST. The picture was accurate in every detail (that gorgeous fan club shot) Inexplicably, the advertisement mentioned Dr. Ryan Chamberlain, but not Dr. Kevin Collins. Nonetheless we were sure it was our man. We had a two hour vigil ahead of us. We shopped.
11:15 AM
After a grueling forty-five minutes of bargain shopping, we took refuge in the tacky little snack bar, which offered such gastronomic delights as nachos, hot dogs, popcorn and skimpy pizza toppings on cardboard. It was also, however, an advantageous vantage point for our stake-out, being adjacent to the main entrance. We were momentarily distracted as "Icee Bear", a large white costumed figure, apparently employed by the tacky snack bar, approached us and attemped to intimidate "Cookie Boy". Fortunately his antics didn't interfere with our surveillance.
11:45 AM
I spotted Jon Lindstrom as he entered through the front doors and hurried towards the gentlemens' lavatory. He was wearing a loose fitting white cotton shirt, khaki colored pants and brown shoes. He had eluded us for the moment, but we knew we had him cornered. We waited. He emerged moments later and slipped through our ranks. There was a delayed moment of recognition on his part. He turned and looked back at us with a jaunty smile and a wave. He quickly disappeared through the door marked employees only. We followed him as far as we could and then questioned the red -shirted employees to determine his future whereabouts; "the toy section" we were informed.
12:00 PM
The scene in the toy section was slightly startling. A long line had already formed in anticipation of Jon's arrival. A podium and giant placard had been erected in the mere forty five minutes since we had shopped in that section. We decided to try and blend in and joined the end of the line. The other people on line, quickly became suspicious. Yes, we admitted, we were indeed Jon Lindstrom fans. We ran down his priors for them and showed them mug shots. But our cover was blown. We left the line. We stationed ourselves directly in front of the podium, and once again resigned ourselves to waiting.
12:30 PM
Jon's arrival was heralded by excited employees, envious of his chosen escort. Word of his ingress came down the aisle like a hot rumor on the internet. Avid fans and idle onlookers crowded the walkways, impedeing serious toy shoppers. Oblivious to the risks posed to casual consumers, Jon stepped up on the podium, turned and smiled knowingly at us, and sat down to begin signing autographs. We observed, and gathered photographic evidence as Jon expertly dealt with the ebullient fans. Among the autograph seekers was Tammi Ruoff, notorious for christening Jon's fan club newsletter, "Black, White & Shades of Gray". Jon admitted to their association and even recalled that she spelled her name with an 'i' and not a 'y'. As seemingly cool as ever Jon acknowledged our presence by declaring "Oh, you know the Murrays" to the people who had been in front of us in line and dropped our names with the dubious notion they might carry some weight. An individual we suspect to be Mike "ASU Student - Prodigy User" McNabb, made contact with Jon shortly thereafter. Our suspicions were aroused when the young man alluded to the name of well-known Lindstrom Fan, Lynelle Foulk. He left before we could detain him for questioning.
1:00 PM
Jon continued to sign autographs. The once manageable line had grown to annoying proportions. Cookie Boy had fallen asleep on duty. A wide variety of fans, admittedly primarily female, went past. One such fan, scantily clad in fashionably, and revealingly, torn blue jeans, descended from the podium and proceeded down the aisle at which point Jon gained a new perspective on her attire. Employees and fans alike chuckled at his exaggerated expression of uh... appreciation. Three teenage girls who had been particulary thrilled at the opportunity to meet Jon, seemed like potential Jon Lindstrom fan club members. Since Cookie Boy was asleep on my shoulder and Tracy was taking photographs, Sheryl pursued the suspects. We informed them of the benefits and responsibilties entailed in being Lindstrom Fans and gave them an address to contact. (4151 Prospect Ave. Hollywood CA 90027. That's 4151 Prospect Ave., Hollywood CA 90027. Write now!) A loudspeaker announcement blared over the sound system. "Jon Lindstrom from General Hospital is now signing autographs in the toy department." Jon in an apparent, but futile, attempt to deny his identity, stood up and shouted, "Jon Lindstrom?! Where!?" No one was fooled. Everyone was amused. In this crucial half hour, Jon revaled the following information: Ryan would be coming back; Lucy was a great kisser; Lucy and Kevin would be together for a while longer; John J. York is one of his best friends.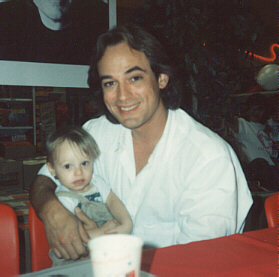 1:30 PM
We were finally able to apprehend Jon Lindstrom for questioning when the line had dwindled. After handing over the Top Ten Lists and determining that everyone was fine, we took samples of his handwriting (to be analyzed by Internet experts Mary Lou and Jean). We presented him with photos proving his previous association with Cookie Boy, who chose that moment to awaken. Lindstrom was cooperative and agreed to more photos. The photos led to the discussion of one-time General Hospital employee Cari Shayne (ex-Karen). Jon was certain she'd just been hired for something, but when pressed could not remember exactly what. Jon was aware of Antonio Sabato Jr.'s casting in "Earth 2" and agreed to dig up some info on additional casting. His cooperation was noted. We requested his presence in Tucson for the Toros Game on the 30th, but he cited a prior committment. Lacking sufficient evidence to detain him we determined his schedule for the next month. 1) July 30th -31st: doing a "radio thing" in Los Angeles. 2) August 13th: Beach Party!!! He will be playing with The Idle Rich (Kurth/Taylor Band) in an event to benefit "Para Los Ninos" at the Will Rogers State Park Beach in Santa Monica. (Call 310-205-8444 for details.) 3) August 20th: Orlando, Florida, Disney/MGM to guest on "Star Search". He said it was good to see us and turned his attention to the new flock of fans that had gathered. We left the podium, but decided to bide our time and wait for his imminent departure.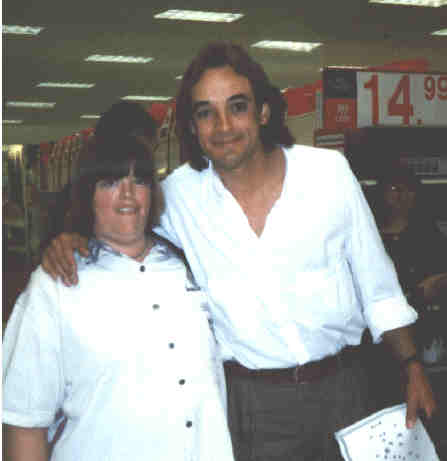 2:00 PM
After he had signed a little girl's pink cast, dispensed with the rest of the line and acceded to employee demands to sign the placard for them, he descended the stairs from the podium. Realizing that we would not give up so easily, he scanned the crowd and asked "Where are the Murrays?" We divulged our exact location and he came back towards us and then willingly had a photo taken with me. We said our good byes and went down separate aisles, but our paths merged again near the girls department where "Barbie" was signing autographs. "It really is Barbie!" Jon exclaimed, having earlier heard rumors of her presence in the store.

2:20 PM
At this time Jon Lindstrom was observed leaving the Target store and entering a limo. We have no verification yet, but we suspect the conversation might have gone something like this:
Chauffeur: Are you Jon Lindstrom?
Jon: Yes, I am.
Chauffeur: First time in a limo, Mr. Lindstrom?
Jon: A limo this small.


T n' T
Roving RATSA Reporters

Return to Adventure Menu... Take A Chance With The Stars 93