TAKE A CHANCE WITH THE STARTS
AMERICAN CANCER SOCIETY BENEFIT
November 6th 1993

First we'd like to say that we did have a great time at Crystal's American Cancer Society Benefit, but we had a tough time getting there. We drove from Tucson, (me, Teresa, Sheryl and baby Tommy) but only got half way there when the car broke down. Nevertheless we were determined to make it there for the benefit, so we took a cab to Palm Springs and a plane from there to Los Angeles. We arrived at the Universal Sheraton a half an hour before the event. You'd be amazed at the speed with which three women can get dressed when they have to.
We arrived downstairs at the ballroom, just before they opened the doors. We got our plastic purple bracelets to show we belonged and two red five dollar chips. Inside, first we staked out a table. Crystal Carson introduced the band for the evening. "Irish Eyes" (her favorite). They performed a mix of rock, country and Irish folk during the evening.
Of course, what we were looking for was Jon Lindstrom. He was one of the first people signing autographs (6pm, table 2). I took a few photos of him while we tried to figure out where to go. There was some confusion over where the line began and ended and who to pay chips to for the privilege of getting those autographs. (eight chips for one side of four tables). I watched as he signed autographs. He was wearing a black turtleneck, very dark green pants, black boots and a brownish jacket. One of the fans asked him when the next time would be that he was on. Brace yourselves....He won't be on again until December 3rd. If it wasn't for L & L the month wouldn't be worth the trouble.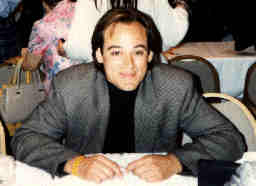 We were very impressed with Crystal, who wasn't hosting the event just in name. She was out there, working and in charge, making sure people got in line and everything. She personally gave me two chips change when I gave her my ten to go through the line. Teresa beat me in by a few feet. Jon was signing an autograph for her as she introduced herself, and when I added what my name was, it came to him. He remembered us, "Oh Teresa and Tracy Murray. The Top Ten Lists." he yelled. He asked if we had heard from Michele, and Lori (his fan club presidents), because they were supposed to ask if they could use the top ten lists in the fan club newsletter. We were thrilled but of course we hadn't heard from them yet. (You'd know; we'd have posted it on the board, pronto). Then our friend Sheryl came up to have her autograph signed, carrying her baby Tommy. Tommy was wearing an I'm a GH Ry-Babe button. Jon was delighted, and he held him and I took a picture. Cari Shayne was autographing right next to Jon, and was quite taken with little Tommy. Cari, BTW is very sweet and looks much smaller in person.
If Jon pronounced Eva's name incorrectly then it's probably our fault. We asked if Eva Rich had been by yet, since we were looking for her. He said no, but my mispronunciation probably stuck in his brain. We got our hugs from Jon. He is so friendly and enthusiastic and outgoing, etc. etc..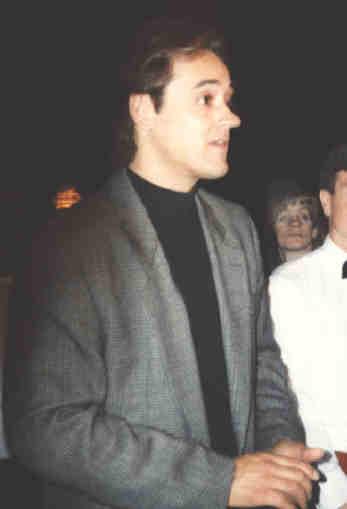 The food was so-so. The drinks (except for the free coffee and tea) were expensive. It was a casino night fund-raiser. I'm not much on gambling. I gave my last two chips to Sheryl so she could get Wally Kurth's autograph. Teresa played Blackjack with Glenn Walker-Harris Jr. (Sly) who was dealing, (Glenn sang a little later). But Teresa played a lot more blackjack when Jon started dealing at seven. Jon did a pretty passable job of dealing, though he had a bit of difficulty figuring the payouts. He paid out double once when he shouldn't, and jokingly worried that the Cancer society would be broken by the lost money and offered his ten chips to make good the loss. When his coach wandered away, Jon wailed across the crowd to him "Don't leave me alone."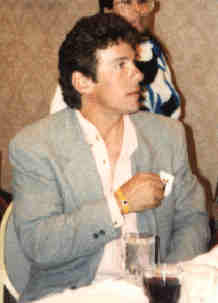 I followed Sheryl in the line when she got Wally's autograph so I could get pictures of him. I'm afraid a lot of it has blurred together, when I saw whom and which ones I took pictures of. I took a picture of Anna Lee and John Ingle, and "Lee" and "Gail" when they were at their autograph table. We gave Vanessa Marcil a Ry-Babe button. Cari was at the table with Vanessa and John J. York and "Lucky", so she insisted on cuddling Tommy again, and the baby got passed down the line. When we took the picture of Tommy and John, he said "Yes, we're good buddies now". Tommy enthusiastically shook his head no. (He's only nine months old and doesn't know how to nod yes yet. Besides he was wearing a Ry-Babe button.)
When Matthew Ashford came in we talked to him for a little bit, mostly about the Quantum Leap he did, and we gave him our PQL fan newsletter "The Observer".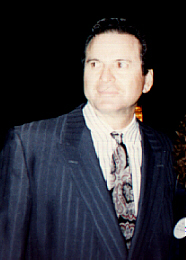 Wally Kurth and his partner Christian Taylor sang a few songs. "Make Believe" for one. Matthew and his wife sang a couple of duets. Wally said we'd see a lot more of Ned singing. We stopped and said hello to Stuart Damon, just before Crystal came over to give him a big hug for helping out. I literally ran into Lisa Rinna. (Billie, Days) Well, it was crowded and you couldn't turn around without hitting a soap actor. Teresa ran into Maurice Bernard and Sheryl into Kin Shriner. Antonio Sabato Jr. didn't show up, (he was stranded in Canada) and his fans were quite disappointed.
Jon was taken outside briefly by some newspeople from Seattle. We tagged along. The woman was a producer for a Seattle news show who asked Jon to do a promo spot, because he was "the biggest star there that she knew", he rolled his eyes at that, but did the spot. The performance included Jon sweeping the producer off her feet and kissing her. If we have any Seattle fans, I recommend they keep an eye out for that! And send me the tape.
Towards the end of the evening, while Teresa was still gambling, I sat down on the sidelines, at a table out of the crush. Jon rushed in through the front door and plopped his beer (Heinekin) down on my table. He went immediately over to the blackjack table. Teresa tells me that he had spotted someone he knew when he lived in New York. She, however, didn't seem to remember him from that time.
I saw Jon and Wally start in on a conversation, but couldn't overhear it from where I was. (I have no shame. I believe in eavesdroppng whenever possible.) The stars started to trickle out when Crystal began the drawing for the raffle items. "Jonah" from Days assisted her. I had a hard time understanding both of them from the back of the room. But since I didn't have a raffle ticket I wasn't very interested. That pretty much broke up the party. Jon never did come back to get his beer. We're sentimental; we saved the bottle.
Again we want to say what a great job Crystal did for this wonderful cause. A lot of performers will lend their name, face and a little emceeing to a cause, but she did a lot of hard work and looked terrific doing it.
It was wonderful to meet all the other NVNers there. Eva, Michelle and Rill. Michelle, I hope you got that picture with Jon and I'm sorry I ran out of film. (Really sorry, especially when I didn't have any to take pictures of Jon and Wally together.)
And that's the story.
T n' T
Roving RATSA Reporters

Return to Adventure Menu... Kurth/Taylor Concert 1993
T 'n' T Web Sites and Episode Guides
Total number of hits on this page: