THE FANS FOR GENERAL HOSPITAL FAN CLUB PARTY
Sunday July 23rd 1995 11:30p - 4:00p

Without Jo Ann and Tami, who had to return to San Diego that morning, we drove over to the Sportsmen's Lodge on Ventura and Coldwater Canyon. We parked and walked in the wrong direction. We ended up going completely around the hotel, past the lobby, past the "William Shatner Tea", around the back, presumably as far as they could put us from respectable hotel patrons.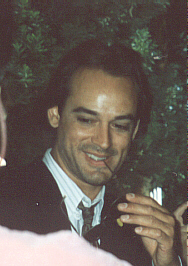 The first thing we saw was a knot of fans crowded around something. Good thing it wasn't someone short, or we may never have found out who it was. It was appropriately, our favorite actor, Jon Lindstrom (Kevin). We caught his eye and he acknowledged our presence, but we saw no reason to add to the crowd that was preventing him from reaching the press room.
We went inside and followed the flow to the registration table. We presented our tickets and in exchange we recieved a "hello" stick on name tag, a booklet with a cast list and pictures, and a rock. Yes, a rock, a shiny black rock with a little white ambulance and printing that read "Take me to General Hospital". Unusual gift; we'll treasure them.
Practically the first person we saw was Lynelle Foulk. We gave her some Kevin/Jon buttons and a magnet. Her interest in those, though sincere, was, understandably, short lived when we told her that Jon was out front. We helped her push her way through the crowd. (The registration table was set at the optimum location to create a bottleneck. Glad there wasn't a fire.)
When we got out to the front porch, at first, it looked as if he had gone. Teresa spotted him, pushed back past the gate, giving an interview to the press, who apparently had gotten tired waiting for him in the press room. He ended the interview a few seconds later. When he reached the porch he and Lynelle joyously greeted one another. They hugged and talked and her daughter took the video of them.
We went back inside and checked out the Dealers Tables. Understand, we're used to SF Conventions' Dealers tables, and the ones at soap events seeem awfully thin by comparison. But we eyed the photographs, and the Matt Ashford fan club package, and got to the good table; The Jon Lindstrom Fan Club. Immediately we snapped up a cassette of "The High Lonesome". We left Lori and Michelle (JLFC Co-Pres') their buttons. They weren't at the table at the time.
We found our table. Again, we were at the very back of the room in the right hand corner. It's a tradition now. We may request that spot during future events. We forgot to ask where our tablemates were from, but two of them had been at yesterday's Quartermaine Afternoon.
The first thing they did was raffle things off; scripts and pictures and fan club memberships. At our table one guy won a script autographed by John J. York (Mac). It was from the second day of the Nurses' Ball, it sounded like from the snippet he read. His friend won a membership to the JJY fan club. Also raffled was a Luke and Laura jigsaw puzzle and a poster from the ad campaign "Lucy - My man and my Duck".
We had arrived too late to buy raffle tickets... again! So we were easily distracted when actors started lining up by the registration table.... lots of 'em. When the raffle was done they were introduced one by one and came up the center aisle. This isn't in order, because none of our photos of the intro section came out, (*sob*), but as best we can remember these are the attendees. Leslie Charleson (Monica), Stuart Damon (Alan), John Ingle (Edward), Susan Brown (Gail), Anita Dangler (Madam Maia), Rena Sofer (Lois), Wally Kurth (Ned), Sean Kanan (A.J.), Senait Ashenafi (Keesha), Ron Hale (Mike), Kimberly McCullough (Robin), Rachel Ames (Audrey), John Capadice (Carmine), Shell Kepler (Amy), Mary Beth Evans (Katherine), Felecia Bell (Simone), Matt Ashford (Tom), Jon Lindstrom (Kevin) and Lynn Herring (Lucy), Norma Connoly (Ruby) and Wendy Riche (Producer). Gee, Rika went to the trouble to put those in alphabetical order, didn't she?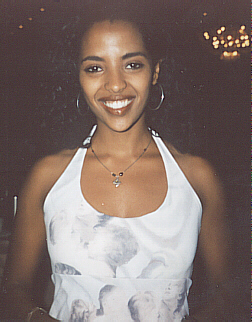 After all the stars were seated (somewhere up front, not a mere convenient few yards from us) Fan Club awards were given out by Senait Ashenafi and Sean Kanan. Rika has already mentioned what awards were given. Senait mispronounced Leigh McCloskey's first name (as Lay instead of Lee). There were many shouted corrections. And she protested that she'd never worked with the man. (Hmmm... Keesha and Damian, there are unexplored possibilities here.) Jon came up on stage to get his award (most of them were handed down). He hadn't heard what it was for and wanted to check. "Oh, Best Villain". John Ingle accepted for Anna Lee, and explained that she didn't have the energy for two events that weekend.
Leslie was given two checks for the Wellness charity, from the two raffles.
Next came the question and answer session which was hosted by Wally and Rena. Let's see. Norma Connolly was asked who she would like to see as Ruby's love interest she said "Sonny's father" or Edward. (Sheesh, she didn't even think of Jason. Steve Burton will be crushed.)
Matt Ashford said he didn't want to see Tom with only one woman yet.
Maurice Benard arrived late, to much applause. He went up on stage and got his Best Supporting Actor Award. Ron Hale said, loudly, "Sonny was late."
Sean Kanan was asked if A.J. would ever be successful. He looked up at Wally. "Is Ned ever gonna let him be succcessful?" "No!" said Wally firmly.
John Ingle was asked if he had any particularly memorable stories about students that he had taught acting to. He mentioned Richard Dreyfuss, whom John had told that he was too arrogant and cocky and that he would have to tone it down if he was going to succeed. And in a later interview Richard said that he was very glad he hadn't listened to John Ingle.
Wally made Stuart tell the story about his emmy dream again.
Susan Brown was asked what was the most interesting interior decorating job she had done. She said that she had done some work for Kin Shriner (Scott). Kin had a very large pool table and a very large sail fish and the fish eventually had to be mounted right above the pool table.
Kimberly was asked what affect, doing the AIDS storyline. And she said that, it had made her more aware, and given her a sense of responsibilty. (Or something like that.)
The Q & A was followed by Lunch. Guess the menu, just guess.... you got it, chicken, veggies and, for a change of pace, little red potatoes. Chocolate cake for dessert. At this point Wally came up with The Plan. The original plan, must have been to go over to the empty tables at the back of the room and have fans go around in a line. (Like at the Q banquet.) But Wally had a different plan. We would all stay at our tables and the actors would go and visit each one. It seemed good, in principle.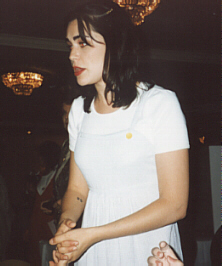 It was not however, good news for the tables, like ours, at the very back of the room. It soon became apparent that The Wally Plan had crashed and burned, only Wally was not prepared to admit it for the remainder of the afternoon. Fans were not staying in their seats. They were making a disorganized bee line for their favorites. Our table showed a lot of patience and we kept our seats. Our reward was that Rena Sofer started her signing at our table.
One of the girls at our table asked Rena about the rumor that Wally and Rena were going to get married at Disneyland? Rena said that was all wrong. The press had blown a chance remark out of proportion. She had seen some couple getting married at Disneyland and said "isn't that cute", but she didn't mean she wanted the same thing. She said sarcastically, "Yeah, right, I want to have my wedding, the most important moment of my life, in front of millions of people."
Rena was asked, probably many times, during the evening when she and Wally are going to get married. The standard reply was "First the guy has to propose." Often she raised her voice so Wally would be sure to hear. Hmmm..... think he got the hint?
The next of the four stars that actually made it to our table was Rachel Ames. We asked her if she thought they might possibly be planning a Alzheimer's storyline for Audrey. She said she didn't know, but that Audrey hadn't used to forget things. She also mentioned that Teresa was her daughter's middle name.
It became apparent that Wally's plan was not going to be netting us any more actors, as one by one the stars were pinned in place by eager fans. Jon and Lynn, up front, had particularly large crowds as did Maurice on the right side. We took to wandering the landscape. I pressed a top ten list into Matt's hand as he made his way to the back of the room. He went with the original plan and sat down at his fan club table and let a line form.
I saw George Alvarez, without a crowd, in the back of the room. This was motivation enough to desert the table. I went over and asked for his autograph, and asked him if Garcia would be getting a storyline. He said to suggest it to Wendy.
Mary Beth Evans had a good-sized line in the center aisle. I got in that and whimpered when she gave away her last 8x10 B&W to the person ahead of me in line. I told Mary Beth how much we liked her character and gave her her top ten list.
Teresa saw George Alvarez, with his son, Kyle, in the back of the room. She went over and asked for his autograph, and asked him when he was going to get a contract. He said to suggest it to Wendy.
Eventually Wally, determined to stick with his plan, made it to our table, which we occasionally visited. He signed autographs. The fan who asked the mickey mouse question gave Wally a little teddy bear. Leslie Charleson passed by shortly after that.
Sean Kanan and Maurice Benard and a number of other actors had already slipped out by this point.
Teresa went up to see Jon, who was still surrounded by a crowd of fans. Lynn and he were standing back to back signing. Lori, Jon's fan club president, greeted Teresa. She explained that she was late because she'd been at a wedding. She asked if Teresa had had a chance to talk to Jon yet. She said yes, and Lori offered to introduce her to Lynn. When they managed to get Lynn's attention, Lori said "Lynn there's somebody I'd like you to meet." But Lynn was unable to turn around because of the crowd. Lynn signed more quickly.
"Lynn, I'd like you to meet, Teresa," Lori said. Lynn wasn't sure why she was meeting this person, but she smiled and they shook hands. I came up about then, at the same time as Michelle and Razz. Michelle and Lori thanked me for their buttons. Razz was getting Lynn's autograph. I took some bad pictures. Lynn looked at Razz's buttons, and decided that she wanted a Jon Lindstrom button. (Well, if that's what she want's, that's what she'll get.) Razz pointed at me and said I'd made it.
The fellow at our table who had won the JJY fan club membership, was next in line for an autograph. Lynn became rather playful, and did some modeling type poses as they got their picture taken. Jon, who was trying to escape, rolled his eyes a bit at that. Jon was headed for table five, before he left. I wandered away, back to the back of the room.
I passed Ron Hale, who was standing on the right side still. I got his autograph. He said he was trying to get over to table five before he left. I told him that Jon had just headed over there.
I passed table five, which Jon had made quick work of, and told them, "Hey, Ron Hale said he was headed for your table." They whispered excitedly and I wondered about the signifigance of table five.
Senait (rhymes with Tonight) was also following the Original Plan and sitting down at a table. She mentioned that she would be going to the American Cancer Benefit. I told her that the one we'd been to a couple of years ago was a lot of fun.
Teresa spoke with Felecia Bell, and asked about her appearance on Deep Space Nine. Felecia said that they hope to be doing an alternate universe story about once a year. She also recalled the classic Trek episode that the alternate universe was based on, "Mirror, Mirror". Teresa commented, teasingly that it must be tough working with Avery Brooks. [Translation - Can't be hard working with a guy that sexy.]. Her reply, "Oh, yes, he's wonderful." [Translation - You better believe it girlfriend.]
Teresa and I met up again at the peel table to talk with our fellow fans. We took a group photo. This made a kind of a ocean lighting effect, since the colors of the rainbow we had were all blue, green and purple. That is until Lynelle arrive with her wonderful splash of red.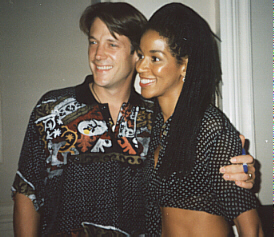 We headed to the back of the room again and made the not-so-snap decision to join the Matt Ashford fan club. In large part this was an economical resolutiion. We wanted his audio cassette anyway, and that came with the membership, along with a couple of black and white, 8x10s. Then we got in line to have Matt sign those pictures. While we were doing that Brad Maule's fan club closed it's table, and we missed our chance to get his album. *sniff*. Just as we got our autograph, Felecia Bell came up. And she and Matt posed for a picture together.
We were passing by the rest of the tables when May Lee (Ms. Purple, proprietor of one of the GH homepages) recognized us. She showed us an entry in the Internet Yellow Pages or the WWW directory, or something like that, that mentioned the GH homepage, and our top ten lists. We took a picture together. (Oh, no! It just ocurred to us that now May Lee will be able to get that image she's been asking for to use on the homepage. Oh, well, we'll have to live with it. :>) May Lee was at the Netcom table which had free software. We'll get back to that in a moment.
By this time many of the actors had left and the fans were beginning to disperse. This made it easier to spot Wendy Riche who was at one of the banquet tables holding forth on a variety of subjects, one of which was how characters changed over time. Rena also overheard some of what Wendy was saying and decided now was the time for a little input. She stood up on something, a chair or table, and said loudly, "How about making Lois convert to Judaism?" Wendy ignored her. I wanted to get Wendy's autograph but didn't want to interrupt the conversation she was engrossed in (and I couldn't get that close. It wasn't an autograph line it was a discussion knot.)
So I wandered over to the Peel table, where Wally was signing autographs and sitting down for a little rest. Rena was at the table next door and Teresa said, "Well, Rena, here it is hours later, and you're on your last table." Rena shook her head. "No, I've got five more." Got to give them this, Wally and Rena stuck with the plan and were determined to close the room.
At the next table Rena reached, someone apparently asked the marriage question again. "The guy has to propose first," she insisted loudly. Wally didn't even twitch an eyebrow.
Teresa and I went back to the center aisle where Wendy was still handing down wisdom. She was talking about the AIDS storyline, and how it had been building ever since the Stone/Robin romance had begun. She menitoned that the romance reflected her own life, where her parents disapproval had driven her into her boyfriend's arms. I asked her if Mac's reaction to Stone's illness was then an example of an extreme negative parental reaction. She said that Mac loved Robin and was trying his best, but he was making some major mistakes.
Then the subject went to ratings, and why they might be falling. Teresa facetiously suggested they should try a possession story line. Wendy said they'd never do that (Thank God!), because this was a character oriented show. Claire LaBine wouldn't write that kind of stuff if she could. She blamed the ratings on the increased number of channel choices, and ahem... publicity on the net, and that people wouldn't watch if they knew in advance what was going to be on. (She don't know us very well, do she?) She said Ricky would be very upset to learn what was said about him on the net. He's very sensitive. I tried to point out to her that the opinions on Ricky differed depending on what service you were on. Teresa and May Lee exchanged a knowing glance, and Teresa went over to her and they walked back over to May Lee's table. "Hear that, May Lee, we're ruining the show."
"Yes," said May Lee, "I tried very hard not to say anything." Hence our desire to cleanse our auras and forgive all the characters so we might give off only positive vibes on the Internet.
While we were at May Lee's table, Wally came over and looked at the pictures. May Lee offered him a free floppy disk, but he said he didn't have a computer and that he was thinking of getting one. Rena came up behind him and enthused over May Lee's display which had pictures of Wally and Rena among others. She picked up a disk. May Lee said she could have it. "Free, really?!" asked Rena. Guess she must already have a computer.
Rena and Wally were headed for the door, when she noticed that one other actor had not yet finished signing autographs. Matt Ashford was still at his table. "We can't leave, yet, Wally." Rena told him. He convinced her otherwise, and GH Fans' favorite couple left. (Well, they won the award for favorite couple.)
Almost everyone was gone by now. Lynelle was still there and we said goodbye to her, and talked about the "Luke's" shirt that Eva was wearing. (Eva Rich, photographer extraordinaire, whom I don't remember seeing at the weekend's events before this point.)
Finally we left. Matt was still there signing autographs when we split.
Top Ten Awards For The General Hospital Fan Club Party
10) The Fashionably Late Entrance Award - To Maurice Benard,
(but it was quality time, folks)
9) The Speedy Gonzales Award - To Sean Kanan, for making
yet another quick exit
8) Most Notable Freudian Slip - To Senait Ashenafi, of all
people, for mispronouncing Leigh McCloskey's name
7) The Energizer Bunny Award - To Matt Ashford, who just
kept going and going and going.....
6) The Star Magnet Award - To Table Five
5) The Stick-To-Itiveness Award - To Wally and Rena for
sticking with The Wally Plan to the end
4) The "GH is my favorite subject" Award - To Wendy Riche.
Well, after all, who knows more about it
3) Most In Character Remark - To Ron Hale for "Sonny was
late!"
2) The Sexiest Guy Without A Picture In the Program Book
- To George Alvarez (Ron was a real close second)
And the number one Award:
1) The Good Intentions Award - To Wally Kurth for The Wally Plan

"Yeah, he's really big on organization." -- Rena

T n' T
Roving RATSA Reporters

Return to Adventure Menu... About the Quartermaine Brunch
T 'n' T Web Sites and Episode Guides
Total number of hits on this page: