THE QUARTERMAINE AFTERNOON
July 22nd 1995, 1:30pm - 4:00pm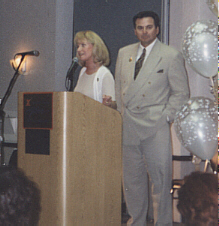 We left Tucson, with it's blue skies, clear air and sensible street layout, late Thursday night. We arrived in San Diego on Friday morning. We were stopping there to have our Aunt Jo Ann come with us for the Quartermaine Afternoon. So we got a chance to watch Friday's GH at her place. Lucy forgiving people; GH is best when it shows that great sense of humor.
We also used Jo's kitchen to chop up the cheese and strawberries for the next night's planned Room Party. Then we did family thing's for the rest of the day. Y'know, like drinking games and what not. Which means we got up early, if not bright, the next morning.
We dressed in our colors of the rainbow, (Teresa in blue, Tracy in green) and left for Burbank. Jo went to pick up our cousin, Tami, who had wanted to join us on one of these adventures ever since we'd taken Jo with us to the GH set. Yeah, why should Mom have all the fun!
We didn't get lost... much. We just turned the wrong way off the exit and had to make a loop back to Hollywood Way. Still it was quite nostalgic to see good old downtown Burbank again. We went right past NBC; the very corner on Olive St. where we had picketed in protest of NBC's decision to cancel Quantum Leap a couple Aprils ago.
We arrived at the Burbank Airport Hilton where the Quartermaine Afternoon was being held. Again this was a familiar sight, as this was the hotel we'd stayed at in February for the Quantum Leap Convention.
We did a quick reconnaissance to see where the Q Luncheon would be held. (The Banquet Rooms right off the main lobby.) After Jo Ann and Tami arrived, we registered and unpacked our luggage from the car. We were carrying some of it in, when we were hailed by three ladies who had just parked. They asked us if this was where the GH Quartermaine Afternoon was. Hmmmmm.... Do we just look like GH fans? We hope we've remembered their names correctly; Maxine, Pat and Leslie. Maxine was running the table selling Steve Burton's pictures.
Once we had everything unloaded we joined Tami and Jo in the bar, where we played 'guess the Bartender's national origin'. (She was as it turned out originally Swedish with a heavy Bulgarian influence.) We had a good hour to spare, so we had wondered why all the soap fans were hanging out in the lobby.
When we started back up to our rooms, so Jo and Tami could change for the event, (Neither of them went with the rainbow theme. *sniff*) we discovered why people were hovering in the lobby. We were just in time to see Steve Burton (Jason) and Sean Kanan (A.J.) enter through the main lobby doors. While the rest of my party went up to the rooms I stayed down to snap pictures of arriving stars. Pardon me if I don't have the exact order correct. (I haven't got my photos back yet to jog my memory.)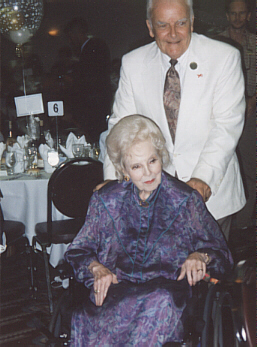 As Sean and Steve entered they joked with the crowd and each other. Sean said something about not getting to go out without Steve and being the older Bad brother and they disappeared into the press room. John Ingle (Edward) came in through the east door. And shortly afterwards Anna Lee (Lila) from the west.
There were some fans who didn't have tickets for the events; one woman with a little girl and another with a baby. The entering stars were quite gracious about giving them autographs and taking photos with them. (Cookie Boy Lesson #1: Cute kids are a Star magnet, if you have one that's naturally quiet, or can be easily sedated, bring them to these kind of events. We left ours at home and he was none to happy about it.)
I was surprised, but pleased to see Susan Brown (Gail Baldwin) enter. She's not exactly a Quartermaine and... and.... we didn't have a Top Ten List ready for her! We didn't want her to feel left out when we distributed them. Then she has to go and say something so nice... well, that was the next day.
We registered for the Banquet and got our program books quickly, while I kept one eye on the door for arriving stars.
Rena Sofer (Lois) entered from the east and didn't disappear immediately into the press room. She chatted a bit with fans. I didn't see Stuart Damon (Alan) or Leslie Charleson (Monica) enter. That happened while we were in the bar. But Sean and Stuart came out and passed by on their way to the men's room. (More than you wanted to know isn't it?) Stuart stopped and signed autographs for the fans who weren't getting in. Security tried to pull him away, but he brushed him off and signed all the autographs that were wanted.
Tami and Teresa staked a claim on the table and looked for signs of which seat was the winner of the centerpiece, but they neglected to look under the coffee cups. Jo and I waited for the remaining stars.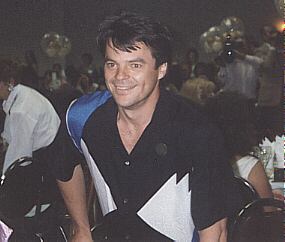 Wally Kurth (Ned) was the last to come in. We had some forewarning of his approach. A star-struck fan wandered in to say she had just talked to Wally in the parking lot. Wally came in from the East wearing a striking black, white and blue shirt.
We waited for a while longer, (I did see Razz registering about then, but didn't want to leave my post) but hope began to fade that our FGC would show; *sob* *sniff* No Stephen Kay (Reginald). We speculated that perhaps they were going to make him serve the dinner. We all went in and took our seats.
We checked out the Dealer's tables on the side. They were right next to us since we had the good fortune to get the table at the very back on the far right. The first item We found was Razz, who was at the Kurth/Taylor table. (Helping, I hope!) We greeted each other and she led us over to the table to see the other RATSAers: 'Rika and Tangy. The Mad Poet had wandered off. I said, "Oh, wait, presents," and hurried back to my table. I got the buttons out of my purse. I rushed back to the Peel table and sorted the buttons out. Ned buttons for Tangy; Kevin ones for Rika and Razz; Kurth/Taylor for everybody. They seemed pleased. We went back to our table.
We went to the Dealers' tables again and bought a Kurth/Taylor tape and a b&w 8x10 of Steve Burton. We finally got back to the table and met some of our tablemates. A couple of them were from Atlanta, two others from Cleveland, and two from New Jersey. Geez and we thought we were nuts for driving in from Arizona.
Tami related that Stuart Damon had done a little photo session with a puffy cheeked baby right outside the doors we were seated by.
Leslie was introduced by her fan club presidents (who had organized the event, which we've heard was the best run of the weekend events) and then Leslie came up to the podium and introduced each of her co-stars. Jo Ann and I went up to the front with our cameras. Fortunately the actors were being seated at tables on our side of the room, so it was only a matter of walking a few yards without any other tables to trip over.
We got some good photos (keep your fingers crossed) at that vantage point. The photographer they had inside the ropes took pictures of us taking pictures of them. As soon as everyone was in place, we went back to ours. An announcement was made that whomever had a blue dot under their coffee cup would win the centerpiece at that table. The centerpiece was a bottle of "Quartermaine Wine" from their Port Charles winery, with two wine glasses tied to it and a white/gold ruffle and gold wrapped chocolate coins. Tied to it was a clear balloon with white and gold balloons inside. The winner at our table was Tami. Since we were four out of ten at the table, the odds were with us and Tami maintained that it was only fair that she was the lucky one since she hadn't gone along on the last adventure.
Razz brought the Mad Poet, a.k.a. Honeydew Melon Peel over to our table to meet us. And we introduced Razz to Jo Ann, who was thrilled to have her name recognized from the JLFC newsletter story.
Leslie and Stuart raffled off some things. We're afraid we didn't pay close attention since we had no raffle tickets and there were other distractions. We do recall they offered ties from Edward and Alan, and a brooch of Lila's. The distractions were Steve Burton walking around on our side of the room, (Fashion report, tight grey-brown t-shirt that fit his well-sculpted chest like.... Nevermind, ~suffice to say it was distracting.) and Sean Kanan, walking right past our table. He was so close that Jo Ann could not resist the temptation to strong arm him into coming over to our table and meeting Tami. We took pictures of the two of them together. I asked him whether or not he remembered us from the set visit, but no, he didn't.
Can't recall if it was a part of the Q & A or part of the introduction, but Leslie talked about Susan's character, Gail, being not only Monica's best friend, but her adoptive mother. And Susan remembered that Gail's first marriage had broken up because her husband had slept with the teenage Monica. Monica and Gail didn't speak for a couple of years after that.
As part of the Q&A Stuart related his dream (and he doesn't often remember his dreams) of winning the emmy for best animal Actor on daytime for his dual role of Sydney the bear and the Cowardly Lion. (Wally had him reiterate the story the next day at the GH Fan Luncheon.)
Wally was asked why Ned doesn't sing at Luke's. Because Sonny doesn't like Ned.
Is A.J. finally going to get to have a love interest? None in the works and at this point Annabelle is beginning to look good, Sean commented.
Who would Steve Burton like to have Jason have an affair with. Steve claims he'd like to see a May/December romance with Ruby.
How did Anna Lee get her part on GH? She was offered the job and when her agent told her she asked, "What's a soap opera?" She said she'd try it for a few days and see if she liked it. That was eighteen years ago.
John Ingle was asked about his commercial for Revlon with Cindy Crawford. He said he just completed a second one and not to blink if we wanted to see his part in it.
After the Q&A, Luncheon was served; a salad, chicken florentine, rice and veggies. For dessert there was cheesecake with little raspberries and blueberries on the side. And no, Reginald was not there to serve it. Stephen Kay never did show up. We hope he was off working on a major film or a Bud Light commercial or something important.
Anna Lee had to leave early. It was wonderful for her to stay as long as she did.
After Lunch the Kurth/Taylor Band performed. I went up to the front and and sat center aisle in order to take pictures. Only three band members were present. Christian Taylor, Wally Kurth and Lee Beverly, hence no keyboards or drums. Their first song was "Make Believe" on which the audio was malfunctioning causing what CT called "strobe audio". Next they played "Only One I Love", Ned and Lois' love theme. They also played "Lyin' King" and finished up with "Seventh Son" featuring the Wally/CT vocal duel.
After the mini-concert the actors moved over to the side table to sign autographs. We shoved ourselves into the line eventually. We handed out the top ten lists as we got each autograph. Sean Kanan and Steve Burton had snuck out ~on us. I wandered out into the lobby and caught Lee and CT before they left. I complimented Lee on the set they'd just done. I asked CT for his autograph. I told him we'd met before when he'd come out to Tucson for the Toros' celebrity softball game. He said he'd be doing that again in a couple of weeks. (We guess we'll be going to a ball game soon.) He gave me an autographed 3x5 picture which I slipped into the extra program I had mysteriously acquired.
Tami and her centerpiece were sitting out in the lobby. She was talking to the woman with the puffy-cheeked baby. The baby was playing with the centerpiece balloons, which Tami eventually gave her.
I wandered back in. Teresa and I talked to the peels again. Razz was looking for her program book. Whoops, I had accidentally picked it up when I brought the buttons over. I gave it back. The peels were on their way to the Brad Maule event, which was starting early, at five. We gave Razz our B&W of Steve Burton to get signed for us there.
We went back up to the autograph table to take a few more photos and have John Ingle sign the tiny ten dollar bill that we had picked up off the leftover centerpiece tinsel. (Edward signed our money. Isn't that good luck?) We heard that Rena and Wally were the last ones to leave. They are very determined autograph signers. We, on the other hand, left around 4:30p to go prepare for our room party. We'll tell you all about that in the next installment.
*****************
Top Ten Reasons Why Reginald Might have Missed The Quartermaine Afternoon 10) Alan told him the wrong date
9) Checking out Canadian properties in case Garcia ever catches on
8) Not really comfortable as a member of the family yet
7) Took the wrong exit. Lost somewhere in Fresno now
6) Had a hot date with Sally, the downstairs maid
5) Someone had to stay home to look after Emily. But
why does she keep asking him if he has any good "snowballs"?
4) Lila asked him to polish every piece of silverware in the mansion
3) Stranded on a desert island
2) Knew about this Brenda/Miguel thing; just too upset to attend
And the number one reason Reginald Might Have Missed The
Quartermaine Afternoon
1) Had to squelch a worm revolt
"I've already drawn the line at kiling worms." -- Reginald

T n' T
Roving RATSA Reporters

Return to Adventure Menu... About our GH Set Visit
T 'n' T Web Sites and Episode Guides
Total number of hits on this page: