THE GENERAL HOSPITAL FAN LUNCHEON
PART I
JULY 14TH 1996

Return to Menu | More Luncheon | Take A Chance | The Brad Maule Luau

The General Hospital Fan Luncheon took place at the Sportsmen's Lodge in Studio City California on Sunday July 14th. We had opted to leave Cookie-Boy behind for this adventure. (We didn't want him drawing comparisons between a GH Luncheon and Disneyland.) We had to stand in line for a short while before the line began moving in. As we were waiting, Matt Ashford went by (looking exceptionally cool in those sunglasses). Shortly afterwards Wally Kurth arrived. Wally was early to get ready for the Kurth/Taylor performance. Matt, we later found, had to leave early, so he came in earlier in order to get his autograph signing session in.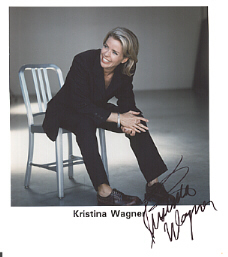 At registration they gave us each a packet. Last year's gift, if you recall, was a shiny black rock. This year we got a coaster, a script, a color autographed photo of Kristina Wagner and a free Sharpie. Quite an improvement, we think. After deciding nothing being raffled interested us, we made a bee-line to the High Lonesome table and bothered Razz. We oohed and aahed over the merchandise, but didn't actually drop any cash on her. We wandered over to the back tables and bought a b&w 8x10 of Lynn Herring. Their was a crowd at the table closest to the dining area. Matt Ashford was signing autographs early, presumably because he would have to leave early to make it to the Interact Theatre and get into his wolf tights. We already have Matt's autograph, so we went around and searched for our table.
Table 34 was two rows up from the back and in the center. This was quite a change. We're more accoustomed to getting the "Damian" table; you know, the one in the corner back by the kitchen. (Though this could have something to do with waiting until the last possible minute to buy our tickets.) But this time we don't think we could have gotten a better table. Maybe having David with us changed our luck. David went to sit down in his seat and found that it was already occupied by a "C". Yes a little piece of carboard with the letter C in black marker on a wire pedestal. We wondered if it meant someone was sitting there, but it wasn't a traditional way of holding a seat, so we picked it up and put it on the table and thought no more about it.
Wally was also in the back signing autographs. His partner's, Christian Taylor's, arrival caused a bit of a stir. There were some television camera on hand that seemed to be particulary interested in him, or so the bright lights would indicate.
Before Kurth and Taylor began their acoustic set, Matt Ashford went up on the podium to make a speech for Children's causes. Would that we could give you this word for word, but the noise level prevents it. Also we didn't come away with one of the flyers that gives detail on the particular charities involved. Hopefully someone else did so that they can post information on these worthwhile causes.
Tangy Nancy has already taken care of the Kurth/Taylor report, so we just have a listing of the songs they did, and a few comments. Because it was an acoustic set, only three of the band members were present. C.T., Wally and Lee Beverly, their bassist. They started with "All The Man", one they've done on GH. The second song was "Heaven Help Us All" from their very first album, when they were a duo. Wally announced that they'd be playing in Antioch California on Friday July 26th. On the next song C.T. sang lead. "So This Is What They Mean". The man has a voice like an angel. Bext "The Only One I Love" was also sung on GH, and we believe appearing on both their recent albums. They ended the set with "Seventh Son" which was Eddie Maine's song premiere. By the way, we thought the crowd was rather rude, and definitely not paying enough attention, to three guys who were doing this out of the goodness of their hearts.
After the Musical portion of the afternoon was finished we sat back down at our table. We were innocently minding our own business when some waiter came by and sat wine glasses down next to all the plates. Puzzling; no one else was getting wine glasses. Except... the tables up in the front. Yes, that's right. Us and the celebrities had wine glasses. Had our T 'n' T Top Ten fame spread to Studio City, or was this some pleasant mistake. Our suspicions soon rested on the mysterious "C". They had Cs up front. They had wine glasses up front. Could there be a connection? But surely it would be impolite to put up a fuss about it? So when they started bringing the wine, caviar and orchids, we just didn't complain. Okay, there were no caviar and orchids only a couple of bottles of a domestic white zinfandel. Fortunately the rest of the table, (six people) weren't heavy wine drinkers. A toast to "C"s.
They brought the salads, with a choice of honey mustard or bleu cheese dressing. Door prizes were awarded to the lucky few with a red dot among their membership packet. Two winners were given the opportunity to sit at the table with the celebrity of their choice. And the other two people won drawings by Julie Landis. (Well, we've never heard of her, but we're willing to bet the winners would rather have received the former prize.)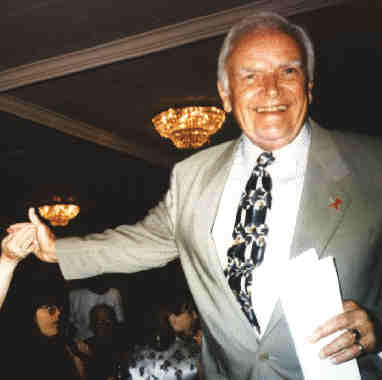 Since we took pictures of people as they were coming up the aisle we've decided to combine the introductions with the Fashion report. Michelle De Moss, former Jon Lindstrom fan club co-president, and West coast GH fan club organizer, started things off. "Now I'd like to introduce the patriarch of Port Charles; none other than Edward Quartermaine, Mr. John Ingle."
John walked up the aisle and took the podium, wearing a conservative green suit and a tie with a interesting geometric pattern, he made all the rest of the introductions. "I think it's time for the town meeting of the Port Charles support group to come to order. Obviously its a real pleasure for me to be here and to introduce some of our wonderful people. Actually it's a wonderful treat for me to be here because it means I have a job. And we like to think that we are inhabitants of the nicest town on Earth... not the happiest town, but the best town.
Some of the people from Port Charles that I'd like to have you meet you see every day. You do not necessarily see the person who sits up on the fifth floor and who is in charge of all the bells and whistles that makes things happen on our fabulous show. May I introduce first and very graciously have you welcome Wendy Riche." Wendy was wearing a simple sleeveless white dress. "Long after most of us have gone home you will still see Wendy's dark blue Lexus sitting in that parking lot. Meaning that she's on the pone to New York talking to some of the writers who are there or whatever. Anyway, she keeps all the plates twirling.
"Also at Wendy's table over here are some of our other production staff." We couldn't actually see any of these people from our tables in the back, so we can't tall you what they were wearing. They were already seated at the tables up front. "I'll read their names and just know that they are Wendy's immediate support group and without them some of the plates might tip a little, but anyway these people are Susan Dansky, one of the associate producers, and Susan Brandis who is Wendy's very fine Executive Secretary; and Michelle Val Jean who is our associate Head Writer. We have quite a few different people on the writing staff and they sort of are changing around some. And I said to Michelle back in that other room that I think our writers do a splendid job and they're giving us wonderful things to say and wonderful stories. So pass the word." [Our personal feeling is that the more input Michelle Val Jean has in the storylines, the better. She is one fantastic writer; and we are not easily impressed by writers.
Also a person you don't see very often, but you may read his name, is our publicist who works very hard at controlling all of the picture taking people and all of the press-realeases and everything; our publicist, Scott Barton. Scott, where are you, Scott? Oh, there he is, over there.
All right, now then for some of the very mixed up people who live and work and make trouble in Port Charles. Let me introuduce first, starting with the letter A, our detective. I was thinking this morning, as I drove over here, in Port Charles we have one policeman who is Officer Rick; we have one Detective who is George Alvarez and we have one Police Commissioner, with all of the crime in Port Charles. This our complete crime-fighting staff. Anyway, please welcome George Alvarez and his son Kyle." George was wearing a loose-fitting white shirt with an open collar that showed an aesthetic amount of his chest. Kyle was wearing a blue and white striped shirt with a blue collar.
Also a person we would like to have you meet is a person who has been a part of the staff of the hospital and the cast of this show for quite a few years; the head of nursing and our wonderful, wonderful Audrey Hardy; Rachel Ames." Rachel was wearing... it's somewhat hard to describe.
"I'm going to introduce next, Matthew Ashford." Thank goodness, Matt kept it simple, a black short-sleeved shirt, silk, we believe.
"Next let me introduce to you the new character on our show, playing the role which starts airing tomorrow, the role of Nicholas Cassadine; Tyler Baker. Tyler, come in." This rather striking -looking youngster was wearing a green t-shirt.
Next could you please welcome the one third of a very intense Love Triangle. Sonny Corinthos; Maurice Benard." Obviously John Ingle does not know that geometry is a risky discussion to start up. Apparently, Maurice does. He looked, well... scared is the best description. The crowd was screaming and he begged them to please calm down. He was looking spiffy in a tan suede-like jacket and a white shirt, (modestly buttoned up.)
"May we now introduce a trouble-maker for Bobbie and Tony...maybe. As Carly; Sarah Brown." Note that he said 'maybe'. Sarah was wearing a brown jacket over a black halter-top and black slacks. Her escort was wearing a Universal Pictures/Jurassic park t-shirt.
"And may we have you greet again, as Gail Baldwin; Susan Brown." Susan was wearing a tasteful white suit, and large gold earrings.

"Oh and Sarah's coming down with Justin Cooper right here; who is our new Lucas." Apparently Justin was too short for John to spot from the stage. "I must tell you that actors are always saying, got any new projects or anything you're working on?' He very nicely said yes, I have a new movie.' I said oh, what?' not knowing what it was. He said I'm in the new Jim Carrey movie.' That little boy is in a new Jim Carrey movie."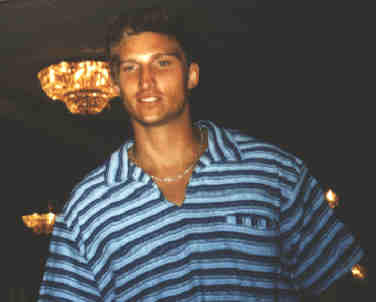 "May we now introduce... please welcome a very troubled grandson of mine, Jason Quartermaine; Steve Burton." Troubled, maybe, but fine-lookin' always. He was wearing a light blue shirt with blue and grey stripes and a v neck. He also had a lovely silver-chain around his neck.
"And as Monica Quartermaine, Leslie Charleson." There was more to this introduction, but the crowd was being too noisy for us to make it out. Leslie wore a grey sweater, over a white shirt and green slacks.
"And as everybody's favorite innkeeper and cafe owner, Ruby; Norma Connolly." Norma wore a white, satiny, long-sleeved blouse.
"Now please welcome, as Alan Quartermaine; Stuart Damon." He wore a black suit with a white handkerchief and a tie w/bright flowers and green leafs.
"Now people, a new character on our show, the actress playing Gina Cates, Stephanie Dickers. Stephanie." She wore a short black dress with small white polka-dots and a short sleeved black jacket.
"And as Katherine Bell, please welcome Mary Beth Evans." She wore a white jacket and slacks with a velveteen grey shirt. (And she is not fat. She is skinny. In fact all of these women are unbelievably thin, and if we ever hear someone say otherwise we'll bounce 'em off a cyber-wall.)
"And as Mike Corbin please welcome Ron Hale." Ron may have gotten his GH events mixed-up. He certainly seemed to be dressed for the previous day's Luau. He wore a black and white Hawaiian shirt with a pineapple pattern.
"And will you welcome a girl --with--- the largest----- on a soap opera Lucy Coe; Lynn Herring." The cheers for her were so loud that we could not make out more than a few words of John Ingle's introduction. Please fill in the rest with your imaginations. Lynn was wearing a simple white dress very similar to Wendy's but with a lower neck-line.
"Would you also now welcome, as A.J. Quartermaine, Sean Kanan." He was wearing a light blue shirt with a dark blue jacket, but we had to check the photo to be sure. In person all we notice is his piercing gaze and lightning fast departures.
"And would you welcome the girl who seems to know everything in the hospital before it starts, as Amy, Shell Kepler." Shell Kepler wore black, with a white jacket of her own design. The light blue lapels had glittering blue sequins and coloful sequined appliques dotted the shoulders.
"Please welcome as Ned Ashton; Wally Kurth." Wally was wearing a large white shirt, black pants and adorable oval framed glasses.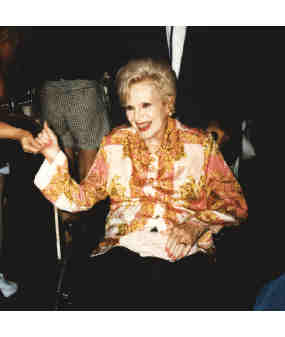 "And would you please welcome not only one of the grand ladies of Port Charles, but one of the grand ladies of the movies, Anna Lee as Lila Quartermaine." The lovely Anna Lee has an unequalled flair for fashion. With her black skirt she wore a satin gold and pink patterned blouse.
"And would you please welcome as Kevin, the troubled psychiatrist; Jon Lindstrom." Though I was flustered enough to miss this original photo taking opportunity, we do know that Jon was wearing a white shirt with black buttons and black tuxedo pants.
"And as the surgeon who is always at the hospital on call; please welcome as Tony, Dr. Tony Jones; Brad Maule." Brad wore a lovely blue jacket and a black shirt, and glasses very similar to Wally's. [Editorial comment - It is a great shame that characters on soaps only wear glasses as a plot-device.] As he walked down the aisle Brad exclaimed "I'm hungry!" Whether this was an objection to the lengthy introduction process, or harking back to the previous day's incident, we're not sure.
"Playing the role of Bryan the bartender and soon to be the new face of Deception; Bryan Moeller." The simple white shirt that shows off the chest was apparently the fashion that day. Still what stands out about Bryan is his resemblance to a certain fomer GH actor. It's not just our imagination as the exclamation is clearly hear on the audio record, "Ohmigod does he look like Stone!"
"Now those among you who soap opera cruise, from another show, will you welcome to our show, as Stefan Cassadine, Stephen Nichols." As far as we're concerned, Stephen is a ghost. Our camera ran out of film just as he appeared. And after that we didn't get a glimpse of him. That's a Cassadine for ya.
"And the new man in Port Charles who seems to have all the money in the world, as Jax; Ingo Rademacher." He and Maurice were about even in causing abnoxiously loud cheering and screams. Like most of the guys he had on the loose-fitting white shirt. He had four of the buttons undone, a large pink button on the right hand pocket. He was also wearing a beret and blue jeans with fashionably large holes and tears. We're not particularly Jax fans, but this guy looks as close to a Nordic god as makes no difference.
"Would you welcome please as Lois Ashton; Rena Sofer." Rena was in a maternity dress, obviously. It was short with a tiny flower- print pattern.
"And as Emily Quartermaine please welcome; Amber Tamblyn." Like Nichols, we have no photos of the elusive Amber. We did note that she was tall. Alan should come back to the Q mansion, if only to make Emily appear to be child-sized.
"And as Veronica Bowles, the TV girl in our town; Janine Venables." The third person whom we have no idea what she was wearing. Darn, those 24 exposure rolls.
"Would you now welcome please, as the new police commissioner, Mac Scorpio; John J. York." He was wearing a plain tight-fitting white t-shirt and black pants.
"And now may I have your attention as I announce, certainly one of our favorite people, not only in Port Charles, but also at ABC for a long period of time, will you please welcome our lovely Marjorie Beradino." John Beradino's widow had very graciously consented to attend the event.
John wrapped up the introductions. "Okay now the people who are in charge have said they want everybody, actors and fans and friends and guests alike, to go ahead and have your meal and guess not walk around while we're having our lunches."
We settled down to have our lunch, which was Chicken Cordon Bleu, two small rosemary potatoes, some very tasty carrots and broccoli. In violation of the "not walking around" directive, Stephen T. Kay (Reginald) came in late. We didn't care. We were just thrilled he showed up at all.
*End of Part I*

In the next part:

The GH Fan Club awards; hosted by Brad Maule and Sarah Brown.
Stuart Damon's Eulogy for John Beradino.
The Question and Answer Session
The Interview with Stephen T. Kay

Return to Adventure Menu | More on the GH Luncheon | Brad Maule's 1996 Luau
T 'n' T Web Sites and Episode Guides
Total number of hits on this page: