THE KURTH /TAYLOR CONCERT
SCOTTSDALE ARIZONA
September 11th 1993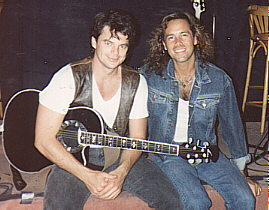 We thought everyone might like to hear about out trip up to Phoenix AZ to see the Wally Kurth/Christian Taylor band. We live down in Tucson and it's a two hour drive away. Well, two hours and twenty minutes to the Mountain Shadows resort in Scottsdale where they were playing.
We got there about a half hour before the show was supposed to start. They were selling raffle tickets "Win a free trip to the GH set". We bought one because there was only one other ticket sold at the time so our odds would be pretty good. We went in. It was a bar/nightclub arrangement. There were a few TV's over the bar that were displaying a videotape of the Fans of GH Luncheon. Got to watch JL accept his best villain award. Barry, the guy who arranges Wally's gigs makes tapes of the GH events. These are available for sale if anyone's interested.
The band was late. They had a comedian on first. I don't remember his name, but he was not terribly good. It was also not his crowd; GH fans mostly. The band arrived. When they took the stage Wally explained that their bassist, Lee Beverly, had gotten them lost. Lee was from Montana, and unaccustomed to the perpetually under construction freeways in Phoenix. The drummer was James Bloodgood, a resident of the Phoenix area.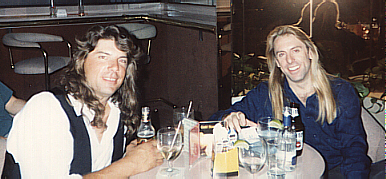 James Bloodgood and Lee Beverly
Almost forgot, before the band went on they had the raffle drawing. We didn't win. (Like we wouldn't have been screaming about it here on NVN first thing when we got back last night.)
Okay, even before they started singing we were impressed. They were a nice looking bunch of guys. Wally was wearing a white t-shirt, a brown vest and blue jeans. Christian was wearing a denim jacket that he took off halfway through the evening. You all probably aren't interested in these details, but they added to our enjoyment of the evening.
The music was great; a rock/pop/country sound. Excellent vocals by Wally and Christian and some really great songs, which I'm going to list for you because Christian let me snag one of their cheat sheets later.
Make Believe (which Wally wrote, about being on TV)
Road Less Traveled
Sea of Peace
Give it all away
You
Heaven Help Us
Time (Written by Wally's brother)
Give me Wings (Which he sang on DOOL)
Compassion
Bob Away My Blues
(Encore) Seventh Son
Mid-way through the set Wally talked a bit about GH. He said that he'd been talking to Claire LaBine who is apparently sitting down with each of the actors to get an idea of where they want the character to go. Wally said that there was a possibility that Ned would be rockin'. Not as Ned but kind of a Jeckyll and Hyde thing. What that means we're not sure. Claire is probably just getting an idea of what she's got to work with. Someone in the crowd asked if Kin Shriner would be leaving the show. Wally said No, that Kin had consulted his financial advisor who had told him that he could last about three weeks without working. He said Kin had been playing hard ball (in negotiations) but that he should have consulted his financial advisor first. Okay, maybe Wally was joking. But after talking with the new writers Kin probably has decided to stay. Wally seemed happy and relieved that the new writers we're coming in, and hopeful he's getting a good storyline.

Christian Taylor, Wally's partner, was a total babe (excuse the vernacular) and very sweet. After the encore, which Christian freely admitted was compulsory, Wally stayed up by the stage signing autographs and talking to fans. Since there wasn't a large line for Christian, we talked to him first. He was very nice and signed our photo (they'd handed out free 8x10 black and whites of the pair. Musta known we were comin'.) We asked him if they had an album, he said they had a couple, but they'd left them in the hotel room. (Anyone interested in having one of Wally's albums inquire at this address: Awareness Records P.O. Box 7401-255 Studio City CA 91604. 213-859-1770). They weren't staying at the Mountain Shadows where they'd been playing, some sort of mix-up.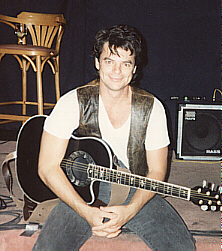 Then we got in Wally's now rather short line. We took lots of pictures, with Wally, without Wally, with him and other fans, etc. Wally was especially nice to two old ladies, big GH fans. Signed one of their pictures "Wanda, honey, I want you in the worst way, Wally" (and a little heart.) When we talked to Wally he told us that two dollars of the eight dollars for the albums goes to charity (Covenant House, and ECO [Earth Communications Office]). Wally went over to talk to some very enthusiastic local fans. Then he came back to pose for a couple of pictures for us. We wanted one of him with his guitar, and one of him and Christian. He was very accommodating, and very good at recalling and using our names. Wally said he'd just had a birthday.
Then we had to leave. That's it. Buy the album.
T n' T
Roving RATSA Reporters

Return to Adventure Menu...Christian Taylor Plays Softball
T 'n' T Web Sites and Episode Guides
Total number of hits on this page: