THE HIGH LONESOME DO TEMPE
January 26th and 27 1996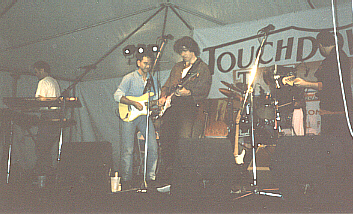 Okay, so we were a little late... two hours late. It was Superbowl weekend in Tempe, Arizona and the city had gone insane: bumper to bumper traffic, crazy football fans dancing in the streets, souvenir vendors accosting anyone who stood still long enough; but was that any reason for, our decreed house guest, Razz, to panic? So we didn't show up until five minutes after the band was scheduled to go on. They had faith; they hadn't started yet. But Razz was seriously considering asking the band if she could "bunk" with them. (Rooms being very hard to come by in Phoenix on Superbowl weekend) Well, maybe not seriously, but a girl can dream, can't she?
After our harrowing journey down University Ave. we headed straight for the bar. We passed on the officially sponsored Bud Light, and settled for something a little more palatable, like margaritas and pepsi. Razz, who was much relieved by our arrival (okay, maybe not much relieved) herded us into the Touchdown Tent (the structure, where the concert was to take place, adjacent to MacDuffy's Sports bar).
We snagged a table near the stage. After a few minutes we noticed it was getting extremely warm. This was odd since the outdoor temperature was at most fifty or sixty. It seemed our table was generating it's own heat even before the concert had started. (Space heaters... really.)
The guys began to drift up on stage, and finished setting things up. This was more fascinating than it sounds. Razz pointed out to us who was who. Well, Jon we knew, and with that hair it's hard to miss Larry. We had ordred nachos, and they arrived just as the guys started their set.
Since we didn't have the foresight to take notes at this first night's concert, we can't tell you all the songs that were played or in what order, but from off the album there was Pauline, True Believer, Lone Star (dedicated to Cowboys fans), Mary Mary, World Fall Apart, Black and Blue and ended with Something Wild. We think they may have done Standing as well. There were also several songs-not appearing-on-the-album, bluesy and fifties rock type music, such as Cadillac Jack's. We'd never heard the band live before, and they were even better than they sounded on the album. In fact, they were great... stupendous and all those other superlatives.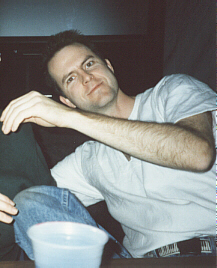 Time for the Fashion Report: Jon was wearing a brown jacket and shirt, dark pants and a goatee; Jeb was wearing a red plaid shirt and blue jeans; Larry was wearing blue jeans and black and white shirt; Gary was wearing black jeans and a checkered/plaid beige and black shirt and a charming smile. Phil? We didn't actually see Phil. We saw his ankles, and his brightly colored concertina, but the rest was hidden by a plastic hanging Superbowl festoon. We didn't find out what Phil looked like until the next night.
After the set we spotted the Bud Light "Ladies" in the wings. They came up and the crowd erupted, descending on the stage. Who would have thought that macho football fans would go crazy for men in drag. Go figure. The High Lonesome were good sports and backed up the "ladies" for some classic rock 'n' roll songs. We asked Razz at the time if this wasn't more surreal than The Pismo Beach Clam Wedding. Bud Light Ladies probably would have won out if it wasn't for the Pismo Beach Jesus Christ Superstar performance.
When that was over James Bloodgood (Drummer Kurth/Taylor band) came up and said hello to Razz. Razz introduced us. While I was digging the Kurth/Taylor tape out of my purse, Teresa wandered up to the stage where the guys were breaking down. Jon was near the front and gave her the traditional "Hey, Murrays." James signed our Kurth/Taylor tape. He seemed surprised. Doesn't everyone carry one with them?
We waited outside the tent while the band loaded up their equipment. Larry came by first and Razz introduced us to him (this was Razz' job during the weekend). Then Gary came out and Razz presented us to him. She immediately told him that we thought he was adorable. (Well, maybe those weren't our exact words, but this is a family forum.) He didn't seem to believe that, so we assured him that it was true. "There were other guys on stage?" He still didn't buy it. He'll take more convincing.
Then Jeb came out, and Razz quickly introduced us to him before he flitted into the tent. Saw Jon, still loading up his equipment down the way.
We and Razz had a quick pow-wow and decided we had better leave. It was quite late, we were hungry and had a two hour drive back to Tucson. We stopped at a restaurant and frightened a baby and experienced midnight gridlock on the way to the freeway. It was all a lot of fun and we had more to look forward to the next night.
Saturday morning Teresa had to work. Razz and I slept in. While we waited for Teresa to return, we played the video of the "Quantum Leap" pilot so we could see Larry's part as Capt. Tony ("I swear I smelled coffee brewing") LaMott.
Teresa got back and we watched the previous days General Hospital, before setting out for Phoenix. We made good time and arrived in Phoenix with a couple hours to spare. We chose to have dinner in McDuffy's proper. As we said it was a sports bar, so there were many large screen TVs showing various sports. One section of the room was very excited, but we couldn't tell about what. Finally we asked the waitress, who explained that they were agitated about the golf game. Golf? Now, Razz, is a golf fan, but we're more likely to consider it as a substitute sleep aid. Even the end of Phoenix Open shouldn't have warranted this much excitement. The waitress explained that the golfer in question had been a local fellow, a personal acquaintance of hers and, we're guessing, of the boisterous fans. Okay.
It was getting close to seven 'o clock, one of the times we'd been told that the band might be starting. (The actual time was, as we had guessed, eight 'o clock.) So we waited, this time on the other side of the stage. We were still deafened by the speakers, but this time could see the area where Phil would be setting up his keyboards. Shortly thereafter the guys came in and began setting up. They did a soundcheck: doing the vocals for "Mary Mary" and a few bars of "Pauline". Larry explained to the audience (which was much larger and somewhat more enthusiastic the second night) that this was just a soundcheck and they'd be back. The crowd whined. So they sang "Something Wild" and then vacated the stage.
Jon came down to our table and said hello. He complimented the last top ten lists we had sent. We asked him how he was doing and he replied "Busy" and commented on the tough schedule of doing the show and playing with the band.
After Jon left we were visited by more THL band members; much to our delight. Phil stopped by first and asked why we hadn't waited for him to come out the night before. (Err... we were hungry. Sorry, Phil, we have our priorities: Gary, food.) He forgave us. We think.
Jeb came by next and sat down with us. Despite our flippant top ten list item Jeb does actually have the power of speech... just not on stage. That's right he discoursed for ten minutes on comparative ethical systems and the Bud Light Ladies.
Jeb departed and Gary joined us. He asked us what we'd been doing before the concert, and we told him that, besides driving, we had watched Larry's episode of "Quantum Leap". We talked about that show for a little bit, and he mentioned that one of Larry's ex-girlfriends, Jane Sibbet, had guest starred in a QL episode. (A Hunting We Will Go.)
Just before the set, Phil came by again and asked if Razz would take some pictures with his camera. We asked if they had tickets to the Superbowl. "Yeah, right. We're not that important."
"Yet," we corrected. Phil went back up on stage. And we could actually see him. Great!
Fashion report: Jeb was wearing, blue jeans and either the same red-plaid shirt he'd worn the night before, or a reasonable facsimile thereof. Over that he wore a faded black sweatshirt. Jon was wearing blue jeans, a black t-shirt under a long sleeved brown shirt. He also had a brown jacket that he didn't wear during the performance, and a beret. Phil was wearing blue jeans, a white t-shirt and a blue shirt over that. (Which looked distinctly purple in the predominantly red-lighting.) Larry was wearing black jeans and a brown shirt. Gary had on a blue shirt, with the sleeves rolled up and blue jeans, and, of course, that same charming smile.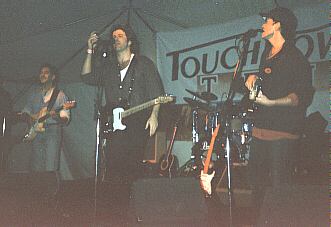 At last, it's time to tell you about the concert. They started out with Cadillac Jacks. Next Larry dedicated "Lone Star" to the Cowboys' fans in the audience. Unfortunately the crowd on this second night was primarily Steelers' fans. "Okay," Larry said, "This is a song for Steelers' fans to dance to." And they played "Mary, Mary". This was followed by "True Believer" (The Soon To Be Hit Single with the easy "Na, Na, Na" verse.), "Everything Changes", "You were Cryin'" (both not appearing on the album), "Standing", "Cool Love", "Something Wild" (in which they introduced the band) and a couple of other new songs.

There was a break between the sets and darned if we can remember what happened. Deafening intermission music, a drink or two, and a restroom break. If we're not mistaken Phil came over to reclaim his camera. He'll be lucky if any of those came out. Though we all tried, the battery seemed to be running down and the flash wasn't working.

During the next set, things started to get wild. More poeple were up dancing. The new trend in Phoenix is holding two beers while dancing. The first song of the second set was "Pauline". Then "World Fall Apart", three new songs, Razz' favorite, "Velvet Glove" and then our favorite song "Mustang Thang" lead vocals by Jon Lindstrom. (This is just because Gary doesn't have a lead vocal. That and it's really funny.) Followed by two more new songs, and "True Believer." (Na, na) Next was "Lone Star", "Cadillac Jack's" and ending the set with "Something Wild". The crowd's attention span wasn't long enough or we would have done the lighter bit and tried for an encore.

We watched them break down and waited for the opportunity to speak with Larry "Quantum Leap Pilot" Poindexter. He took his sweet time, until finally we were forced to talk to Gary (the sacrifices we make) and ask him what had become of Larry. He assured us Larry would be along. We waited and watched as Jon continued to take his drums out. Fortunately this is the process which takes the longest.

Jon's significant other, Eileen Davidson was helping him break down. (Isn't that sweet?) She, BTW, was looking very pretty, in a fringed dark-brown jacket and a baseball cap. As he left, Jon donned his beret and jacket and waved goodbye to us.

Finally the stage was empty. We went outside the tent and Larry appeared shortly thereafter. We asked him if he would like to attend the upcoming Quantum Leap convention on the 17th and 18th of February at the Beverly Garland Hotel in the Los Angeles area. (plug, plug) He said he'd seriously consider it, if they weren't playing a gig that weekend. (They're not.)

The evening was over and we exited through the gate that had been put up to prevent cars from entering a block party area. Razz drove us back to Tucson. In exchange we gave her bacon and cinnamon rolls before she left for Skyharbor the next morning. (And what else would anyone serve for brunch, Razz?)

"I never exaggerate; I just remember big." -- Chi Chi Rodriguez, off the donated McDuffy's menu.

T n' T
Roving RATSA Reporters

Return to Adventure Menu... The High Lonesome at Jack's Sugar Shack
T 'n' T Web Sites and Episode Guides
Total number of hits on this page: