And here's some stories about our top story —
From the San Diego Union Tribune
"Oceanside High becomes stage for TV pilot"
By Sherry Parmet and Pat Sherman
STAFF WRITERS
March 21, 2004
OCEANSIDE – Nearly 200 students at Oceanside High School strolled the food court yesterday carrying notebooks, trays and cell phones. It was like any other school lunch period, save for the wardrobe racks, production lights and a director shouting through a megaphone.
A production crew is filming the pilot show for a possible television series at the school this weekend. "Veronica Mars" is a drama about a teenager in the fictional town of Neptune who moonlights as a private investigator.
Producer Paul Kurta said much of the filming will take place in Oceanside.
"It's a seaside town that still feels like middle-class people live there," he said. "Most of the seaside towns feel resort driven."
The story line centers on Veronica Mars, a high school senior at Neptune High School who helps out with her father's private investigation business, Kurta said. Her father [Enrico Colantoni]is the town's former police chief who was fired while investigating a murder suspect, a powerful industrialist who is the wealthiest man in town.
Shortly before noon yesterday, the show's 23-year-old star, Kristen Bell, was seated at a table in the middle of the quadrant, preparing for one of numerous takes.
"One of the bullies is trying to pick on this guy and the main character, she's trying to stand up for her friend," explained 15-year-old freshman Melissa Molino of Bell's scene.
"He's pretty much the new guy around, an outcast, and she's trying to help him fit in," said 15-year-old sophomore Jessica Gerry.
Melissa and Jessica are among numerous Oceanside High students volunteering as extras for the project. Stu Segall Productions, located in San Diego, is paying the school $7,750 for the use of the campus and extras. If picked up, the drama will air on the UPN Network.
"It's an interesting experience for me," said Melissa, a drama student who learned of the opportunity through her teacher. "I've never seen actual filming up close . . . . If you you want to be an actor, it's kind of cool to see them making a pilot firsthand."
"You get the whole 15 minutes of fame," Jessica said.
The studio is paying the school $3,000 for use of its campus. Student groups such as band, chorus, track and ceramics will receive an additional $4,750 for supplying extras.
The studio's contract with the school is to shoot only one episode of Veronica Mars, said Laura Chalkley, spokeswoman for the Oceanside Unified School District. Filming will conclude today.
If the series gets picked up, and the production crew wants additional use of the Oceanside campus, a new contract would be negotiated with the school board, said Chalkley.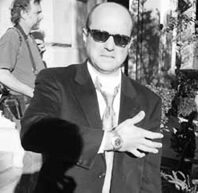 From the Hollywood Reporter
"Casting News"
By Nellie Andreeva
Feb. 23, 2004

Enrico Colantoni has been cast as the male lead in UPN's drama pilot "Veronica Mars."

"Veronica Mars," from Warner Bros. TV and Silver Pictures, centers on a hip teenage girl (Kristen Bell) who helps her father (Colantoni) with his private detective agency.
Colantoni is best known for his role as photographer Elliot DiMauro on NBC's "Just Shoot Me." His credits also include the features "Full Frontal" and "Galaxy Quest" and TNT's "James Dean." Colantoni is repped by Innovative Artists and manager David Guc.
From USA Today
"UPN saves 'Trek' but beams it to new slot "
By Gary Levin - Excerpt
Newcomers include Veronica Mars, which is about a teenage girl who helps her dad's private-detective agency. It stars Kristen Bell and Enrico Colantoni (Just Shoot Me).
Tuesday: All of Us at 8; Eve, 8:30; Veronica Mars, 9