Character Sketch
We can't say that we know much about Nurse Colleen. She's always there with a handy bit of information when it's needed. She's a good nurse who is firm with the Doctors, but good-natured. We can't say for certain when she started appearing. We were taking a little vacation from PC in 1999, but when we came back in 2000 she was there. She had a little crush on gorgeous Dr. Ian, as did half the nursing staff. Colleen is apparently in charge of all the reception desks in that wing of the hospital, and does seem to spend much more of her time shuffling papers and delivering packages than taking care of patients. Colleen could really shine, given any kind of storyline.
Actor - Credits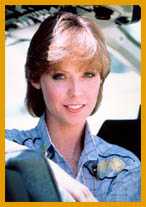 Initial research was done on the Internet Movie Database. Stage and more acting credits added after Internet search; mostly Google. Titles may be linked to useful pages about those works.

We were very surprised to find Jean Bruce Scott turning up in this relatively tiny role on Port Charles. This is Jessica on Days, the girl on Magnum P.I. and Airwolf. They should be writing storylines around her, not having her tell Eve the current location of Dr. fill-in-the-blank. Maybe if the next story arc moves into the hospital her role will expand. She is married to actor/director Randy Reinholz. She spent much of the nineties off television, writing, teaching and on stage.

Port Charles (2000-)
(Television Series) - Nurse Colleen

Beverly Hills, 90210 (10/27/99)
(Television Guest) "80's Night" - Mrs. Patch

Wishman (1991)
(Feature Film) - character?

Jake and the Fatman (04/04/90)
(Television Guest) "You're Driving Me Crazy" (written by Michele Val Jean) - Dr. Carrie Donovan

Hardball (11/10/89)
(Television Guest) "The Fighting 52nd"

MacGyver (4/10/89)
(Television Guest) "The Invisible Killer" - Liz

Matlock (2/23/88)
(Television Guest) "The Lovelorn" - Sylvia Richland

Matlock (12/8/87)
(Television Guest) The Best Friend" - Sylvia Richland

Newhart(10/27/86 & 11/3/86)
(Television Guest) "Desperately Desiring Susan" - Susan

Downtown 1986/1987
(Television Guest) episode? - character?

Kids Don't Tell (1985)
(Television Movie) - Clare

Peyton Place: The Next Generation 1985
(Television Movie) "episode?" - character?

Airwolf (1984-1986)
(Television Series) - Caitlin O'Shannessy

St. Elsewhere (1983-1984)
(Television Series) - "Roberta Sloan Erlich"

Knight Rider (2/18/83)
(Television Guest) "A Nice Indecent Little Town" - Jobina

Magnum, P.I. (1982-1984, 1986-188)
(Television Series) - Lt. Maggie Poole

Days of Our Lives (1980-1982)
(Television Series) - Jessica Blake Fallon/Angelique Horton
Stage Credits
Now Look What You Made Me Do
Love Letters
Polo Lounge
The Beautiful People
Commercial Break
Our other profile actors have probably done lots of commercials too, but Jean lists hers in that 1997 interview: Coke, Tab, Pepsi, Welches Strawberry Soda, National Rent-A-Car, Hertz, Pillsbury, Blue Bonnet Margarine, Fruit of the Loom, Kelloggs, Kraft, McDonald's, Pearl Vision, Head-n-Shoulders, Bell Telephone, Scrupples, Pittsburgh Paint, Cotton, Tastee Kakes, Wonder Bread, Carl's Junior, Tomy Toys.
Links
Jean Bruce Scott 1997 Interview
Jean Bruce Scott Babe Page
Jean Bruce Scott Dogpile Search