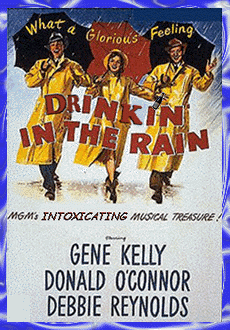 Welcome to our Game. We'd like to start with two disclaimers before we get to the rules.
1) "Singin' in the Rain" is the greatest Musical of all time and a Drinking Game is not required to enjoy or fully appreciate it.
2) We are not advocating the use of alcoholic beverages. You can play this game with lemonade, cola, tomato juice, or anything. However, we like to play it with Beer. Please don't drink and drive after playing the game. Though going out into the rain and dancing would not be inappropriate.




The Rules
The first rule to remember is that whenever Don Lockwood complains or whines about anything you take a drink. Don complains a lot, but later in the game we'll cite specific instances.


Rule number two, drink whenever Cosmo makes a smart-ass remark. This also happens frequently. Pay close attention or one of those quips could be missed.


Starting at the beginning of the movie, drink whenever Don flashes an insincere smile at Lina. He does this several times duirng the premiere of The Royal Rascal.


Now don't wander off during Don's recounting of his start in show business, because that's when we get Cosmo's first line, and incidentally, first smart-ass remark, "That's a moot point."


Take a drink whenever Lina says, "Am I dumb or something?" or any close variation.


After the "Royal Rascal", watch for the smart-ass remarks and complaining as Don and Cosmo freely indulge. This includes, but is not limited to, Cosmo suggesting to Lina that she go out and recite the Gettysburg address, and Don whining about the cooked up romance for publicity.



Drink whenever Kathy's squeals enter a range only dogs can hear.





Take a drink in the memory of Busby Berkeley


Take a drink whenever Lina says, "Can't". Take two drinks when she pronounces it correctly.



Take a drink whenever Dexter, the Director, says "cut" or "roll 'em".


Don't forget to drink when Don complains about the lines written for him and wants to replace them with "I love you, I love you, I love you".


And then there's Don's whining and complaining, after the premiere of "The Dueling Cavalier", about what an awful actor he is, and Cosmo's smart-ass, "I'm glad you thought of it."





Take a drink whenever Kathy is doing voice dubbing for Lina. Take two drinks when Debbie Reynolds' voice is being dubbed.


Take a drink whenever Zelda (Rita Moreno) is mentioned. That includes the "Zelda, Oh Zelda!" at the beginning.




During the "Broadway Melody/Broadway Ballet" we recommend you just keep right on drinking.


Take a drink whenever anyone flips a coin.


Drink a toast to that large flowing piece of white material.



Watch Lina's scene with R.F. for the last of the "dumb or something" lines.


And for one of Cosmo's last smart remarks he asks R.F. to give back the cigar he once gave him.


Though Lina still sounds strange to the audience, her spoken line "I can't tell you how thrilled we are at your reception to the Dancing Cavalier", has the "can't" correctly pronounced.


Chug the bottle in honor of the happy couple.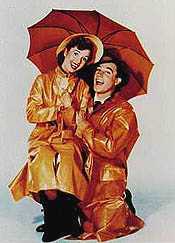 You have reached http://muppetlab.com/~davidj/tnt/oconnor/singin/drink.htm
Disclaimer: We are in no way officially sanctioned by or connected to Donald O'Connor, or anyone else for that matter. We have never met (as yet) Mr. O'Connor, though we'd give our right arms to do so. None of the content of this website is meant to infringe upon any copyrights held by studios, companies, authors, other web site owners or stray individuals.
Anything original is copyright 1999 by Teresa and Tracy Murray (a.k.a. T 'n' T).

Please send us lots and lots of e-mail at tntmur@aol.com
You are the person to get drunk during Singin' in the Rain.