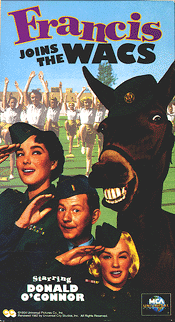 CORRECT
Though Florabelle got it from another horse who overheard it from the sister of a gangster's girlfriend.
Question Seven

In Francis Joins the WACs what perfume did Pete give to his platoon?
A) Sweet Summer Breeze B) Night In the Casbah C) Five Roses




You have reached http://muppetlabs.com/~davidj/tnt/oconnor/francis/florabelle.htm

Disclaimer: "Francis" was created by David Stern. The Francis series is the property of Universal and whatever company owns them at the moment.

Anything original is copyright 1999 by Teresa and Tracy Murray (a.k.a. T 'n' T).

Please send us lots and lots of e-mail at tntmur@aol.com
Number of people who think Francis may have used perfume: