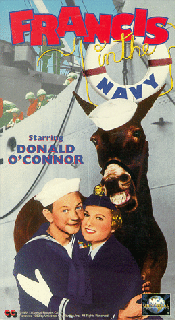 CORRECT
Betsy was a nurse who had just been transferred to the Navy Base Hospital.
Question Ten

What did Pete make a sculpture of in Francis in the Navy
A) A Mule B) Marilyn Monroe C) Napoleon






You have reached http://muppetlabs.com/~davidj/tnt/oconnor/francis/betsy.htm

Disclaimer: "Francis" was created by David Stern. The Francis series is the property of Universal and whatever company owns them at the moment.

Anything original is copyright 1999 by Teresa and Tracy Murray (a.k.a. T 'n' T).

Please send us lots and lots of e-mail at tntmur@aol.com
Number of people who aren't sure there weren't two of him: