MARCH MADNESS
The High Lonesome at American Pie
Santa Monica California - March 8th 1997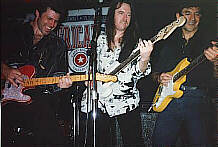 Return to Adventure Menu | Our Next Adventure | Take A Chance 1996

Warning: Some time before we get to the actual gig. Skip eight paragraphs to reach The High Lonesome.
By medical standards, we are, of course, not insane, but there's something about the spring air, the warm weather, the easing of our economic circumtances, that made a trip to sunny California irresistable. (Well, sunny compared to most of the nation, somewhat cool and shrouded contrasted to Tucson.) Despite our certainty that we were in our right minds, we felt compelled to leave at midnight, the early morning of March 8th. We drove through the dark night and in the morning emerged in the California desert and stopped to eat with the Dinosaurs, at the Wheel Inn that has the tackiest (yet bright and cheery) light fixtures known to man. (Yes Razz, even tackier than the ones at the Old Spaghetti Factory.)
We drove into Los Angeles and we were making pretty good time so we decided to get lost. We turned the wrong way to get onto the Pacific Coast Highway and then took a lovely drive up Sunset through Malibu and Brentwood and probably a few other cities that we missed the signs for. We went past the Will Rogers Polo Fields and a number of parks that weren't Palisades; until we were finally so lost we could follow Maureen's directions. Take the 405 south to the Wilshire exit and go down to 11th. Worked like a charm. We drove by American Pie. With it's tiny entrance we wondered how they managed to fit in those hundreds of adoring fans. Some kind of dimensionally trancendental place?
We arrived at our hotel, The Pacific Shores, minutes later. We were somewhat disappointed as it was not the luxury hotel we had been led to believe. The fact was that they had forgotten we were coming and did not have the room with the Ocean View available, and hence placed us in the Damian* room in the furthest corner of the hotel. Factor in the world's slowest elevators and you'll realize why we didn't have the best first impression. On the plus side, there was nobody we had to tip.
Half of us took a much-needed nap, the other half was into sleep deprivation. After nap time we walked the block down to the beach and gawked at the sight of so much water in one place. We had fortunately landed on the gymnastics section of the beach, where there was more than just scenery to admire. We walked down the boardwalk, over to the Pier. Brightly clad Californians roller-bladed past us. This typical beach milieu was broken by the tiny enclave with a half dozen tables where people sat seriously playing chess; timers and the whole nine yards.
We moved on searching for a store that might sell audio tape. Apparently that technology is years out of date. Videotape yes, film yes. Record, just sound, no. We admired the historic merry-go-round, the sight of people successfully fishing, ("No overhead casting", was the rule. We shudder to think what incidents led to the posted signs.), street singers and magicians, a handy police station, water... we just couldn't get over the concept.
We noted that it was getting close to the time we were to meet Maureen at our hotel. We rushed back, and waited... and waited ...and waited. Hmmm..."She's just on Maureen time" we assured ourselves as we enjoyed the ambiance of the Pacific Shores Hotel lobby. Forty minutes past the hour, she finally appeared in her deep-purple colored car that turned heads wherever we went. It wasn't her fault. Really. It wasn't. She tried to leave us a message to say she'd be late. But the Damian room is in a different dimension; one with which hotel operators can't communicate.
We decided that we wanted Seafood for dinner. We're next to the Ocean, surely they must have better Seafood restaurants than Tucson, where Red Lobster rules. Maureen drove us down the Pacific Coast Highway, past the point where we had gotten lost earlier that day. We stopped at "The Sea Lion", which isn't called that anymore. It was crowded. They told us it would be a 45 minute wait. We discussed whether or not to stay and by the time we decided the wait time had gone up to an hour. We sat down to wait in the bar, which did not have quite the same spectacular view of the ocean. In the dining area the waves were hitting the windows.
Our waitress-trainee asked if we wouldn't like an appetizer and it dawned on us that we could order our meal here and not starve to death in the next 55 minutes. (We started a trend, soon all the drinkers around us were ordering dinner too.) Some people in large flowered shirts brushed past us, and we soon realized comprised the floor show. Wow, we just didn't expect Hawaiian musicians and a hula dancer. After our fish dinners we followed the theme and ordered the Hula dessert, which was a huge wedge of ice cream and chocolate with macadamia nuts. (See, Razz, we didn't even mention your trying to buy Gourds off Hula dancers.)
Finally, (we know you've all been waiting to get past the travelogue,) we set out for American Pie. Finding the place is the easy part, finding a parking space is an adventure. We lucked out and only spent ten minutes circling the block. (Do not park behind neighboring restaurants. They will tow you away.) We would now like to share with you The High Lonesome's top ten reasons to come see The High Lonesome, a clever little advertising gimmick distributed on postcards.
The High Lonesome's top ten reasons to come see The High Lonesome
10) Always a good chance you'll hear a table full of drunk dudes expressing Dex-envy
9) An evening with THL is still a buck fifty cheaper than a movie in THX
8) Yeah, and they go really well with a box of junior mints
7) Mark looks far better with his hair slicked back than Gig ever did
6) Chh... like Friday TV doesn't really blow anyway
5) You can insult Phil all you want and he still won't spit on you
4) A portion of the proceeds goes to the band
3) Gary sometimes does that cute bit where he turns and spits on Phil
2) Stanny
And the number one reason to come see The High Lonesome:
1) Well...hey, these guys would go see your bands...!
Clever, huh? Also a grain of truth in each, we found as the evening wore on.
We coughed up the seven bucks each and went in to find seats some place close enough to invite hearing loss. THL fan, Joan invited us to join her at the table directly adjacent to the front of the stage. We camped out. Maureen, who carries an amazing number of items with her, pulled out a stack of cards, that people could fill out to joing the THL mailing list. We distributed these to the other tables.
A shadowy figure had materialized to the left of the stage. Was it, Phil? Yes, it was. Good thing his eyesight is better than ours and he was able to positively identify us at that distance. He came over to our table with Tei!, whom he introduced to us. We gave Phil his birthday present, which he didn't open until after we left. (But later he claimed to be delighted with the miniature keyboard.) Then Gary came over and gave us a hug. (He always seems so amazed when people come from other states. Doesn't he, Anne?) We told him we'd liked the Top Ten List. (Which we guessed he was primarily responsible for; he has a tremendous natural talent for the form.) Then the guys bustled off backstage.
At 8:30ish "Billy Vera and The Beaters" came on. We must say that this is probably the best opening act that we've seen for The High Lonesome, one hit wonders though they are. Maureen had tried to explain what song was their hit, but did not have the ability to actually sing it, and had to refer to "Family Ties" to try and explain it. The song was "What Did You Think", which is a nice little song. They had a kind of jazzy/blues New York sound and some really obnoxious fans over in the corner. Billy, it turns out, is a soap fan. At first we presumed he was just razzing us, so to speak, for THLs, GH connection. But no, he was truly devoted. Musicians have far too much time on their hands. Witness the fact that Billy Vera and the Beaters have a web page. http://www.fishnet.net/~bradspurr
Towards the end of Billy's set, Phil brought out a partially eaten chocolate birthday cake and set it on our table. Wow, what a band. They'll entertain us and bring dessert. (Got Milk?). After some interrogation, Maureen admitted that she had baked the cake for Phil's birthday. It didn't occur to us until now, but how did she get that cake to the gig. We're almost certain it wasn't cleverly concealed about her person earlier in the evening.
Billy and his band took a while to break down. A good long while. But eventually they were gone and The High Lonesome took the stage. If you thought this report was incredibly detailed before you're in for a surprise. We have it all on tape, word for word, except for those bits unsuitable for a family audience and the bit where we forgot to turn over the tape. But first, fashion report. Phil was wearing a black shirt with a design on the right side, blue jeans and black tennis shoes. Gary had on a black shirt with sleeves that came down to the elbows and dark blue jeans and black tennis shoes. Bassist Mark Allen, was wearing black jeans and a black and white patterned shirt, which we studied closely but agreed was a random pattern and not cows. Dex was resplendent in a black satin shirt, black jeans and black boots.
We don't know what Phil Smith, the substitute substitute drummer, was wearing. Perhaps a blue shirt, but he was hiding behind those drums most of the evening. Oh, we guess this is our opportunity to explain about the Phil list. You see, some time ago, we sent Phil Ward a classic Letterman top ten list, "How the World Would Be Different If Everyone One were named Phil". So we thought it was especially amusing that the sub drummer was named Phil.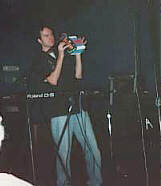 Top Ten Ways The World Would Be Different If Everyone Was Named Phil
10) Almost impossible to get personal license PHIL
9) Ben and Jerry's Ice Cream now called Phil and Phil's
8) Expectant Parents could be heard saying "Phil if it's a boy and Phil if it's a girl"
7) When caller to Donahue show said, "Phil?" everyone in audience would reply, "Yes?"
6) 007 fans look forward to classic line, "Bond. Phil Bond."
5) Instead of screaming, "Watch where you're going you stupid bastard!" New Yorkers would scream, "Watch where you're going, Phil, you stupid bastard!"
4) Could throw an office into total confusion by calling and asking, "Is Tony there?"
3) Teenage pranksters would call airport and have them page "Phil Hertz"
2) Wouldn't have to look in TV guide to see whose on the Tonight Show
And the number one way the world would be different if everyone was named Phil:
1) Most popular Beatle? Phil
"Let's turn the radio down and turn the live music up," Dex suggested. There were whoops of agreement. "Should I just start?" he asked.
"Yeah, let's go," said Gary
"We are The High Lonesome," Mark kind of murmured.
"We need an announcement," Gary declared
"Ladies and Gentleman, We are The High Lonesome" Dex announced, with Gary and Mark kind of chiming in. They broke into the first song.
Pauline
(Mid song Dex improvisation)
Oh girl, you know, you've got me so I just don't know what to do anymore. I mean you play your cards so close to your vest I don't know what it means.
Cadillac Jack's
"How you guys doin'?" Dex inquired after the second song was over. There were loud whoops, cheers and cat whistles from one table over on the side. (Not us, of course.)
"Hey the Dex-envy table is here," Gary pointed out.
"Let's have a little change of pace," said Larry.
Mary Mary
This song always comes to a moment where the band completely stops. It's a dramatic pause, but audiences often misinterpret it as the end. In this case the moment had arrived punctuated by Gary on the conga drums, and Dex declared. "That was good"
"Thanks, thanks very much.Thanks for coming out here. We're late tonight. We appreciate you hanging around." said Dex. " Thank you very much. Yes. Now we've gotta a fifties kind of thing."
Angel
"How you guys doin' out there? "Can you here everything okay?" It's not too loud for you? I'm sure it's not too quiet for you." Dex said, making some small talk between songs.
"Dex!" Someone at the Dex-Envy table screamed out.
"Thank you." Dex said modestly.

Something Wild
"Oh man I am working up a sweat. This velvet shirt thing is not a good idea," said Dex.
"Take it off!" was eagerly shouted around the room.
"Not gonna happen. I gotta get back in the gym a little bit more before I do that."
"Take if off." Someone screamed shrilly.
"I think that was my girlfriend. And if she's not she's gonna be." Dex quipped.
"Why not me?!" Came a deep, notieceably not female, voice.
Dex ignored him and Gary introduced the next part of the set.
"Last time we played here we did a little acoustic thing. We did about three songs acoustically and we liked it so we're thinking about doing it again. We're not thinking about it, we're gonna do that again."
"I haven't done this song since 1993. So here we go." said Dex
Brakeman's Prayer
This song ended with a harmonica solo by Gary, and resulting appreciative cheers, so Dex said. "Gary Grantham on Harmonica. Mark Allen on guitar."
He went straight into the intro for the next song. "Gary said I should try to introduce some of these songs so they make sense to the general public, as opposed to my distorted view of the world. So this is a very self-lacerating tune that I wrote one evening after I hurt someone's feelings. How's that. You have to give me credit honesty, don't you?"
Bed of Roses
"This next song is off the album and I could talk about it too, but it's a song about spousal abuse. It's pretty much... I don't want to go down that path." He said. This was enough to identify the song, and there was a cheer from that certain table.
"Someone goes, yeah, all right, beat her earlier this evening," Dex said putting his own interpretation on the yells.
"Larry, you know you can do the desperado rap to this song," Phil put in.
"You can do what?" Dex asked.
"The Desperado rap to this song," Phil repeated.
"I have no idea what that is," said Dex.
"I'll show you later," Phil promised.
"I don't know if I want to see it," said Dex.
We, however are now expecting them to do "Black and Blue" to desperado rap, at the next gig.
They started the song and Dex picked up, for the first time we remember, one of the small rhythm instruments.
"That's dex on the egg." Mark added.

Black and Blue

This was the last song in the acoustic set. It's one of our personal favorites. It's also the only one that loses a little something because of Jon Lindstrom's absence. Jon has a deep voice that is misssed in the harmonies of this song. Still good though.
"You know I ve been singing that song for about six years," said Dex "It took me forever not to get that messed up on that key change, and tonight when the managers are here I couldn't find that note to save my life. But the fact is I'm honest about it."
"That's okay we still love you, " came that deep voice from the back of the room.
"Hey Dex, your table's back there," Gary teased him.
"You know a couple of gigs ago we had this group of rather rowdy kind of semi-drunk friends of mine," Dex told us.
Screams and cheers from the back of the room, acknowledged being the semi-drunk friends in question.
"They're back. You can always tell because they wait until like the last minute, like nobody's talking and then you hear it. Great timing. Great timing," Dex critiqued.
"Sexy mother f--ker," They yelled out at that opportune moment.
"It's a Prince song, and I don't know it," Dex came back. There was laughter from the audience. "That was the best that's ever gonna happen to me," he said referring to the impromptu one-liner.
True Believer
"Thanks a lot. I just want to introduce ... uh.. This is Phil Smith, on drums, he's filling in for us this evening, did us a big favor. Give him a big round of applause. Phil Smith and Phil Ward have been playing together for about twenty years or so, off and on. Which is about as long as Gary and I have been playing together. So we don't really feel comfortable with Mark yet."
"Six months and I --- ---- . Six months," Mark commented (Not edited for content, but because we couldn't catch what he said.)
Gary took advantage of the lull to offer free stuff to the audience. "Okay, I have a High Lonesome t-shirt for anyone who can name a cheese that starts with M." Many people yelled out the names of Muenster and Mozzarella. "You decide," Gary suggested. No one could. "Okay, I'm just going to arbitrarily throw it out." He tossed it out. "But I have two High Lonesome pencils." He threw those out too, to much cheering and excitement. "I've always wanted to throw something out in the audience from the stage. Ooh a pencil."
"We're gonna be sued? We're gonna be sued. Someone is going to have a big legal problem with this." Mark predicted.
Cruel Cruel Love
"Thank you," said Dex. "I just realized that if I introduced every one of the songs that we did most of them would begin with something like I knew this girl once and she...' and I talk about how she broke my heart." This brought "aaahs" of sympathy from the audience. "Like I'm trying to elicit response with that. So this next song is about a this girl that I met once who broke my heart, and I kept an heirloom of hers for many many years."
"Pervert," the back table accused him.
"I didn't say - ---- - ---- ---." said Dex. [Comment edited because this is a family forum, and we don't want to see Razz turning that interesting shade of purple that she did at the time.]
"Did I just walk over the line?" Dex asked. "I walked over the line, didn't I?"
"Way over," Gary informed him. "This is a family establishment."
"There was a line right there and I went..." Dex started.
"The fact is... he went there," Mark said, resigned.
"For the love of god," said Dex.
"Billy was not any much cleaner was he?" Gary asked, hopefully.
We told him what he wanted to hear. He was reassured "Okay."
"Lets play some country," Dex said, deftly changing the subject.
Some Kind of Lonesome
Unfortunately this is where we neglected to flip the tape and we lost most of "Some Kind Of Lonesome" and the wonderful "Everything Changes" during which Gary was at his conga drums, and we were occupied with taking pictures of same.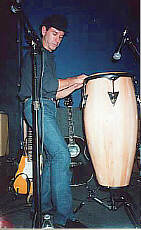 Everything Changes
When they started "Surrender" we looked at the audio tape and discovered it had stopped. We flipped it back on quick.
Surrender
"Come on boys, let's do it," said Dex, and they went into an intro a chorus of "Cigarettes, Whiskey and Wild Wild Women," before starting on...
Big Bad Love
The song ended and the crowd called for an encore, as the guys left the stage.
"That was a quick time out," said Gary as they came back on stage.
"Take off your shirt!" One of the people in the back shouted.
Larry unbuttoned a few buttons.
"Take off your shirt" came the insistent shout.
"Are you guys talking to me?" Gary asked.
"I will take off my shirt, if you take off your shirt." Dex joked.
"Next month. We'll be back next month. We'll have gone to the gym."said Gary. [We take this as a solemn promise. It wasn't, but we choose to take it that way.]
There were more shouts from the back table. "Do it for Johnny!"
Came the first voice. "Do it for Leon!" came the second.
"Do it for me!" said the deep voice in back.
Velvet Glove
"Okay, we've got one more song to do, and I want to introduce the members of the band before we do this. Phil Ward on key boards." There were cheers. "Phil Smith on drums." Quieter applause, after all we just met him. "Mark Allen on bass guitar and acoustic guitar," Louder cheers. After all folks have had six months to get used to him. "My good and great friend Gary Grantham on drums, rhythm guitar, shaker and a really nice..humph." Dex listed more instruments, but the cheering drowned out part of the list. "Last time I didn't introduce myself I got in a lot of trouble. Gary, you go ahead and introduce me, kay?"
"He's Dex," said Gary. "How many of you know his birth name."
Everyone did and shouted out Larry's name.
"How bout his middle name. We won't even say that will we?" said Gary, making certain everyone was curious as to what Larry Poindexter's middle name is. Gary continued, to our surprise "We also want to thank a couple of people. We have a couple of people sitting right here who came all the way from Tucson Arizona. The Murray sisters, the evil twins. Anyone else come a long way?" Phil pointed out Tei, who indeed over to the left of the stage, dancing. "Oh, yeah, that's right, New Hampshire. Thank you guys."
The evil twins comment had gotten Mark's attention. "Twins?" he asked us.
"Singapore?" Gary was asking the audience, hoping for a further location than New Hampshire.
Mark pointed to himself indicating that he was a twin, too. "We know you are?" we nodded our heads. We'd checked out the High Lonesome web site before leaving home and read about Mark.
"Twin power." Mark declared. " Twin power, I'm an identical twin." We gave each other a thumbs up.
Tears of a Clown
"We're The High Lonesome. Thank you very much. We'll be back here in April. Thank you very much for coming out. Thank you. Good night," Dex announced.
The show was over. From the stage, Mark asked us which one of us was the older twin. I admitted that I was, by four while minutes. Mark said that he was a younger twin by two minutes and asked Teresa if I didn't do the same thing his brother did and call up on our birthday and rub it in that I was older. Teresa claimed I did, though the fact is it's usually the other way around.
Phil and Gary came out and mingled. We didn't see Larry, but then he may have been ambushed by the Dex-envy table. Phil seemed to be checking on his birthday cake. I asked him what that design on his shirt was. He looked down at it and said it wasn't his shirt, Dex had lent it to him. Teresa asked me to ask him, (it was still pretty noisy and things had to be relayed) if Phil had opened his present yet. I did. He said, no and why, was it perishable? I just shook my head, unable to explain that Teresa wanted to see his reaction to the gift, and I thought it was wiser to be in the next state over when he opened it. We never can be sure how people are going to react to our dubious sense of humor.
Gary asked who was going to the Nashville gigs. Maureen is. We're not. Gary wondered if anyone would be there with a video camera, because he didn't know if Anne was coming. I told him that she would indeed be there. He seemed happy about that, Anne, really he did.
Let's see what did we leave out. Cheryl LaGue showing up right before the guys went on and trying to steal Tei's seat. Some Billy Vera fans left and opened up a better seat. Meeting Gary's cousin, Terry, who had come with her husband. Sneaking out without the rest of the mailing list cards, because we were exhausted from insufficient sleep. Waving good-bye to Gary on stage breaking down. And that's about it. We'll mercifully spare you the rest of our adventures in Santa Monica, souvenier shopping, Sinatra impersonaters and Wolfgang Puck's pizza. Suffice to say we had a great time in Santa Monica and made it safely home only to be dragged out again four days later to....
*Damian Room or Damian Table - The worst place in the establishment. Usually near the Kitchen or some other inconvenient area. Origin - GH. Luke Spencer had a special table reserved for Damian Smith with these attributes.
Well, having presented two other people's Top Ten Lists, we can't sign off without giving you one of our own.
Top Ten Things We Expect To See At The Next High Lonesome Gig
10) A different color theme
9) Mark's birthday cake (two weeks old)
8) Lots more guys named Phil
7) Entire Dex-envy table arrested for lewd behavoir
6) Anne from Connecticut
5) "Black and Blue" done as Desperado Rap
4) THL fans dancing on tables despite the sign that expressly forbids this
3) A "little" keyboard solo by Phil
2) Big sign on Dex's car that say's "Nashville or Bust"
And the number one thing we expect to see at the next High Lonesome Gig:
1) Dex and Gig at least half-naked

Changes.wav

You have reached http://muppetlabs.com/~davidj/tnt/events/ameripe.htm.
This page is copyright Teresa and Tracy Murray. (a.k.a. Twins of Evil and T n' T) 1997. We can be reached at any number of addresses including Twins of Evil
Thank you for your kind indulgence.

Return to Adventure Menu | Our Next Adventure | Take A Chance 1996

T 'n' T Web Sites and Episode Guides
Total number of hits on this page: